BitTorrent Sync Introduces Unlimited & Secure Two-Way P2P File Syncing [Review]
IF you've ever wondered how file syncing can take place in the absence of a server and the need to create an account with it, BitTorrent has the answer for you in form of their latest app – BitTorrent Sync. It's a peer-to-peer file syncing client by BitTorrent that relies on 'Secrets', which are 32-character long passcodes that you can set up to connect two computers and sync files between them – no link sharing or account sign up with any web service needed. The biggest benefit such a setup has over traditional Dropbox-style web service-based syncing is that there are no limits on file size or total space – you are only limited by the total space on the connected devices themselves. Though one drawback is that you don't get to have your files saved on the cloud for access from any computer or smartphone. The app is in public Alpha and undergoing active development, so there might be some quirks yet to be ironed out. The apps are available for Mac, Windows, and Linux, and as per our tests, they all work perfectly for syncing files.
Setup
When installing BitTorrent Sync, you can either install it as an independent client or connect it with another system to begin with. When installing as an independent client, choose the 'Standard Setup' option.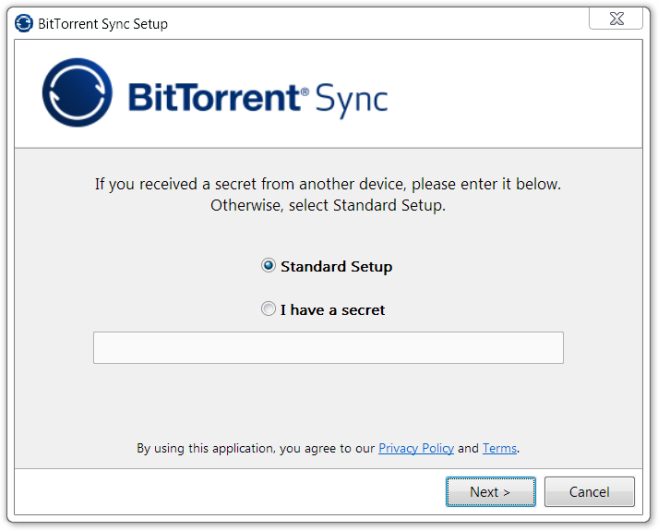 During setup, you will be offered to connect another device and will be provided a 'Secret' to do so. Copy this code if you're ready to add a device, or just click ahead to the next step if you don't want to add a device just yet and plan on doing it later.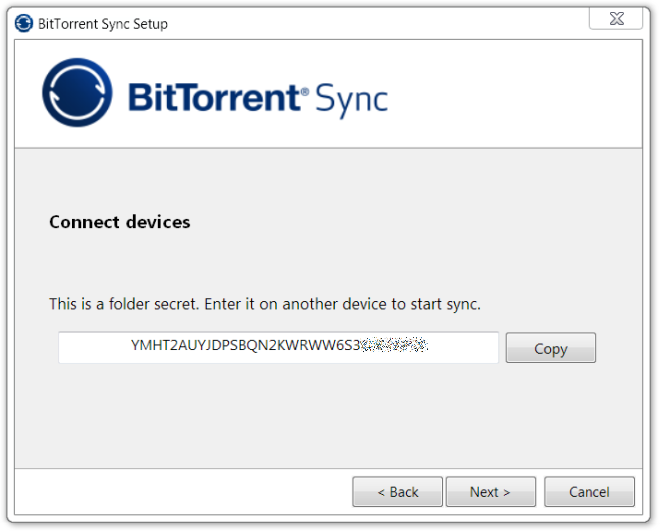 Adding Devices
The second device we added in our testing was a Mac, You can set up your second device independently just as you did with the first, or you can select the 'I have a Secret' option and enter the code generated on your first device during the setup process itself. If you didn't copy the code during setup, you can always add a device later by sharing a folder with it.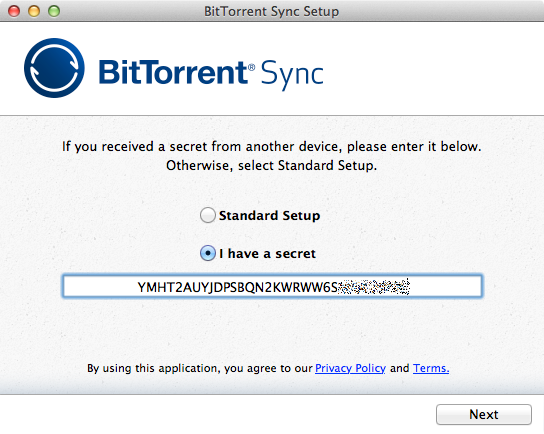 Sharing A Folder
Each folder that you sync with a device has its own secret regardless of which device you sync it with. You can sync any folder by going to the 'Shared Folders' tab. Don't worry if you haven't connected any devices yet – just click 'Add' and select the folder you want to share and sync. Click the 'Generate' button and share the 'Secret' with whoever you want to sync the folder with (or just sync it on another one of your own computers). As long as the other device has the app installed, the folder can be synced with it.
On the other system, go to the 'Shared Folders' tab and click 'Add'. Here you're setting up your app to sync with a folder shared from another computer, so create and select a folder on this device that the incoming files will sync to. Instead of clicking the 'Generate' field, paste the Secret that was shared with you and click 'Ok'. The files will instantly begin to download. Each time a download completes, you will receive a notification and you can watch the download progress in the 'transfers' tab. The device you shared to will now appear in the 'Devices' tab.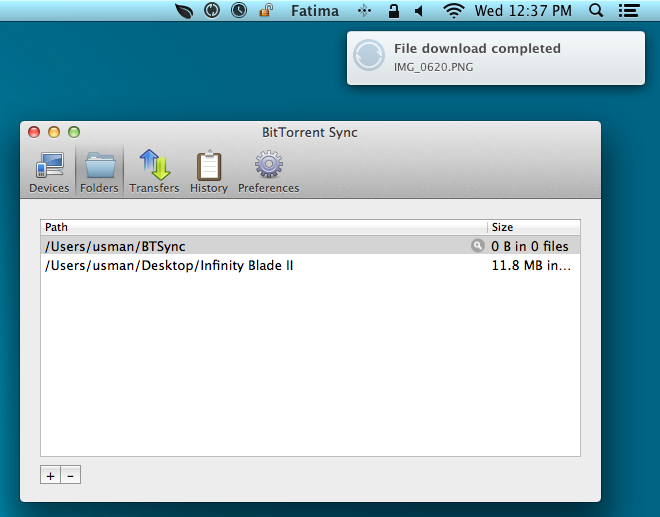 If you ever want to share the same folder with someone else i.e. on  another device, go to the 'Shared Folders' tab and right-click the folder you want to share. Select the 'Copy Secret' option and share the Secret with whoever you're sharing with. The recipient will have to follow the usual steps for accepting an incoming folder. All newly added files to the folder will sync to the devices they've been shared with automatically. Since it's two-way sync, any files added to the synced folders on any of the computers will sync across all connected computers.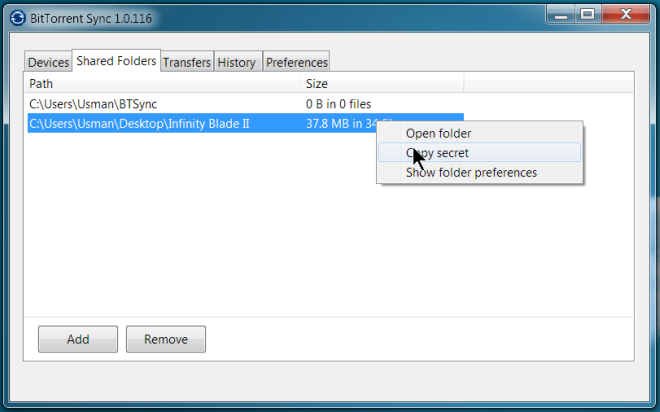 BitTorrent Sync Preferences
BitTorrent Sync can be set to start when your system logs in. You can change the name your device appears with, and limit the upload and download rate from the 'Preferences' tab. Notifications for completed downloads can also be disabled here.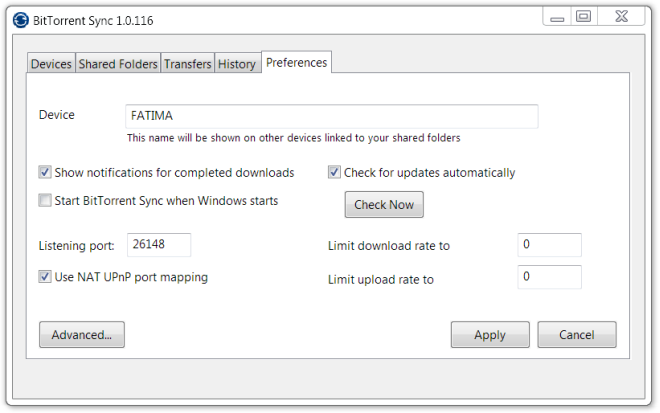 Folder Preferences
BitTorrent Sync will sync new files as long as both systems are online and they each have the BitTorrent Sync app running in the background. Folder syncing, by default, is two way. If you would prefer sync for any folder to be one way, go to the 'Shared Folders' tab, right-click the folder and select 'Show Folder Preferences'. Copy and share the 'Read only secret' and the device you share with will only receive files from that folder, and wouldn't have the ability to upload files to it by adding them to their end of the synced folder. You can also generate a special secret that will only allow a device to sync the folder for twenty four hours. A shared folder can be manually removed any time as well.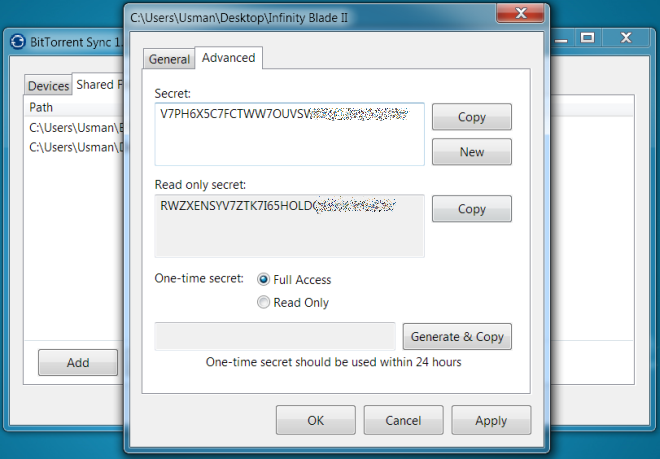 Despite being in Alpha stage, BitTorrent Sync works really well. The only issue we came across was there being no way to remove a shared device yet.