BlueScreenView: View Windows BSOD (Blue Screen of Death) Crash Information
When a system suffers from a BSOD aka Blue Screen of death, it can be hard to determine its cause. Sometimes a BSOD can appear due to hard disk failure, whereas, at other instances it can appear be due to an incompatible driver.
BlueScreenView is a portable application by Nirsoft which scans your minidump files created during blue screen of death crashes. The dump file information is displayed in the form of a table containing minidump filename, the date, time, bug check code and other information regarding the crash. On the main interface, you will find the crash information in the upper pane and detailed information about the dump file in the bottom pane, for easy identification of the reason behind the system crash. The crash details can also be viewed in the conventional Blue Screen view (within the applications interface).
Once launched, BlueScreen View automatically scans your minidump folder and displays crash information. Driver version and resource information is extracted and displayed automatically along with, file version, product, company, bug check string, bug check code and file description.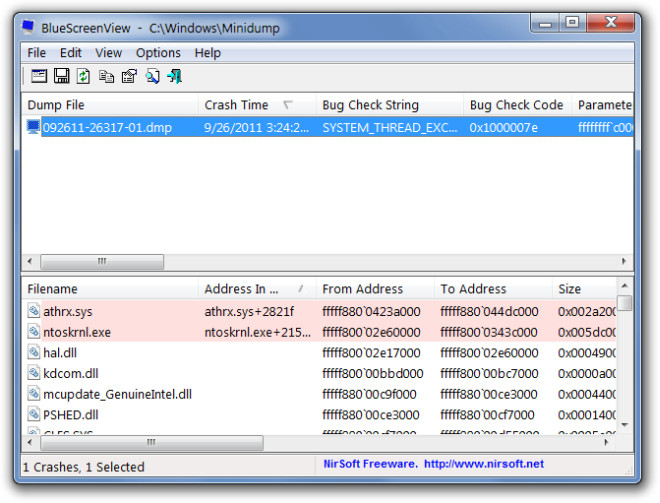 You can double click on any file name or dump file to find more details about it.
To quickly search for an available bug, check for the driver using Google Search. Head over to the  File menu and select "Google Search – Bug Check+Driver".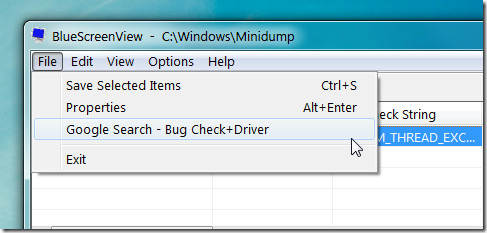 To see the crash report in the conventional blue screen form, go to Options –> lower Pane Mode –> Blue Screen in XP Style. The crash report data can also be saved in TXT, HTML, XML and CSV format.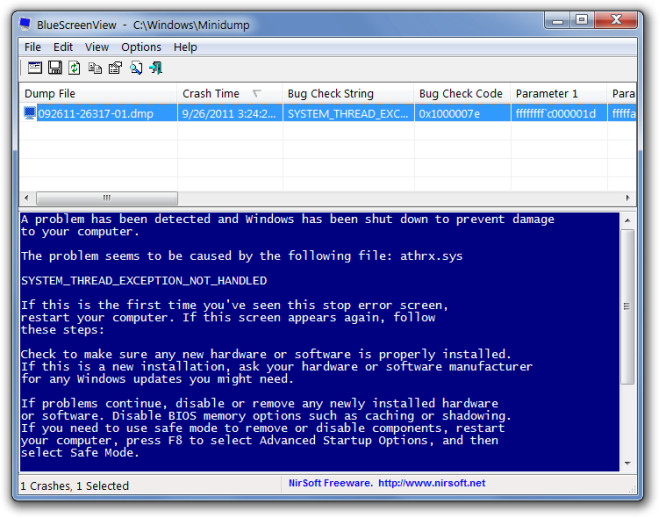 BlueScreenView, like other Nirsoft applications, comes with many other common options, such as searching for information using matching cases, view of columns and rows, enabling/disabling of interface headers and so on. BlueScreen View works on Windows XP, Windows Vista, Windows 7, Server 2003 and Windows Server 2008, provided Windows is configured to save minidump files for Blue Screen of Death crashes.