BonAView Is An Image Viewer, Manager & Editor With A 3D Carousel View
Photos…we all love them, and we love to take them! And as much as we like taking photos that look great, most of us also like to keep them well-organized and accessible in one place so we can instantly go back and view those incredible moments we once caught in our camera. BonAView is a feature-rich photo manager and image viewer for Windows that also doubles as a powerful image editor. Sporting an elegant UI, the application is designed to help you organize and access all your photos in a user-friendly manner. It boasts a host of features and houses a fascinating 3D View option that makes photo viewing more enjoyable and intuitive.
The application features a pretty decent user interface. To its left, you will find the folders view that lets you browse for files quickly from the desired location. Selecting a folder from the list displays the underlying photos in the right pane represented by thumbnails, and double-clicking any of them there opens them in full screen view. There's also a toolbar at the top containing basic navigation options, along with some other useful features. Another great thing about BonAView is that it lets you import photos straight from your card reader, camera or scanner. In addition to displaying images, it also extracts and displays full EXIF information for images.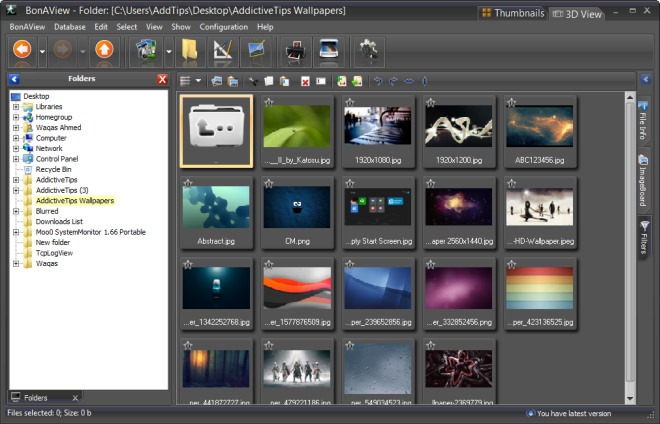 Apart from viewing images as minuscule thumbnails, the 3D View can make the viewing experience much more pleasant. To access this mode, just click 3D View at the top-right. This movable 3D carousel view of photos looks really fascinating and you can use the mouse wheel to scroll through the images. This mode takes a lot of processing power though, so make sure you have a beefy machine with a powerful GPU and a CPU capable of handling the load.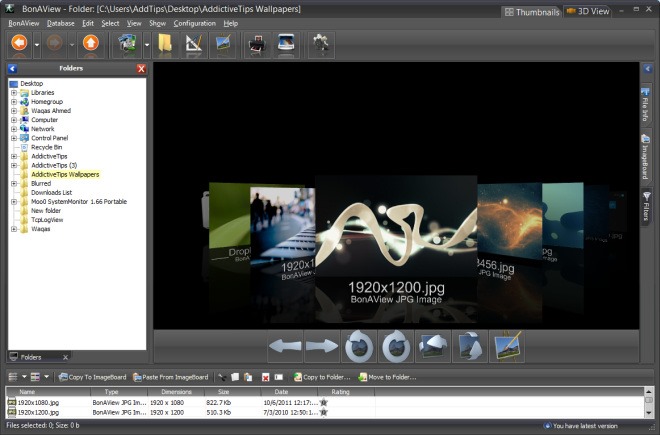 The application also houses an integrated photo editor and image annotator, so you don't have to use a separate photo editing app for fine-tuning your pictures. You can launch the built-in editor from the toolbar. Although not the very powerful of tool of its category to play with, the image editor should suffice for basic editing needs of many users such as modifying colors, brightness and contrast, cropping photos, controlling blur and sharpness, adding virtual frames, rotating images, and spicing them up with a few effects such as negative, sepia, edges, wave, lens and so on. The image annotation feature of the app is also fairly great, and lets you add shapes, text and other objects into the images.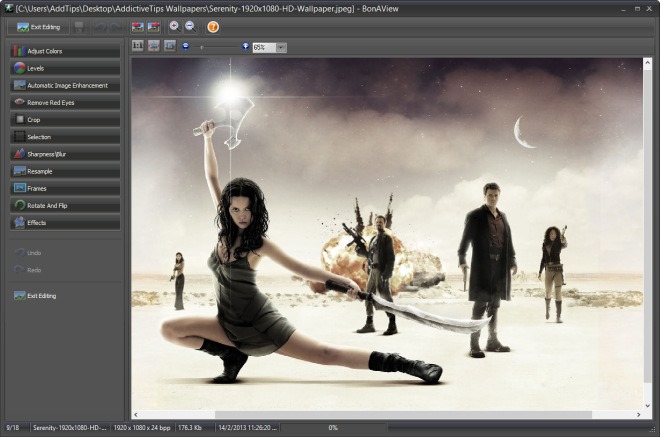 To sum things up, BonAView is a really nice photo management app that works really great for handling all kind of image files. It works on Windows XP, Windows Vista, Windows 7 and Windows 8.