Browser Cleaner Is A Comprehensive System Trace Eraser
Many trace erasing software are merely limited to clearing browser related data and do not remove confidential content traces from application directories. For example, lets say you are a developer who works on flash related software and have developed a project for a client. Assuming that the project was of confidential nature, you might be willing to remove all traces of the project (after completion) from your computer. However, many trace erasing software do not allow clearing temporary files from specific software directories. Of course it is nether easy nor logical to find and remove temporary content from hundreds of Windows folders. Browser Cleaner is a portable trace erasing utility that is designed to securely delete all traces of your online and offline activity by removing several unnecessary files. Other than protecting your privacy and getting rid of temporary files with confidential data, it can also help in removing system clutter. This portable tool deletes history of visited websites, clears browser temporary files and eliminates records of your Internet activity from all famous web browsers and offline files for selected applications.
After launching Browser Cleaner, select the browser(s) that you wish to erase files from. You can click on the Options button next to any of the browser names to configure what type of files you wish to delete.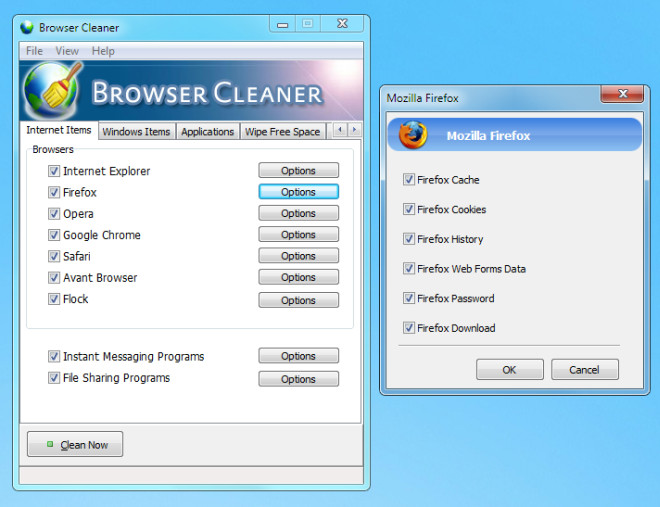 A great feature of Browser Cleaner is that it allows selecting programs for cleaning junk files. You can clear junk files (e.g. log  and cache files) from multiple selected applications.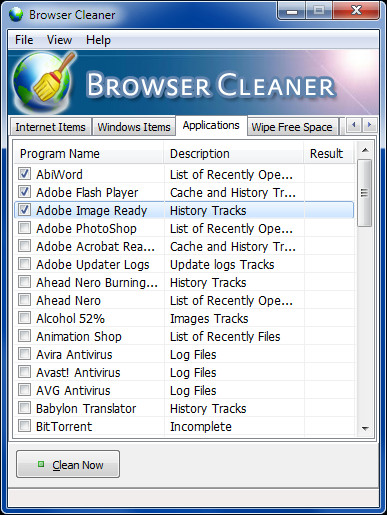 You can also specify Windows folders for removing unwanted files. To clean unnecessary files from applications, browsers and other Windows temporary file folders click Clean Now. You will receive a system tray notification once the cleaning process is complete.
The Wipe Free Space tab provides options to clear free space from system drives. Free space on a hard drive is the area on your hard drive containing de-allocated memory. This is where all the data you have previously deleted is stored, until it is overwritten by something else. With Browser Cleaner, you can clear the free disk space area to overwrite your deleted confidential content from being recovered. Just select the drive to wipe free space from and click Wipe Now.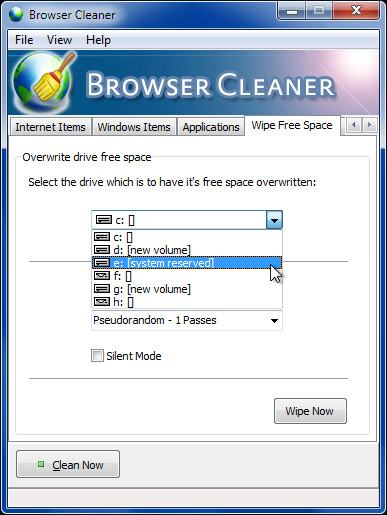 The Settings tab allows launching Browser Cleaner at startup, hiding it when it is minimized, enabling sound when wipe  functions are completed and enabling balloon tip notifications for finished cleanup jobs.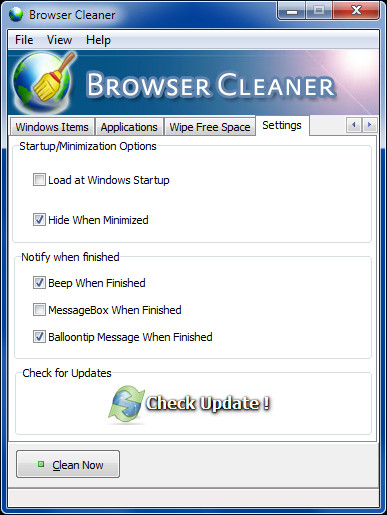 Did we mention that it can clean Flash History and Clipboard Cache too? It works on Windows XP, Windows Vista and Windows 7.