Can't Print PDF With Adobe Reader on Windows 10 (SOLUTIONS)
Adobe Acrobat Reader is the official app for PDF files since Adobe developed the PDF format. There are still plenty of other apps that you can use to read a PDF file. A browser is one example of an app that you can use to read a PDF file but there are plenty of other, more feature-rich PDF viewers.
Can't Print PDF?
There are a lot of PDF readers, free and paid, that you can use other than Adobe Reader. The reason so many exist is that the Adobe Reader app is not a great app. It's slow, and often hangs when you're just opening a file and that's not the only thing it struggles with. Iftcan print PDF files but it runs into trouble doing that as well.
Fix Adobe Reader not printing PDF documents
If Adobe Reader is not printing PDF documents, try the fixes below.

1. Update Adobe Reader
Adobe Reader isn't a great app. It has run into problems of all sorts in the past and it updates in order to resolve them.
Open Adobe Reader.
Go to Help>Check for updates.
Install available updates.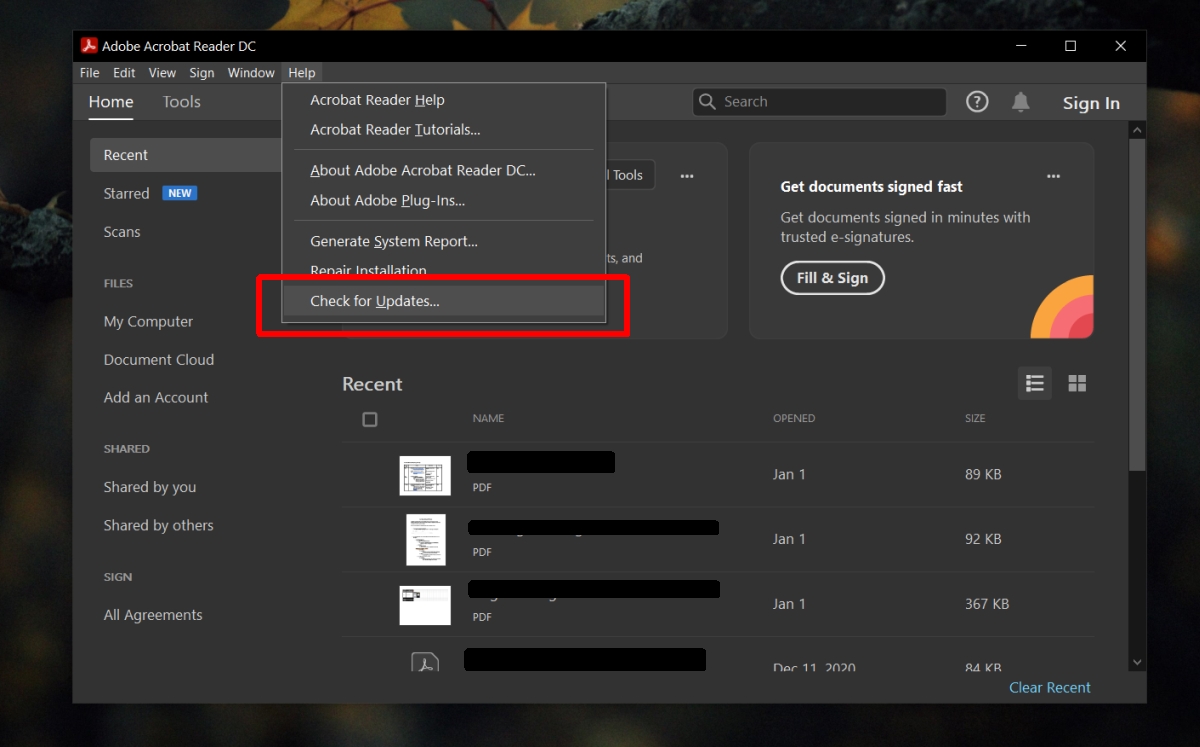 2. Check your printer
Printers are some of the most difficult hardware to use. They work fine until they don't. Check if you have a problem with your printer. Run through the following checks.
Try printing from a different app.
Try printing a test page from the printer.
Clear the printer queue and then try printing.
Uninstall and reinstall the printer if you're unable to print at all.
3. Repair Adobe Reader
If only Adobe Reader is having trouble printing, you can try repairing the app. It has a built-in repair tool.
Open Adobe Reader.
Go to Help>Repair Installation.
Allow the app to repair itself and try printing from it.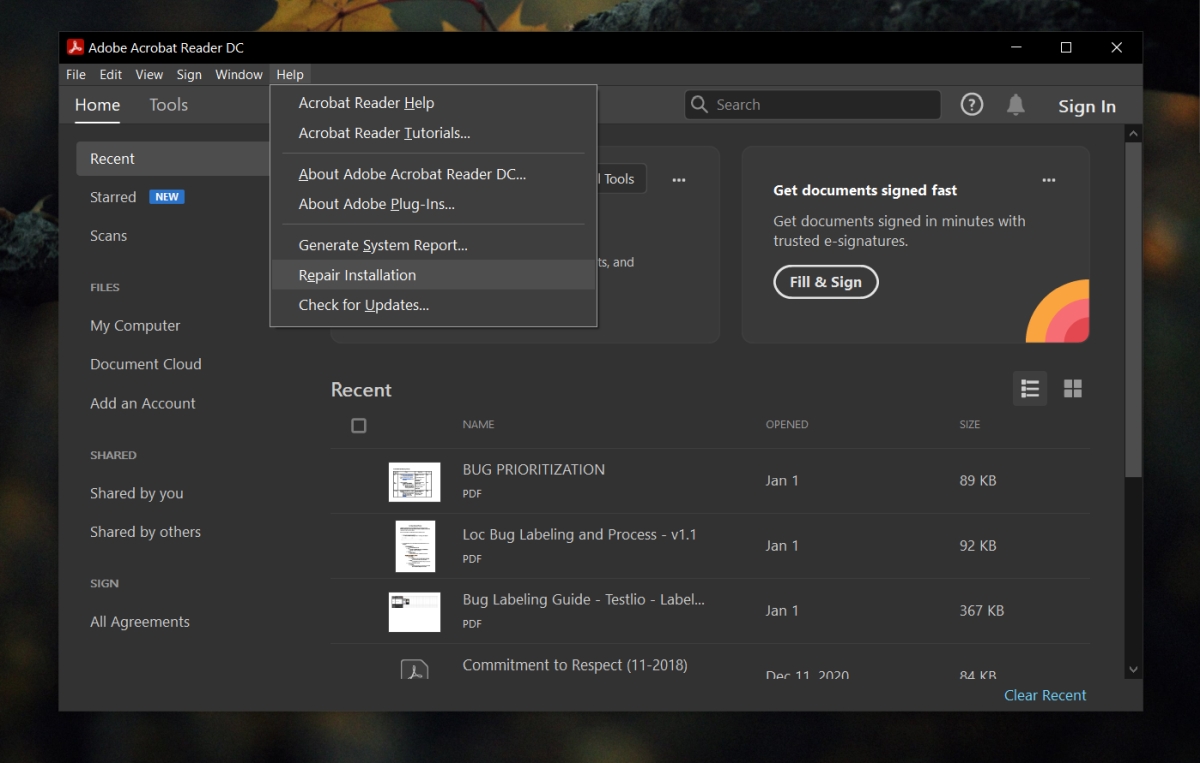 4. Use a different app
Adobe Reader is not a good app. It runs into problems all the time which is why most people will use a different app and that may be a good solution.
Open the PDF file in your browser and use it to print the file.
Use a PDF reader like Sumatra to print the file.
Print file as image
PDFs are normally a great format for publishing and printing. They will retain the layout and format of the document but a printer may not be able to print the text as it is. You may however, be able to print it as an image.
Open the file in Adobe Reader.
Tap the Ctrl+P keyboard shortcut to open the print dialog.
Click the Advanced button.
Enable the Print as image option.
Click OK and then click Print.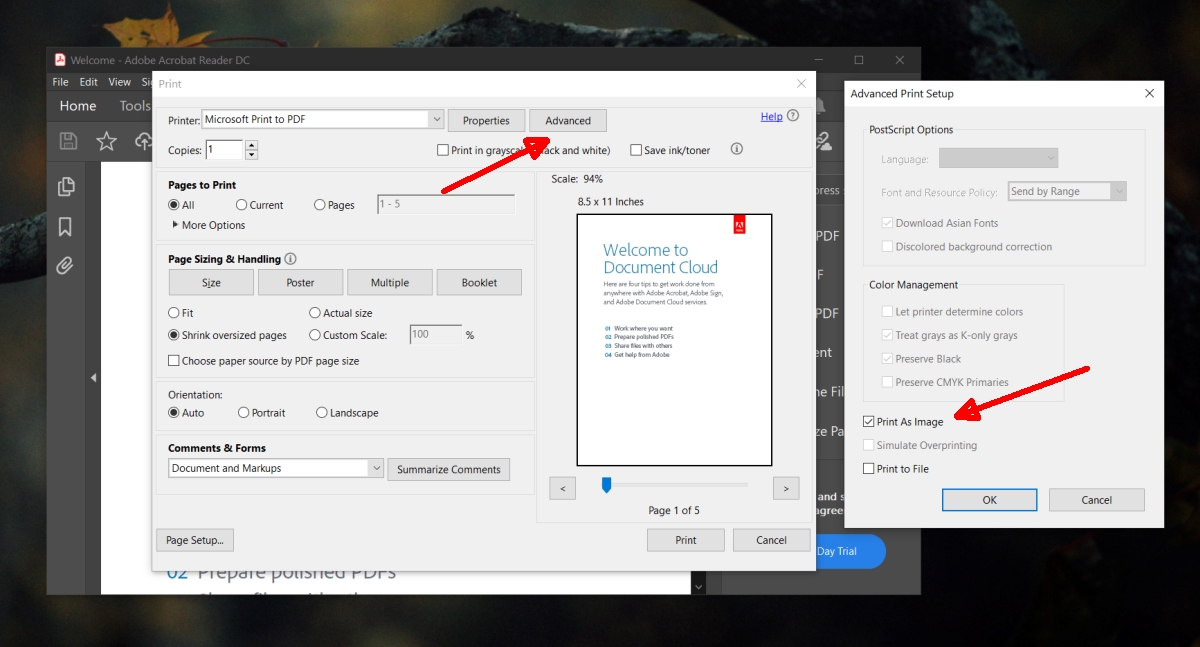 Conclusion
Adobe Reader may be recommended by a lot of people but more often than not, the recommendation is given only because it's an Adobe app. There isn't much to it and it is ridiculously slow. You will find better, more capable apps that can edit PDF files and print them without any trouble, all for free.