How to find the card reader in Device Manager on Windows 10
Windows 10 doesn't play nice with card readers. Getting one to work can often be tedious. Sometimes the card isn't formatted correctly, other times the correct drivers haven't been installed. If you're having trouble getting Windows 10 to detect an SD card, you might need to check if the correct drivers are installed and if the card reader is functioning right. This is easy enough if you know how to find the card reader in Device Manger.
Like many other hardware components, the card reader isn't listed by that name which makes it a bit difficult to identify.
Card reader in Device Manager
Open the Device Manager in Windows 10 and look for a device called Memory technology devices. If this device is absent, your PC or laptop doesn't have a card reader. If the device is present, expand it to view the name of your card reader.
The name will of course differ based on the hardware i.e. card reader installed on your system. If you need to update, rollback, uninstall, or install a driver, this device is what you need to modify.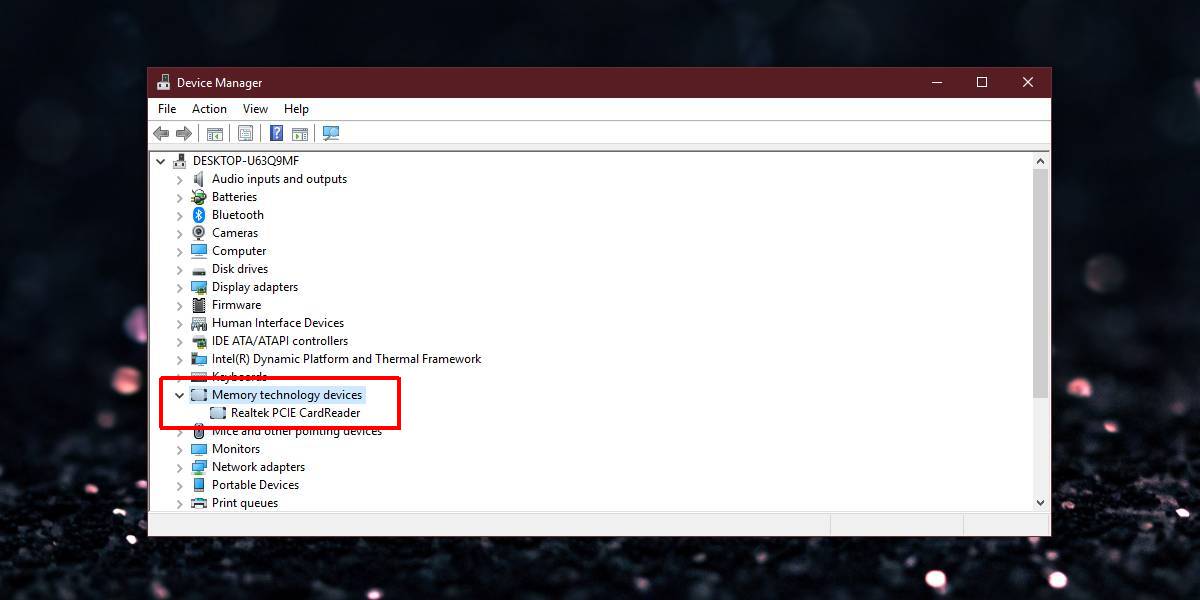 Once you've found the device, you should insert your SD card and then scan your hardware for changes. Your SD cad should show up and/or Windows 10 should install the correct drivers for it. If you need to manually install a driver for the SD card, right-click the device and select Update driver.
Installing the correct driver alone may not fix all problems with your card. All the Device Manager does is tell you if you have a card installed on your system. Windows 10 doesn't have an option to disable or enable the card reader like it does for Bluetooth however, it is possible that the card reader is disabled from your BIOS. The hardware component will still show up in Device Manager even if the card reader is disabled. It does the same with Bluetooth. To enable the card reader, you're going to have to dig around your PC's manual, or your card reader's manual.
A correctly configured and properly detected SD card will show up in File Explorer. It will also be listed as its own device under the Memory technology devices group. If drivers alone aren't doing the trick, and your SD card came with a camera, you might need to install proprietary drivers or an app from the camera manufacturer to get Windows 10 to detect it. You should also make sure the card hasn't been locked.