Chameleon Shutdown Lets You Automate Shutdown With Multiple Conditions
Chameleon Shutdown allows users to Shutdown, Restart, Sleep, Hibernate, Lock and Log off their PC either at once, or according to some parameters. You can define the action, edit conditions and when those conditions are met, the application will automatically perform the pre-defined action. You can even set multiple conditions and use And/Or logical conditions for execution to shutdown your computer. If your PC gets hanged due to some issue, the application can also initiate force shutdown.
When you start the application, the interface displays 7 buttons namely Shutdown, Restart, Sleep, Hibernate, Lock, Logoff and Options at the bottom.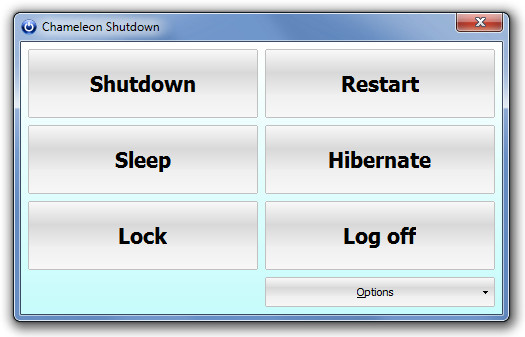 When you hover your mouse pointer over a button, it displays two options; Right Now and With Parameters.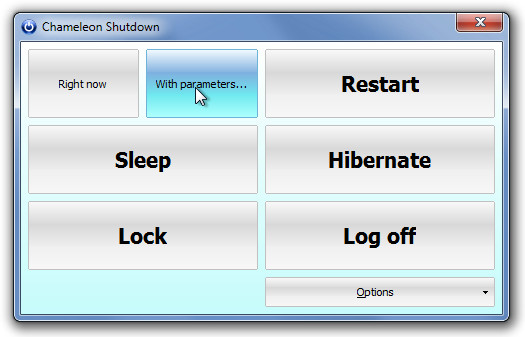 If you want to set some conditions for shutdown, click on With Parameters. You can choose any condition from Delay (to shutdown after some delay), Specific Time (to shutdown at a specified time), Idle Time (to shutdown if the PC is idle for a specified time), CPU Usage (to shutdown if the CPU usage remains below a particular percentage for a pre-defined amount of time) and Close of a Program (to shutdown after a particular program is closed). You can select the conditions from the left pane and set the values from the right pane. Check Force if Hung to force shutdown if your PC gets hanged. Once everything is set up, click Start.
If you click More and select Add an Additional Condition, you can set multiple conditions to be fulfilled before shutdown and give the And or Or logical condition for execution. For example, if you want your PC to shutdown either at a specified time or if the PC remains idle for a particular time, you can include both the conditions and select Or under Logical condition for execution. Once done, click Start.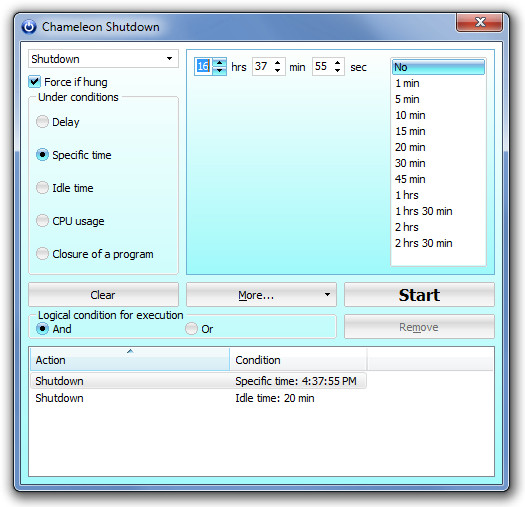 During installation, the wizard requests you to fill out a survey, which can be ignored by clicking Cancel to complete installation. Chameleon Shutdown works on Windows XP, Windows Vista and Windows 7.