reView: View And Convert Outlook MSG Email File Into RTF & HTML Format
Want to read emails from Outlook's MSG files without having to install and configure Outlook on your system? Although MSG files can be rendered by powerful text editors such as Notepad++, EditPad, they don't have the ability to show all email elements including email header, date and time stamp, HTML formatted email body and other information saved in MSG file. reView is a freshly-baked, standalone application to not only read MSG files but also to convert them into HTML and RTF format to view emails with original formatting. It can read MSG files exported from Outlook 2003, Outlook 2007 and Outlook 2010. Moreover, you can view the sub-messages, switch between plain text, RTF and HTML email previews, and save attachments embedded into MSG file.
When launched, it asks you to associate MSG file format with reView. Clicking Yes will enable you to quickly open the MSG file. From main interface, you can open MSG files, save them in HTML and RTF (DOC) format, open new windows to view multiple MSG files, check Print Preview and Print the email.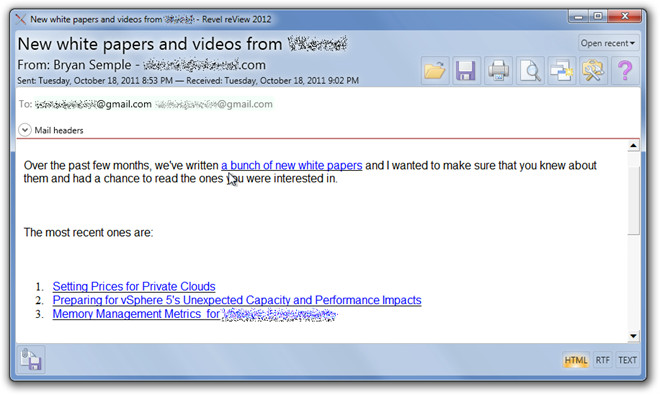 If MSG file contains attachments, click attachment icon present at bottom left corner to save the attachment to local location. From bottom-right corner, you can switch between HTML, RTF and TEXT view modes. The application saves the MSG files links in History, which can be accessed from Open recent drop-down menu present above the toolbar. By default, it remembers only 20 items, but you can extend this limit from Settings.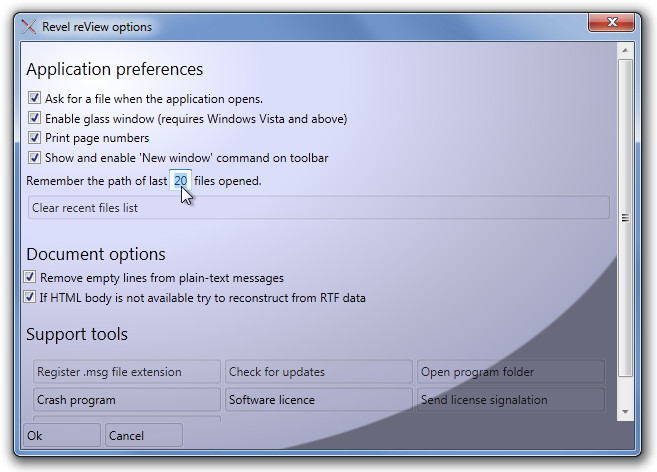 The Document options section in Settings allows you keep empty lines in plain text messages and reconstruct HTML format from RTF data if HTML body is not present. reView provides the quick solution for viewing and converting MSG file in convenient formats. It will particularly come useful for help desk personnel who often have to review hundreds of emails in MSG file format.