How to change a Windows 10 PC network name
Computers, whether they're PCs or Macs, can all talk to each other if they're connected to the same network. It may take some setting up but after that it's really as easy as clicking an object on your desktop. Macs will always show up on a network with a user friendly name and plenty of Windows 10 machines will do the same. If your Windows 10 PC network name isn't user friendly, you can easily change it. Here's how.
Change Windows 10 PC network name
Before we proceed you should know that the PC network name is not the same as your user name. Your username will not be changed when you change the network name.
The network name is basically the device name that's set on Windows 10. You can change it from both the Settings app and from the Control Panel. The new name that you set cannot include spaces however you can use a hyphen in its place.
Control Panel
Open the Control Panel and go to System and Security>System. Click Advanced System Settings in the column on the left.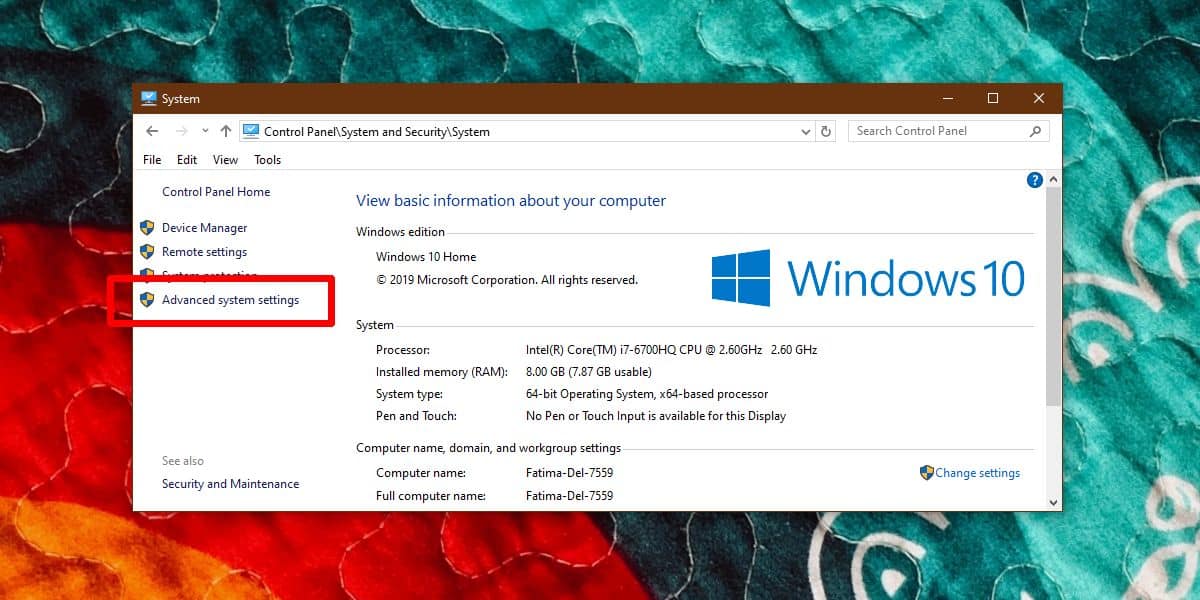 In the window that opens, go to the Computer Name tab and click the 'Change' button. In the next window that opens, enter a name for your computer. This name should not be more than 15 characters long. Click OK. Windows 10 will tell you that it needs to restart in order to apply the change.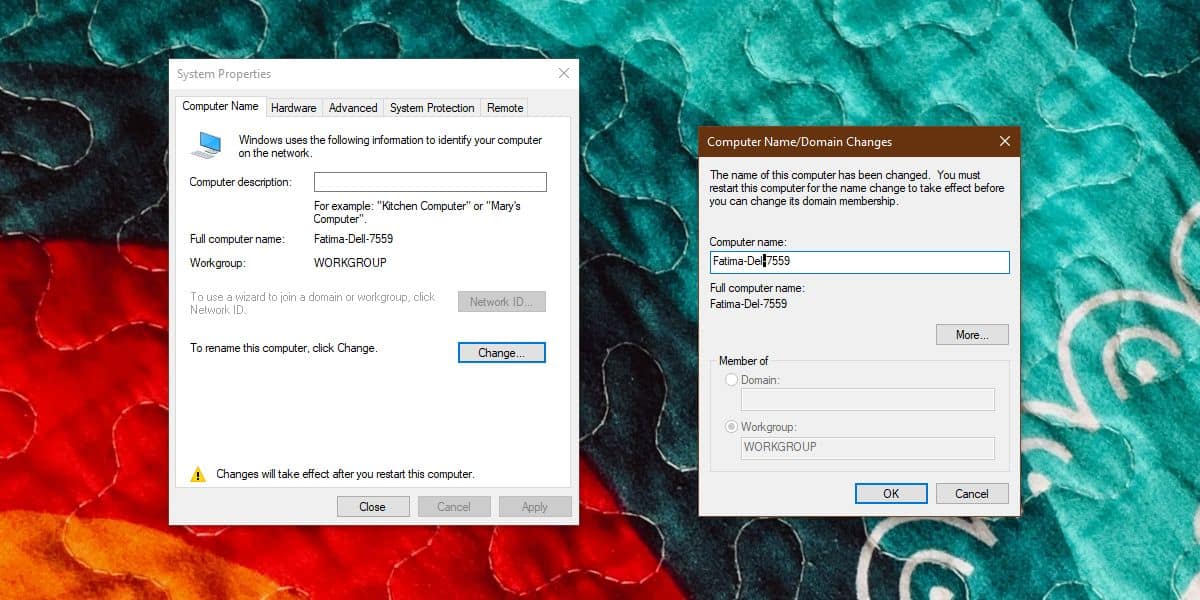 Settings app
Open the Settings app and go to the System group of settings. Select the About tab, and scroll down to the Device specifications section. Click the 'Rename this PC' button.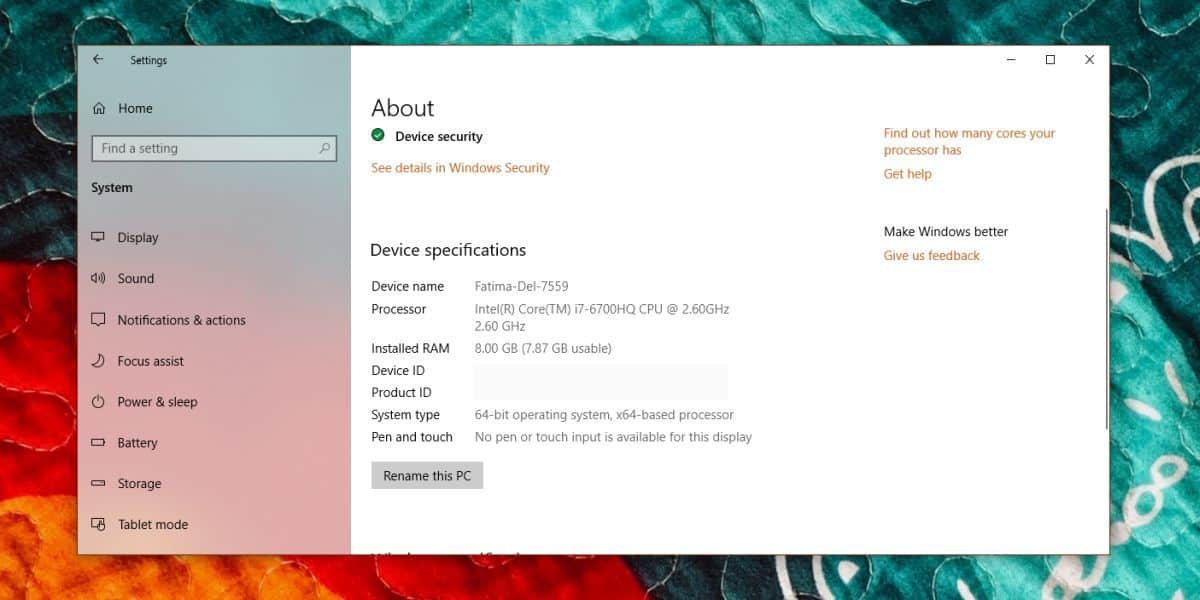 In the pop-up that opens, enter the name you want your PC to appear with on the network. As with the Control Panel method, you will need to restart your PC to apply the change.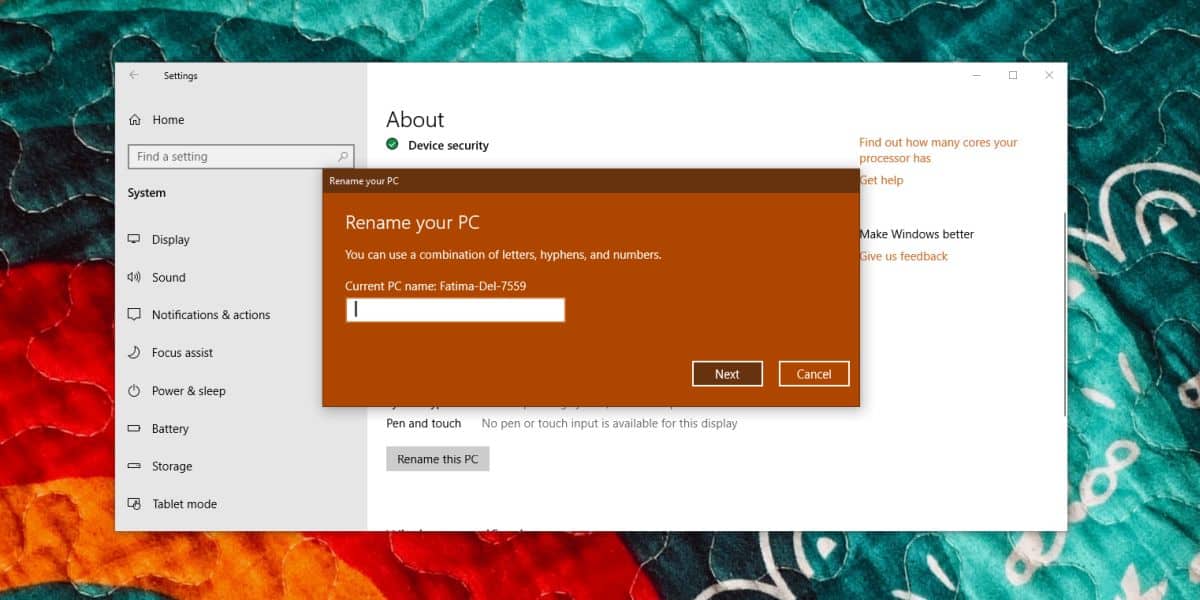 Normally, the correct name should already be set up when you configure your Windows 10 PC on its first run however, it's Windows 10 and sometimes things don't always work correctly.
The name is basically cosmetic so you don't have to worry about any network links breaking. The system's network address, which is a numerical value not visible to users by default, is what's used to access it. The computer name is there for the benefit of users since it's not easy to remember the local IP address of all the systems on a network. You can change it as often as you want. The name is set on your system so there's no way to set it on a per-network basis if you often connect to different networks.