Change Windows 7 Boot And Resume Screens With Windows 7 Boot Updater
Although we have seen a dozen of Windows 7 boot animation changers in the past to customize Windows 7 boot screen, almost all them require heavy tweaking with a bunch of system DLL files in order to replace Windows 7 default boot screen with customized one. But this time around we have an easy-to-use tool called, Windows 7 Boot Updater, which not only replaces default Windows 7 animation logo with customized image/logo, but allows changing other boot screen elements, such as, screen background, text with its size and color, text position with option to change font and margins and so on. Additionally, it enables you to change Windows 7 resume screen with customized font and backgrounds. You can easily revert back to default Windows 7 boot and resume screens by saving them prior to start customizing their different elements.
The application usage is simple. Before starting out, from File menu, select Save Boot Skin As and then choose the location where you want to save the default Windows 7 boot screen. Now it's safe to make any changes to Windows 7 boot screen. To begin, from Booting tab, select Static Image or Animation from pull down menu. Once inserted in the main screen, you can choose to change the background, Message color and text. Both static text message editors are present at the bottom. From Messages 1 tab, you can change Starting Windows text and its size, position, and color whereas Message 2 tab lets you do customizations overt Microsoft copyright text.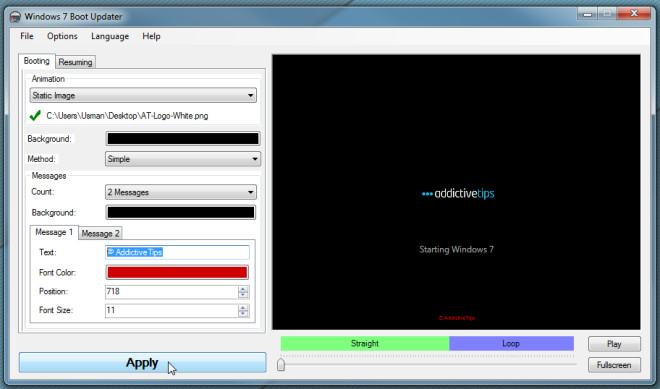 It's advisable to Play the animation before applying changes. The Fullscreen mode is also available to check Windows 7 boot animation on full screen. Similarly, you can change Windows 7 resume screen. Head over to Resuming tab and start changing different screen elements.
After you've done customizing Windows 7 boot and resume screens, click Apply to let it automatically replace Windows 7 boot screen DLLs with customized ones. Now restart Windows to view the newly applied animation.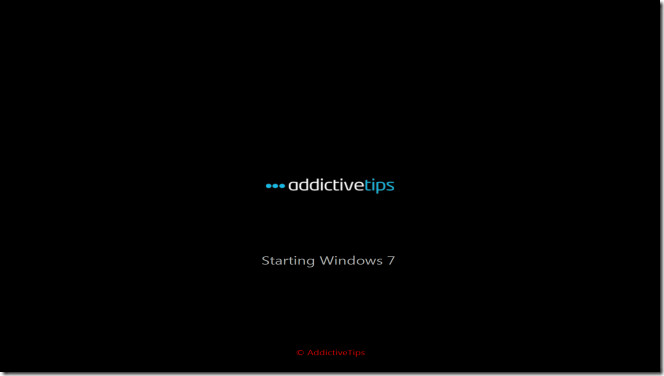 Download Windows 7 Boot Updater