How To Install The Chrome App Launcher On Windows
Chromebooks have been gaining significant popularity lately. These Chrome OS-toting computers basically use Google Chrome itself as a computing and app platform, and require continuous internet connectivity to run all these web-apps. Chromebooks rely solely on the Chrome apps but since the browser itself is always running as a part of the OS itself, you do not need to launch it every time you want to run an app. Instead, you get an app launcher similar to the Start Menu for accessing all these apps. Today, Google has released a developer preview of its app launcher for Windows that allows you to launch your installed Chrome apps directly from Windows desktop. As of this writing, the app launcher is only available for Windows on the Chrome Dev Channel, but Google plans to push it to Chrome for Mac OS X and Linux soon.
In order to get the app launcher, you will need to switch to the Dev channel of Google Chrome. After switching to the Dev build, you will need to download any of the available Chrome packaged app such as TextDrive to enable the app launcher. Do note that none of the Chrome-packaged apps are currently searchable on the Chrome Web Store, and you'll need a direct link to one of them (like that of TextDrive we just provided) in order to install them. Many of Google's own Chrome apps might not work to initially get the Chrome App Launcher, so it's best to go with TextDrive, even if you don't need it. Also, if you have installed the Chrome-packaged app before switching to the Dev channel, you'll need to uninstall and reinstall it in order to get the Chrome App Launcher. You will also be asked to sign in to a Google account before you can get the launcher.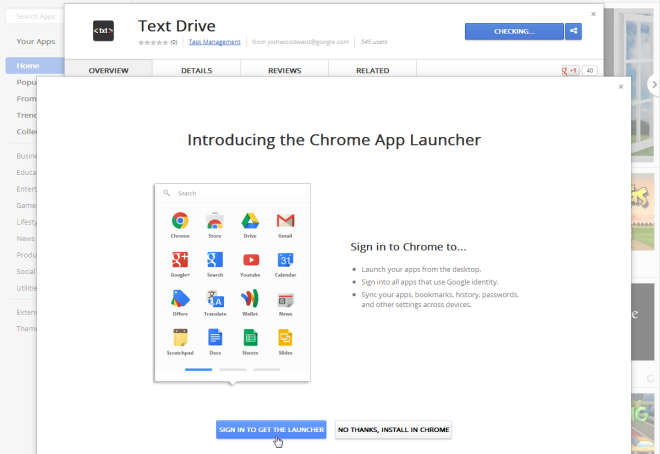 As soon as the app is installed, you will notice a new icon in the Windows Taskbar. Click the icon to open the app launcher with the list of all your installed Chrome apps. Any offline apps will launch directly on the Windows Desktop, while the ones that require an internet connection will be launched in the default internet browser.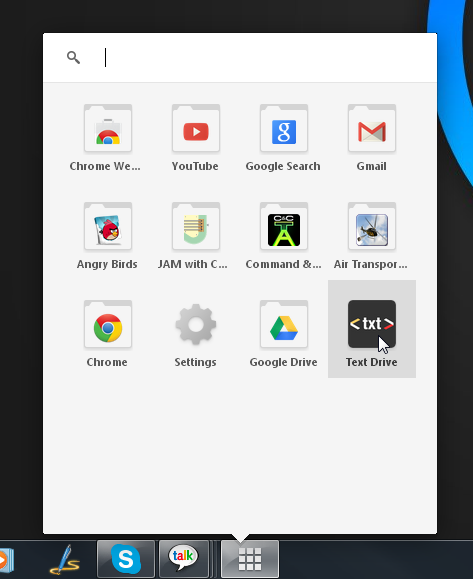 If you are a regular user of Chrome apps, this is quite a useful addition to the system and simplifies the process of launching your favorite apps. Hopefully, it will be soon make its way to the Beta and then the Stable channel for Windows as well as Mac OS X and Linux, allowing every Chrome user to take advantage from this useful feature.
Update: Chrome App Launcher is now available in Chrome's Stable channel. We've added the download link below.