ClipGrab: Desktop Video Downloader
ClipGrab is one of the most convenient video downloading freeware. The ease-of-use, combined with simple and highly interactive features, makes it one of the must-have apps out there. The app sits in the system tray and automatically notifies you if the video you are watching is available for download. With a single click it will start downloading the video.

For downloading manually, copy the link of the video and paste it into ClipGrab's input field. Choose the target media format and quality. Hit 'grab this clip!' button to start downloading.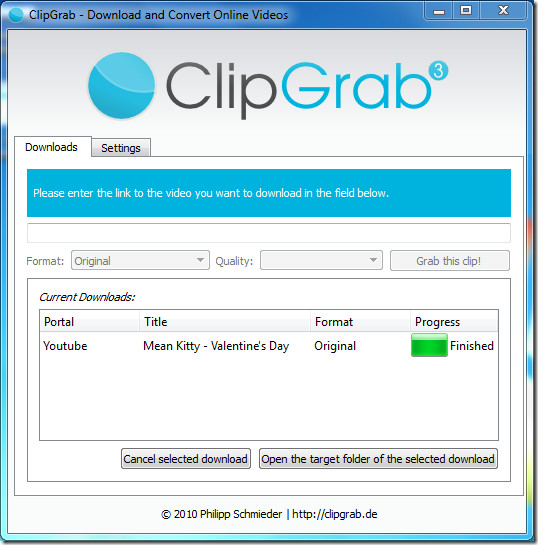 A pop-up notification will be shown once the download is complete.

ClipGrab supports the following sites at the moment:
YouTube.com
MyVideo.de
DailyMotion.com
Vimeo.com
MySpass.de
It supports the most eminent media formats.
MPEG4 (video)
WMV (video)
OGG Theora (video)
MP3 (audio only)
OGG Vorbis (audio only)
It works on Microsoft Windows 7, Microsoft Vista, Windows XP, and Windows 2000. It is also available for Mac OS X and Linux. For more, also check out Live Downloader, a similar tool we reviewed before.