Copy Offers File Sharing, Cloud Storage & Sync With 12GB+ Free Space
File sharing has become immensely easy over the past few years, thanks to the fast internet availability in many parts of the world, and services like Jumpshare and Dropbox. The aforementioned file sharing solutions help users share files with much more ease than they could just a few years ago. In addition, such services also provides them with virtual cloud storage to back up their content as well as access it remotely over the internet. Copy is a great new file sharing and cloud storage service that I recently discovered and took for a spin. Available for desktop, mobile and web, the service makes file sharing as well as collaboration simple and intuitive.
Update: Copy is shutting down.
Copy's web interface is quite clean and minimalistic. To share files using the service's web UI, you can either drag and drop them on the page, or double click the upload area and select the files. Once selected, copy instantly starts uploading files to the cloud – it's that simple. You can share files without even creating any user account that most other similar services often require.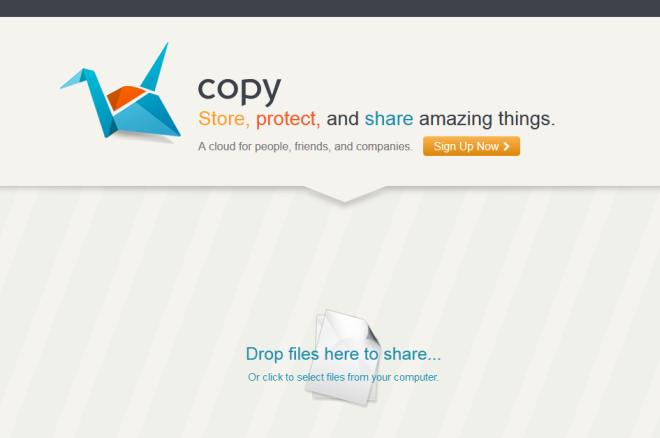 Once uploaded, Copy generates a unique URL for the file that you can copy and send to the intended recipients over email, social media networks or IM. On the receiving end, the user just needs to open that URL in their web browser and click the Download button to download the file to their PC, smartphone or tablet.
While you can use Copy's file sharing features without creating any account, registering for one rewards you with a few additional privileges like 5GB of cloud storage and file synchronization straight from desktop or mobile, depending on which platform you use it. An account can be created both from the web interface and from within the service's desktop or mobile apps. The desktop application is available for Windows, Mac OS X and Linux, while the service offers mobile apps for both iOS and Android.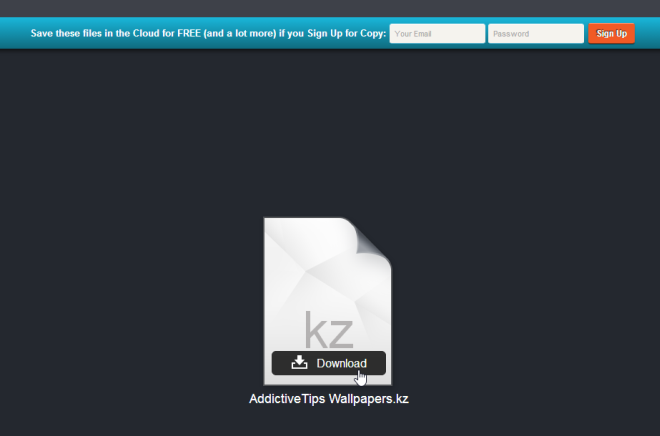 I tested the Windows version of Copy and it worked perfectly fine for uploading and accessing my files. The good thing about installing any of the desktop or mobile apps is that it gives you an additional 5GB of storage, bumping the total up to 10GB. If you don't already have an account, you can click 'Create Account' and enter a few required credentials to make one right from the app.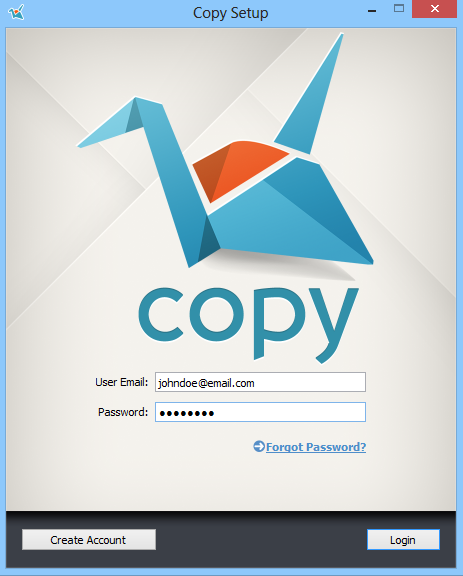 Users who have previously used services like Dropbox, SkyDrive or Google Drive will instantly find themselves at home, because Copy for Windows works not much different from the apps of those services. It creates a local directory on your PC to which you can simply move your stuff that you want to keep synced with the cloud.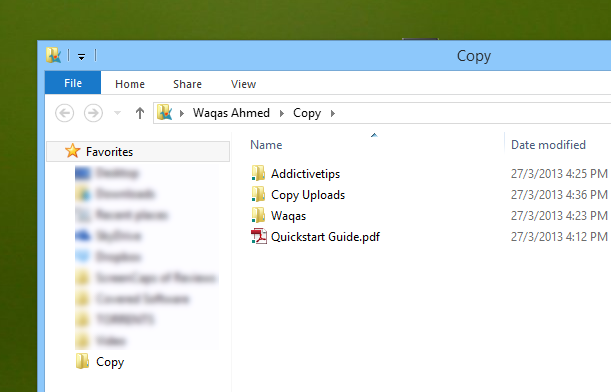 Another cool feature I came across in the desktop app is the ability to share a custom cloud folder with other Copy users.  This comes handy if you frequently need to share photos or other content with your friends. To do this, open the Preferences console of the app by clicking its notification icon and select Sharing tab. Then simply click 'Share a Folder' to choose the directory that you want to sync with others. After creating the folder, right-click its path and select 'Invite Others' from the context menu. The app lets you invite users by sending them an invitation email.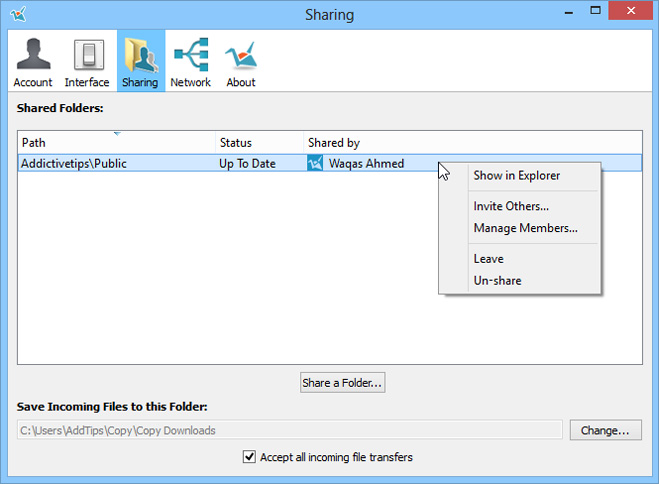 Copy also keeps past versions of your files so that if you accidentally lose or change something, you can get it back. The Android app of the service comes with PhotoCopy – a feature that automatically uploads your photos to the cloud similar to Dropbox, SugarSync and Google+'s offering.
The initial tour after registration lets you add an additional 2 GB of free storage simply by tweeting about Copy, bumping up the free storage space to 12 GB. For a limited time, Copy is also offering 5 GB of free storage for every user that signs up through your referral, and that can help you boost your free space a lot further. In addition to the free storage, there are also several paid plans available for those who want more cloud storage space.
In a nutshell, Copy is a file sharing, cloud storage and syncing service that doesn't really offer any remarkable new features over what's already out there, but gets the job done really well and provides plenty of free cloud storage for many users.
Download Copy for Windows, Mac, Linux, iOS or Android