Crack 7zip Password Protected Archive [Hack]
7zip is the most recommended way of compressing the files into an archive. It is an opensource tool which allows quick compression and extraction of 7zip, Gzip, Zip, Rar, and other archives. Most users tend to lock the 7zip file with a password but hackers can still extract the archive by bypassing the password. Let me explain how.
7z Cracker is an opensource cracking tool which can extract any password protected 7zip file. It is developed for the purpose of helping users recover their files if they have forgotten the password.
The process is pretty straight forward, once you extract the 7z Cracker, grab the 7zip command line tool called 7za.exe(link given at the bottom of this post) and put it inside the same directory where 7zCracker is residing. Also move the password protected 7zip file (that you want to crack/extract) into the same directory. Now start 7zCracker.exe and enter the archive name along with the extension as shown in the screenshot below.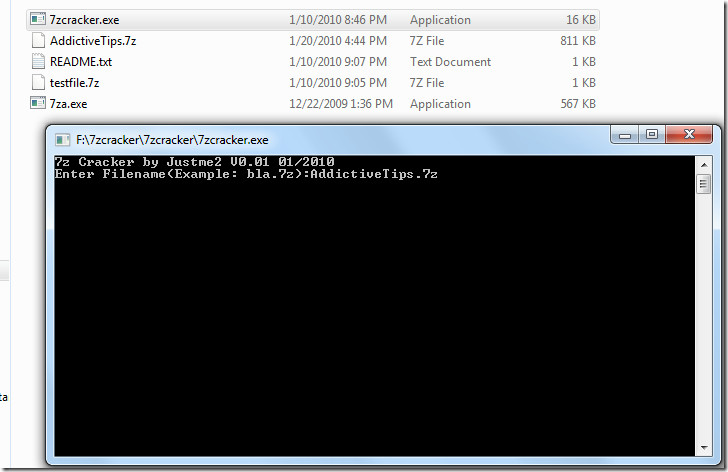 Once you hit Enter, the 7zip archive will be extracted and you will find the content inside the est folder.

Editor's Important Note: While adding files to 7zip archive, just below the passwords field there is an option to encrypt the file name. While testing I observed that once this option is checked, 7zCracker will not be able to extract your files. So next time you password protect your 7zip archive, make sure that you have selected an option to encrypted the files as well.
Download 7zip Command Line Tool (7za.exe)
It works on all versions of Windows.