Mp3 Diags: Fix Upto 50 Problems With Mp3 Audio Files
MP3 Diags is the ultimate tool to fix problems in your music audio collection. It can properly tag your mp3 files, add missing album cover art, fix VBR headers, fix audio with poor sound quality, and much more. To put it in a nutshell, unlike other programs who focus on fixing one or two problems, Mp3 Diags scans and repairs upto 50 different problems.
On first start, choose the directories to scan for mp3 files, backup destination, and other settings. Make sure you have a backup of the mp3 files since the original mp3 audio files will be modified by the program.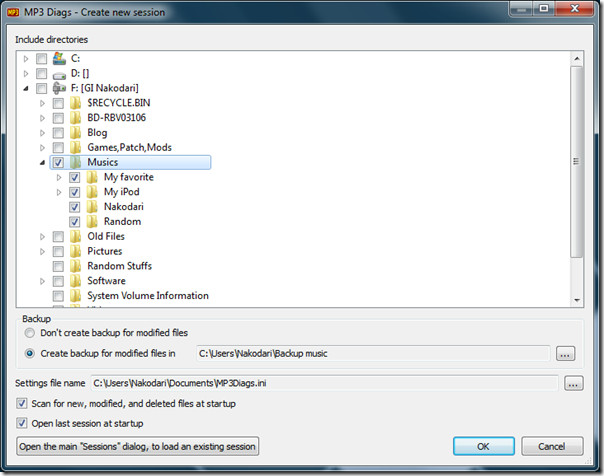 Once the main window is open, choose the music folder which you want to scan and it will load all music files on the main program. Now you can choose to apply a certain fix by clicking the fix button, there are four different types of fix buttons given next to the main fix button. You can choose to add a certain number of fixes to each button(from Preferences window) so that it becomes easier to repair the mp3 collection in one click.
So what does aa, ab, ae, ak, etc which are given next to the file name stand for? The information is displayed under notes and further detailed information is given at the bottom.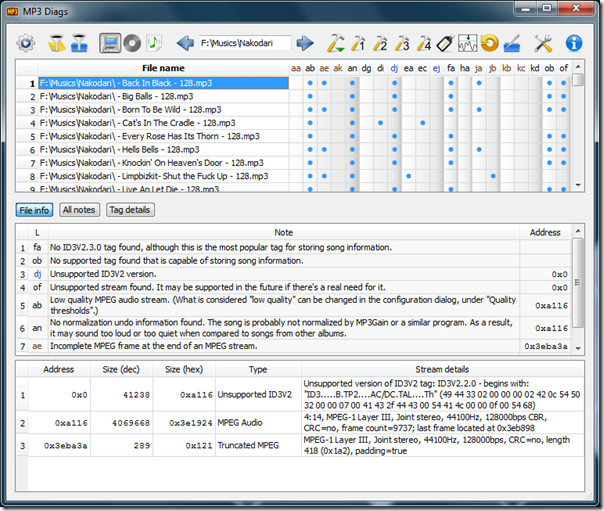 It has a build-in tag editor which adds missing tag information, album art, etc and also corrects the wrong placement of tags/headers. Just next to the Tag editor button is the Normalization button which can fix the missing normalization data.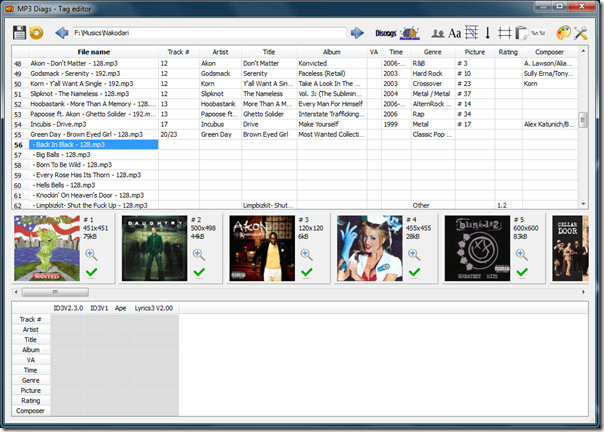 Looking for a tool to split Mp3 file? Give Mp3Splitter a shot. Mp3 Quality Modifier can compress the Mp3 files, while Mp3val can quickly repair the mp3 files that fails to play on your iPod or any other mp3 player.
Download Mp3 Diags (Main Site)
It works on Windows XP, Windows Vista, and Windows 7. Linux versions are also available.