Create, Sort & Manage Text Snippets With This Pastebin Desktop Client
Users use Pastebins to post messages on Twitter, and is very popular among IRC channels. One of the most renowned and earliest example of pastebin is Pastebin.com, a web-based application that lets users upload text snippets in order to share them with friends, colleagues and with public.. Most software developers use this online service to paste large chunks of code modules to get help and feedback from other developers and users, making various troubleshooting aspects tad easier. Even though it allows you to store text for a certain period of time, you can paste any type of text and share it with others without worrying about any size restrictions. To use the service, one has to visit Pastebin website or use web browsers' extensions to quickly paste text to Pastebin.com. If you want to manage your Pastbin account and publish your text snippets from desktop, have a look at PasteBin. It is powered by Pastebin.com, the application lets you create, store and manage your Pastebin entries, without even opening your web browser. You can either log in to your personal Pastebin account or use a Guest account to upload the text snippets. More details to follow after the jump.
The desktop client has a very straight-forward usage and comprise of simple interface design. If you are already a Pastebin user, simply select Login from the top, enter your username and password, and click the OK button. Likewise, you can also use a Guest account to paste the content as an anonymous user. The main interface has two tabs at the top, namely Paste and List. The Paste tab allows to enter text, choose a Syntax and Submit the paste.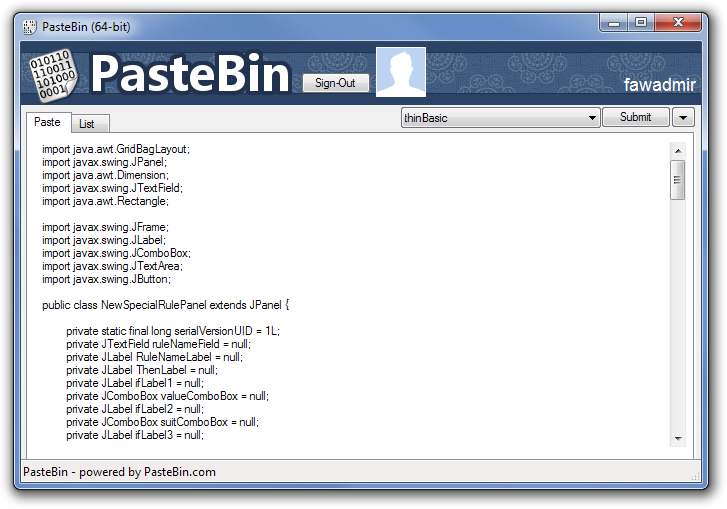 Clicking the Up arrow button at the top right corner allows you to set Paste Expiration option (10 min, 1 hour, 1 day, 1 month or Never), Paste Exposure (Public / Private) and Paste Title.

Once text is successfully uploaded to Pastebin.com, you will receive a notification at the top along with the URL for sharing it with others.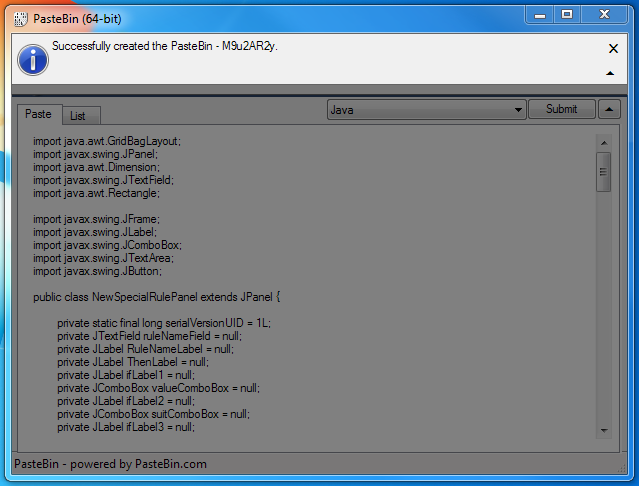 The application works on both 32-bit and 64-bit versions of Windows XP, Windows Vista, Windows 7 and Windows 8. Testing was carried out on Windows 7 Ultimate edition.