Customize Aero Glass Effect Opacity & Blur In Windows 8 With AGTweaker
Immediately after the release of Windows 8, transparency-obsessed users and developers have been demanding and developing different methods for bringing window and taskbar transparency back to Windows 8. The choice between transparent and solid window borders depends on your preference between a visually pleasing UI or better performance. A lack of transparency does not mean that the Windows 8 interface isn't as aesthetically pleasing; it is just that for some people, a shift from the rather stylish look of Windows 7 to a simpler, minimalistic one seems like a step back. Over time, a lot of tools have been developed for the purpose, Aero Glass for Win8 being the best of the lot. It is the closest you can get to the original Aero Glass effect with blurred transparency. However, the application does not have a GUI or any settings to control the transparency or blur effect. Today, we bring to you a tool called AGTweaker that works as a supporting utility for Aero Glass for Win8, allowing you to control the level of opacity and blur to apply to window borders. Moreover, it lets you set the Aero Glass effect to be applied at Windows startup to avoid the trouble of loading it every time you reboot your system.
Keep in mind that AGTweaker is not a standalone application and you will need Aero Glass for Win8 in order to make it work. Follow our post on Aero Glass for Win8 to learn how to properly install it on your system.
Unlike Aero Glass for Win8, AGTweaker does not need to be placed in any special folder and can be run from any location within the OS. It is a portable application, so does not require installation. When you run the tool for the first time, the values for Opacity and Blur will be set to default, as set by Aero Glass for Win8. You can move the sliders right and left to increase and decrease the intensity of the effects. You can increase the Blur effect to its maximum value while still decreasing Opacity to zero to give window borders a glazed look.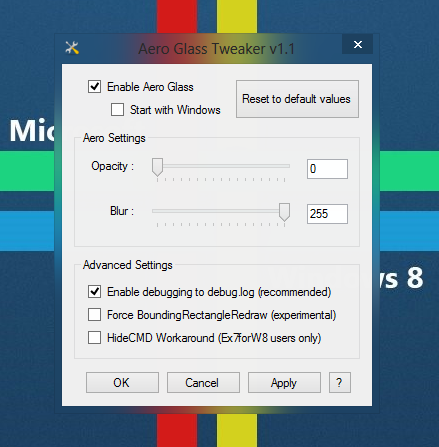 You can also choose to make the window borders completely transparent by setting the blur effect to zero too. The Additional Settings section below the sliders allows you to enable or disable debugging mode, BoundingRectangleRedraw and HideCMD Workaround for Ex7forW8 users.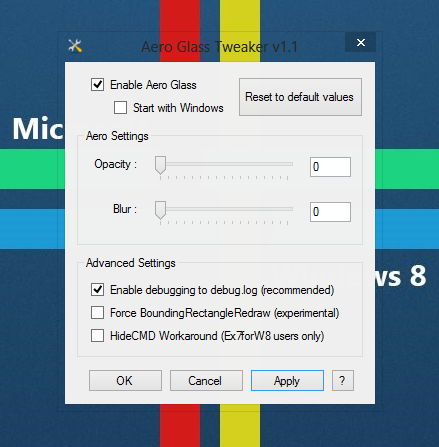 AGTweaker works on both 32-bit and 64-bit versions of Windows 8.