Daum PotPlayer: A Worthy Alternative To VLC, KMPlayer & Media Player Classic
Judging and reviewing a media player is often a challenging task, as different features have separate levels of priority in each user's mind. One might rank the loading speed higher than a stylish user interface, while another may downplay such points as immaterial in contrast to format support. With this consideration in mind, we have found the new PotPlayer fairly attractive for multimedia users, worldwide. An attractive interface coupled with advanced features, comprehensive format support, quality control and a minimum impact on your computer's performance, has brought great respect to this apparently-nascent software. Unfortunately, unlike its peers (like VLC Player or Media Player Classic) etc, PotPlayer currently only supports Windows. The application installs smoothly, leading to an attractive welcome screen characterized by its sleek and useful layout. Moreover, the icon set is intelligent in the sense that they are specific to the type of file format. An audio file in the OGG format is depicted by a red icon, while an FLV video file by a purple icon, each with their formats clearly visible. Moreover, an optional history is shown on the welcome screen sidebar for ease of access.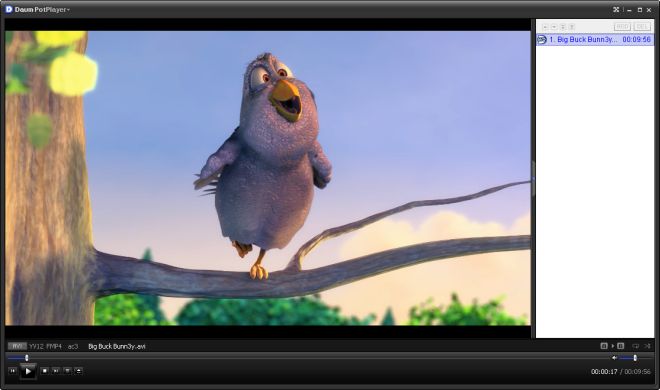 All options can be accessed either by right-clicking the main window or the dropdown menu on the toolbar. Daum PotPlayer enables you to bookmark your favorite scenes for playback and later use, accessed through the bookmarks option.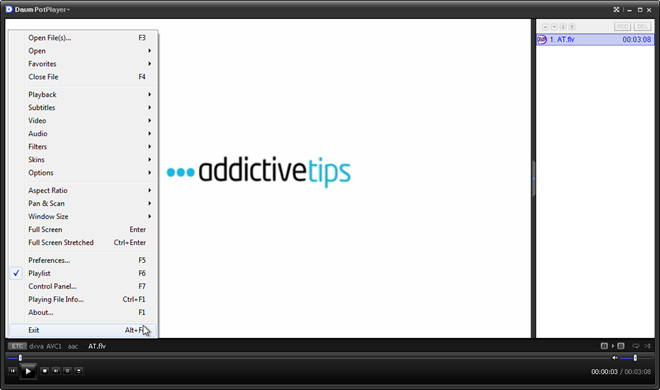 The right-click menu is resourceful with respect to the options available. In addition, there is a wide range hotkey support that can be viewed from the official website or the help page. This media player allows you to reduce the quality of a video for low-performance systems. You can easily change the skin of your player by going to the relevant option and selecting or modifying a template of your liking without having much effect on the system performance.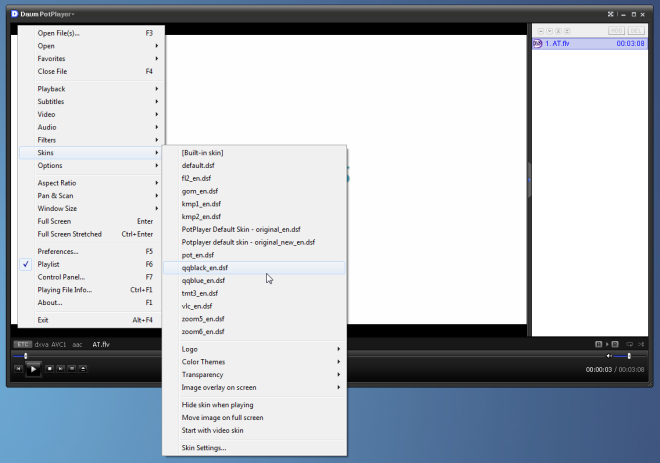 You can specify different threads for media to avoid any crash or sluggish application behavior. Furthermore, syncing and on-screen placement of subtitles has been made easy, along with audio recording from an active video file feature. In addition, advanced audio and video processing capabilities have been brought to the next level for pre- and post-processing of media files, coupled with custom screenshot capabilities. For corporate presentations, PotPlayer lets you place your logo on the video screen, as well as the A-B Repeat feature, which lets you specify a start and end point for recursive playback. Live TV can also be recorded with ease and support for analog/digital TV cards is also a plus point.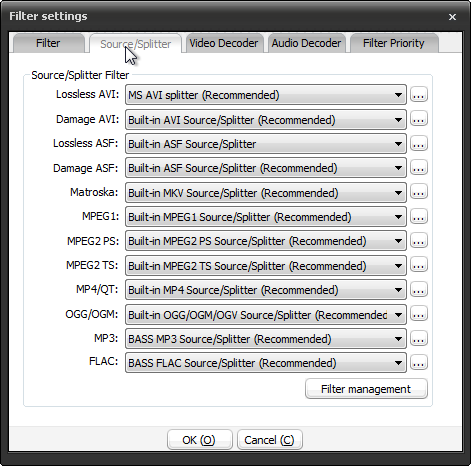 Daum PotPlayer boasts the ability to attract both basic and advanced users in terms of format compatibility, interface, settings, processing, acceleration and unique features. One of such features is the auto-shutdown and action-specification option, which enables you to instruct commands to the player to follow upon the completion of a current task.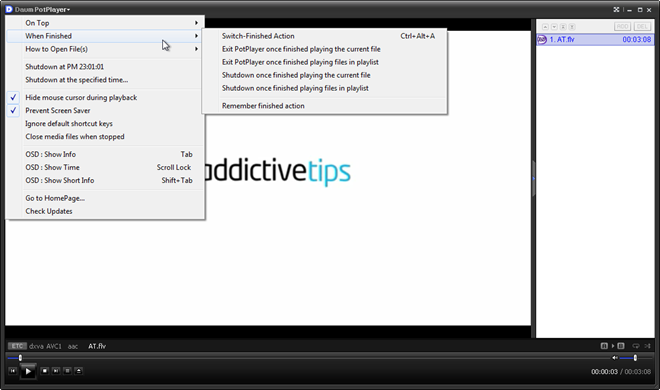 All in all, this is surely an application deserving your attention, although its comprehensive feature set may not appeal to the novice users. We tested it on Windows 7, 64-bit edition, and found it compatible with Windows XP, Windows Vista, Windows 7 and Windows 8.