Install Android 4.1 Jelly Bean ROM On Galaxy Nexus GSM
The Galaxy Nexus GSM fixates itself on some Android 4.1 Jelly Bean goodness! Just a while back Google released an OTA for the GSM based Tajku Galaxy Nexus that were handed to the conference attendees at Google I/O. Well, the idea was to keep the release exclusive, but we're talking Android, and that fact alone, is enough to guarantee that Jelly Bean will be ripped out of one of those devices and released onto the internet. Well, guess what? XDA-Developers forum member PTzero has made that happen and the release went viral on the internet in no time. However, not to undermine PTzero's effort, the release was actually an update to the Tajku devices running the IMM30B build and only a handful of people actually had that going for them. That said, those who did have that build, had to flash the update via Fastboot and some users were looking to flash the IMM30B build just so they can flash this update on their phone. However, all of this was too complicated and too sketchy where you were almost shooting in the dark. So while some dismayed and some eagerly awaited for a proper zip package they could flash, it has finally happened and that too, at quite some speed. Galaxy Nexus GSM users are now looking at not one, but three Android 4.1 Jelly Bean based custom ROMs, including a stock ROM, ready to be flashed on any Galaxy Nexus GSM device, without the worry about the current build you're on.
Been living under a rock? I can help you come up to speed with what the new Jelly Bean OS offers. See our guide summarizing the new and improved features of Android 4.1 Jelly Bean.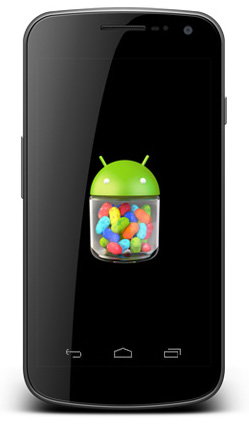 Stock and Rooted, MCR – Jelly Bean, and Jelly Belly v.1 w/AwesomeBeats make up the ROMs available for the Galaxy Nexus at the time I write this. There's a good chance that you have stumbled here and are itching to get Jelly Bean up and running on your device but are not rooted, not custom recovery installed and well, you probably have no clue on how to do so. Well, let me take you through a comprehensive tutorial on how to install Jelly Bean on your Galaxy Nexus GSM.
Disclaimer: Please attempt this guide at your own risk. AddictiveTips won't be responsible in case your device gets bricked or damaged in any other way due to this method.
Requirements:
Instructions:
To begin, download the ROM of your choice and any updates or fixes linked along with that ROM. Copy the ROM and any update to the root of your internal SD card.
Boot the device into recovery mode by pressing and holding down the Volume down key along with the Power button.
Once in recovery, make a Nandroid backup by entering Backup & Restore and selecting Backup.
Navigate to wipe data/factory reset and select it. Now wpe cache and go to Advanced. Wipe Dalvik cache from here.
Go back and select install zip from sdcard > choose zip from sdcard and select the ROM you copied to the the device.
Once the flashing begins wait for it to complete and when it does, and if you have a fix or update as well to go with the ROM, flash that as well by repeating the same procedure but choosing the update or fix file of course.
Once the ROM and any other relevant files are flashed, reboot the device and cross your fingers!
This is it my fellow Android enthusiasts, you now understand why Google flagship phones are always triumphant whenever it comes to OS releases. Do share with us your thoughts over this new Jelly Bean.