How to Delete desktop.ini Files on Windows 10
Windows 10 has hidden files and folders. These are often files and folders that a user shouldn't be tampering or making changes to directly and they reside in specific folders e.g. in the C drive or the AppData folder under a user folder. In some cases such as that of the AppData folder, making changes to it isn't a big deal though you should still be careful. You can make changes to it by allowing hidden files to be visible.
When you set hidden files to be visible, you might also see a few files called desktop.ini. These files, contrary to what their name dictates, aren't just present on the desktop. You will find them in other folders. They are small in size and there isn't an app associated with them that you can use to open them. More importantly, they aren't associated with any one particular program.
What are desktop.ini files?

A desktop.ini file is a configuration file. It contains a few settings that are related to the folder they are in. The settings are normally for how the folder can be viewed and some of its other attributes. You may not always see a desktop.ini file in every single folder on your system. They aren't present inside every single one however, you may see it in some folders. The surest place to check for one of these files is the desktop.
View desktop.ini files?
If you're wondering whether or not you have these files on your system, it's easy to check. You have to enable hidden items.
Open File Explorer to any folder.
Go to the View tab.
Enable/check the 'Hidden items' box.
Go to the desktop and check if there are any desktop.ini files. If you want to know what's in a desktop.ini file, you can open it in Notepad. You will be able to change its contents without any problem so be careful and don't change anything if you do not know what you're doing.
Delete desktop.ini files on Windows 10
Deleting a desktop.ini file is easy but it does have consequences which we will discuss. Go over them before you delete these files.
To delete desktop.ini files;
Enable hidden items from the View tab in File Explorer.
Once the files are visible, select a file, and tap the Delete key.
If you delete a desktop.ini file from a particular folder, all the folder customizations that you've made e.g., which columns are visible, how the folder is optimized will be reset. You can make all these customizations again but in doing so, the desktop.ini files will return. These files tend to auto-generate.
These files aren't something you can live without if you customize folders so it really is better to make peace with them. They are easy enough to ignore but if you don't like seeing them, you can hide them by choosing to not show hidden files.
Stop desktop.ini files from generating
If you'd like for these files to stop being generated, you can do so by changing the Windows registry.
Tap the Win+R keyboard shortcut to open the Run box.
In the Run box, enter 'regedit', and tap enter.
This will open the registry editor. Go to the following key.
HKEY_LOCAL_MACHINE\SOFTWARE\Microsoft\Windows\CurrentVersion\Policies\Explorer
Look for a DWORD value called UseDesktopIniCache. Double-click it, and set its value to 0.
If the value doesn't exist, right-click the Explorer key and select New>DWORD (32-bit) Value and name it UseDesktopIniCache.
By default, the value should be set to 0.
You can now delete the desktop.ini files, and they will no longer be generated. You can still customize folder views.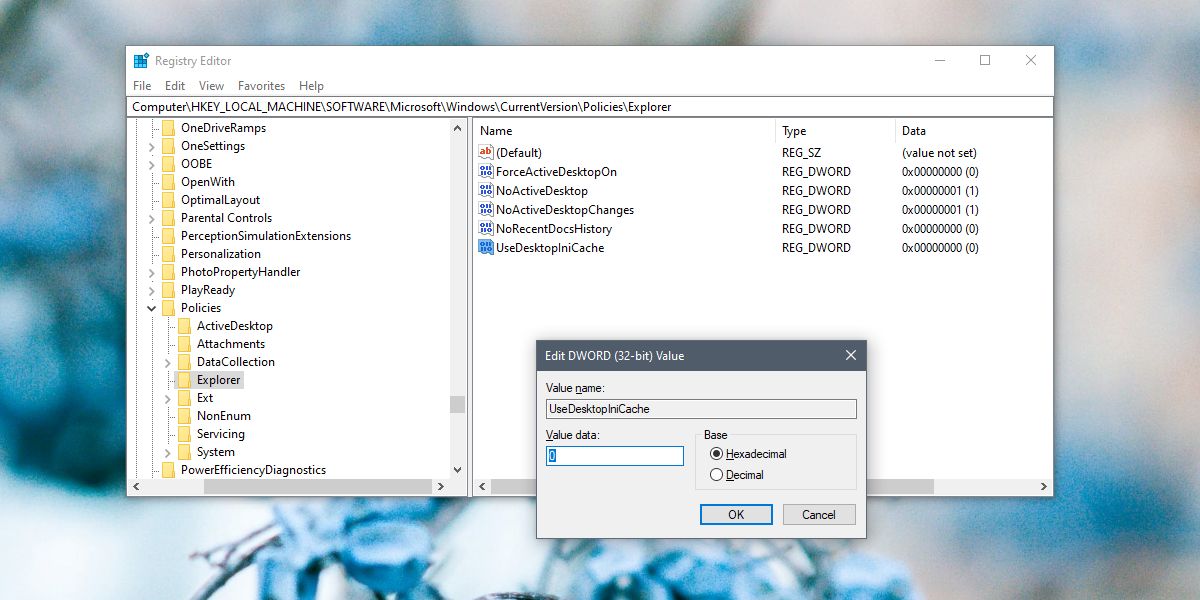 Have we fixed your problem?
Most users may never see a desktop.ini file on their desktop or inside a folder. This is simply because the file only appears when you've made certain changes to it such as changes to the icon or how files are displayed. If you always allow File Explorer to choose how files are displayed, and never change anything about the icons that are used, you won't see these files.
These files are easily copied when you copy entire folders. You might even extract a zipped file and find that the folders inside it has a desktop.ini file. It might be a little alarming and you might think it's a virus but it will never be flagged by any anti-virus and it is completely safe.