DestroyFlickr: Complete Desktop Manager For Your Flickr Account
Flickr is a image hosting service that allows users to upload their photos, share them with others and follow photo streams put up by other people. Other than that, the service is also hugely popular among people who need a third party platform to upload images in order to use them in their own websites. The best thing about Flickr is that in order to view the images uploaded to it by other people, you don't have to register with the service. You can view any picture uploaded by any user, as long as he has chosen to share it publicly. However, once registered, you get the privilege of uploading images to your own account. Others can follow you, check out what you are uploading and comment on the photos. Previously, we have covered some very useful desktop tools for managing online services, without accessing them from your browser. DestroyFlickr is an Adobe AIR-based desktop utility that allows you to control all aspects of your Flickr account. The application enables you to manage your Profile, follow activity of your Contacts, download images to your computer, View, delete and edit (change name, add description) your own images, and have an overall view of all the streams added to your account.
Before you begin to start using the application, you need to login with your Flickr credentials and authorize the application to access your account.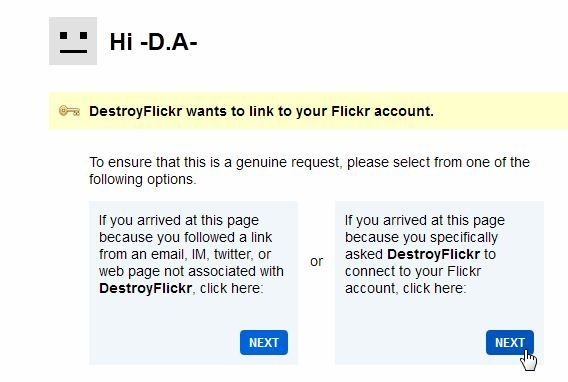 The application sports a very neat interface. The Profile tab is selected by default when you log in to your account. It displays information such as the total number of photos in your profile, the creation date of your account, your recently uploaded photos, and photos uploaded recently by your Contacts. The lower part of the main interface sports all the buttons used to access different features offered by the application.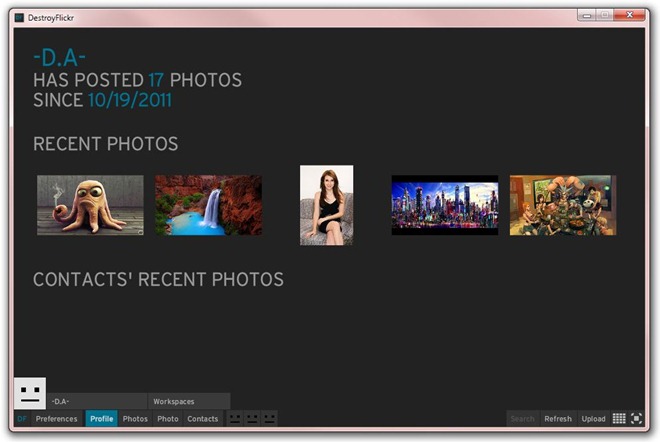 Click Photos at the bottom to view all the images that you have uploaded to your account. Click any image to maximize it, or drag and drop it to the Downloads section in the lower right corner to download the to your PC.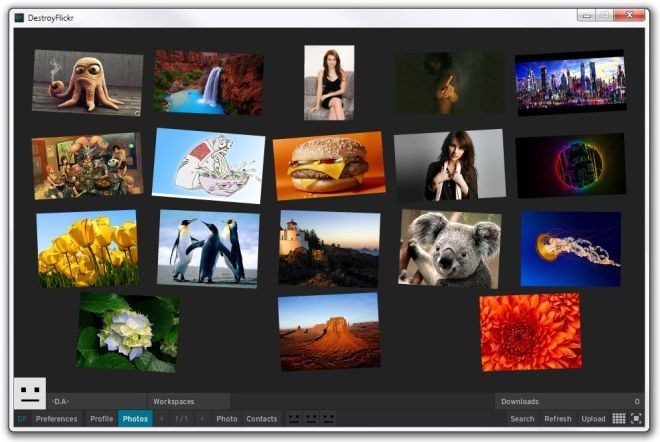 When you maximize an image, you are allowed to Go to its page, Copy its link, Download it to your PC, Edit it (add description and change name), Delete the photo from your stream, add it to favorites and post a comment about the picture. The interface can also be switched to full screen using the button availbe in the lower right corner.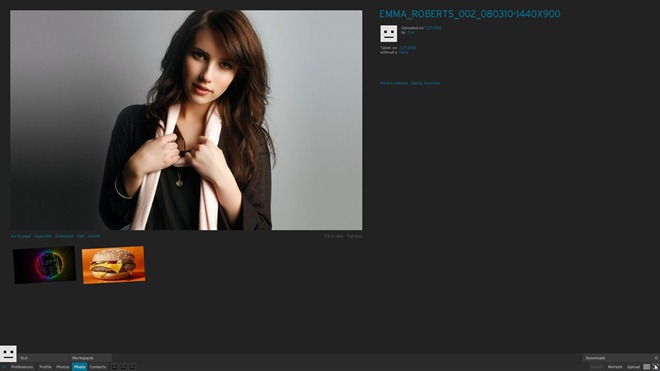 The Preferences section lets you select if you want to Straighten the thumbnails, Load photos at full size by default, Disable Transitions, Start up the program in full screen, and choose the default Downloads directory.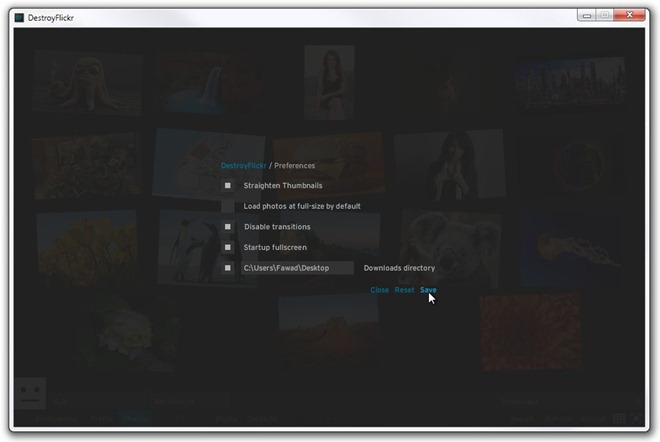 DestroyFlickr works perfectly on both 32-bit and 64-bit versions of Windows XP, Window Vista, Windows 7 and Windows 8 provided that Adobe AIR is installed on your system.