DirecTransFile – Transfer Files From Desktop Between PCs Over Internet
What would be the best way to transfer files from one PC to another over internet? You'd probably say by using numerous cloud based services which allow one to save and share data online with others, by using P2P file sharing services to directly transfer the file, or by attaching files with email and send it to recipient. But how about transferring files from one system to another directly from desktop? DirecTransFile is a miniscule yet extremely handy portable application which enables user to upload and download files directly from their desktops. As far as security is concerned, it doesn't involve any encryption operations but provides a small downloading code to secure data from prying eye. You just have to share that generated code with the recipient. After entering it, the recipient can start downloading files.
To get started, first make sure that DirecTransFile is installed on both sender and receiver ends. Now launch the application and it will prompt you to add an exception in Windows Firewall, click Allow to bring up the main interface. Now click Upload button to specify files and folders which you want to transfer, and click Register to register the uploads with its server.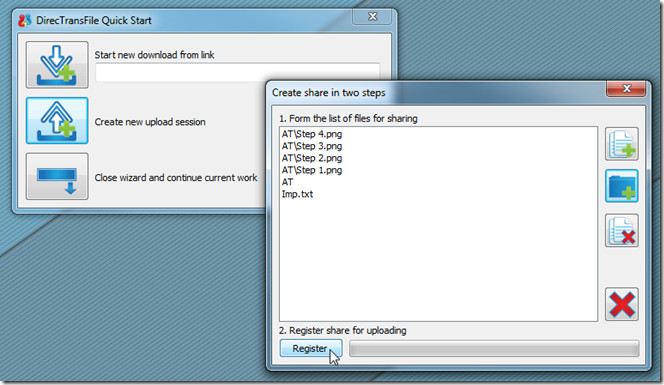 Once registered, it will show code of the upload archive. Just copy and share it with the recipient.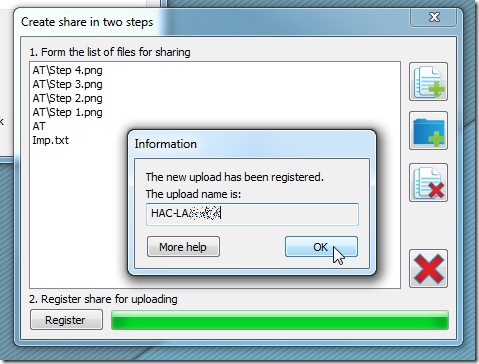 The recipient just have to enter the code in download input box followed by specifying the output location to retrieve the data directly from your PC. A notification will pop up on recipient PC, showing entered code with message that file(s) have been downloaded at specified location.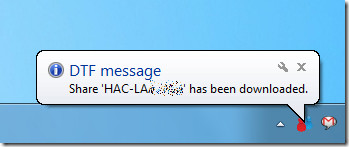 It's to be noted here that without being allowed by Windows Firewall, sender may not be able to register the downloads. DirectTransFile is one of the easiest tool to quickly share data between two PCs over internet.