Disable Unnecessary Write Access To Extend Lifetime Of Your SSD Drive
One of the reasons why many laptop users opt-in for SSD hard drives, is that SSDs consume relatively less power than other traditional storage disks. If you aren't familiar with SSD drive, it is quite different from storage mediums whose read and write processes depend on spinning of disk and R/W headers; Solid State Drives save data on micro-chips, and therefore, provide quicker access and higher data reliability. However, one of the downside is the short lifetime of the SSD drive in comparison to traditional HDD. One of the ways to increase the lifetime of your SSD drive is to disable unnecessary write access. Read on to find out how.
SSD Fresh does exactly that. This program packs 9 tools for solid state drives, letting you thoroughly check the disk health, disable unnecessary OS write functions (like prefetch, Windows event logging), optimize SSD read and write performance and enhance data access speed and so on.
The application requires users to sign up in order to use SSD optimization options. Just launch the application, enter your name followed by email to get free unlock code. Once done, open the main interface to view information on each disk partition, including total SSD drive capacity, selected drive size, file system, total number of partitions and SSD type.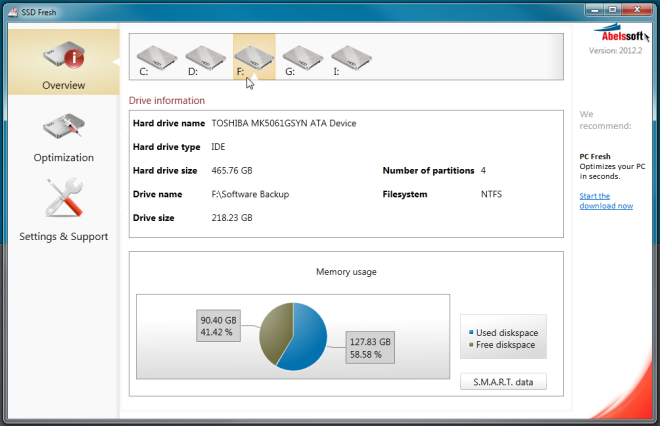 Underneath the main window, it shows disk usage on a pie chart to let you visually analyze the information. Clicking S.M.A.R.T data gives you S.M.A.R.T attribute check statistics of selected drive, including SeekErrorRate, SpinRetryCount, EndToEndError, LoadCycleCount etc.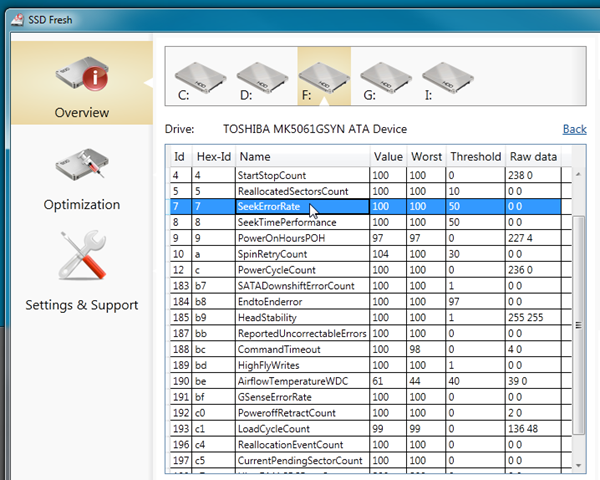 Under Optimization tab, you will find tools and tweaks to optimize your SSD performance. You may, for instance, want to prevent Windows from creating regular system restore points in order to stop excessive write operation, which may harm your SSD drive.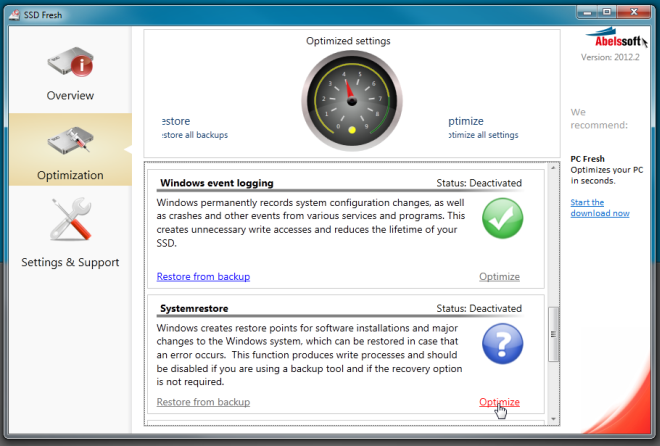 Unlike HDDs that requires defragmentation of data to improve data access, SSD doesn't need defragmentation, as it offers same data access speed across all the memory cells. SSD Fresh lets you disable defragmentation for selected disk with a click. Similarly, you can disable search indexing processes to increase SSD lifetime; since Windows Search indexing processes consistently perform write operations, you can disable Search Indexing from Indexing section to maximize your SSD lifetime.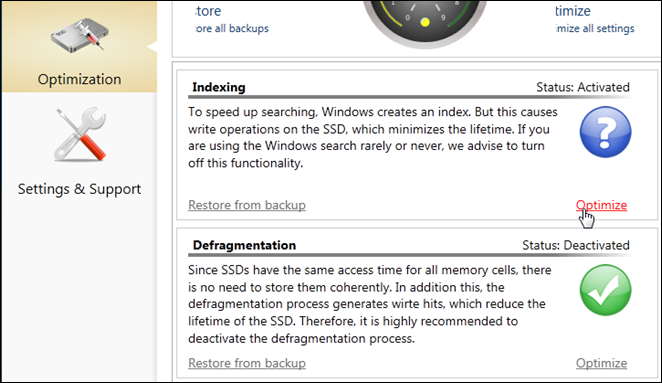 Apart from aforementioned optimization options, you can disable timestamp-specific write operations, Windows Prefetch function, Defragmentation of boot files, Windows event logging, and name creation and Windows Trim functions. SSD Fresh works on Windows XP, Windows Vista and Windows 7.