How To Disable Windows 8 Lock Screen
In the past, we covered a guide on Windows 8 Lock Screen and discussed some of its features. The newly added Lock Screen is basically designed for tablet PCs, allowing users to quickly view the applications notifications, battery status, date and time, WiFi status/dynamic network icon etc. Although Windows 8 lets you tweak both Start and Lock Screen UI elements, it doesn't provide an option to permanently disable it. You may know that Microsoft Management Console snap-in called Local Group Policy Editor allows system administrator(s) to tweak system core components and change default behavior of native utilities. Using the LGPE, you can easily disable the Lock Screen for all PC users. By default, Windows 8 shows Lock Screen at startup, but when it's disabled, it takes you directly to Logon screen to choose the user account to log in to Windows.
Changing system settings from Local Group Policy Editor requires administrative privileges. So, log in to Windows as administrator, and on Start Screen, type gpedit.msc. Hit Enter to open Local Group Policy Editor.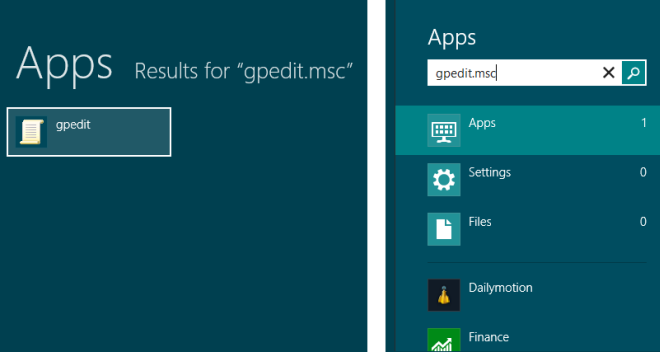 Now, expand Administrative Templates settings from Computer Configuration, and then navigate to Control Panel –> Personalization. In main window, you will find Do not display the lock screen policy.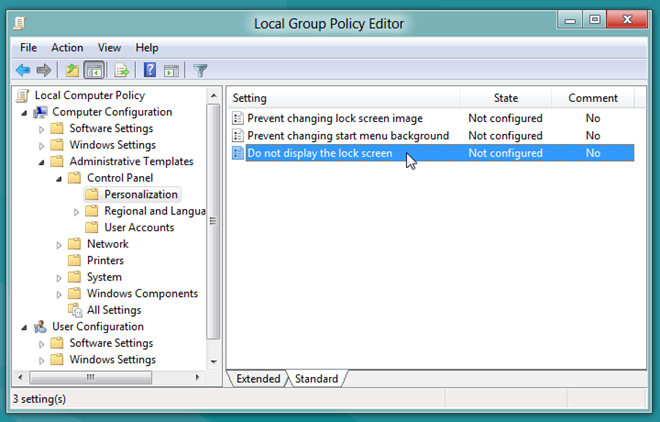 Simply, double-click this policy and tick Enabled checkbox. This will permanently disable Lock Screen. When disabled, users will see the Logon screen when they log off or lock Windows. Similarly, you will be taken to Logon screen, instead of Lock Screen, at startup.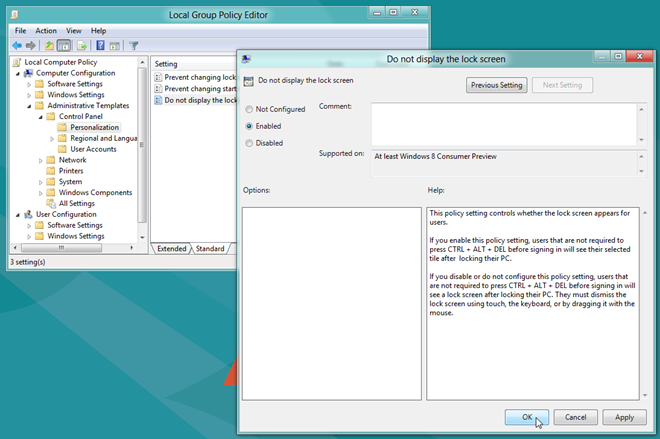 It's worth mentioning here that if it fails to disable the Lock Screen, then you may need to reboot your PC to implement the Lock Screen policy. In order to enable the Lock Screen for all users, all you need is to open the Local Group Policy Editor from an admin account, navigate to aforementioned setting, and enable Not Configured option.