Document Press: Compress MS Office Word, Excel, PowerPoint, Access
Document Press is an attempt from developers of 7-Zip compression utility to compress Word, Excel, PowerPoint, and Access files instead of using other generic compression software, which might not be effective in compressing MS Office documents. It is a small portable tool which was released back in 1999 (Yes, I know it is more than a decade back) and has not been updated since. The version is still 1.0 and the reason for reviewing it today is because we found it to be working with Office 2010 as well. Developed for older versions of Office, the official support, as mentioned in the user's manual, is for .doc, .xls, .ppt, and some more document formats only, but we found it to be working with .docx and .xlsx too.
From the main interface, you can either choose to process all non-removable drives, or select any file or folder (for batch processing). When done, enter either wildcards or enable All files option to include all supported formats. It offers two compression modes; Recursive and Estimate, choose a mode and click Start to compress the files accordingly.
So how does it actually work? According to the developers, compound files provide incremental saves inherently, so the physical size of a compound file on disk will typically be larger than necessary. This is because the size of the file is determined by the amount of space between the first and last sectors used by that file. Document Press reorganizes file content and removes all the dead space.
But what is a compound file? Compound file is a number of individual files bound together in one physical file. Most Microsoft programs write data to compound files and almost all MS Office programs write data to compound files.
In layman's term, Document Press reduces file size by removing dead space. Also keep in mind that there is NO any data loss.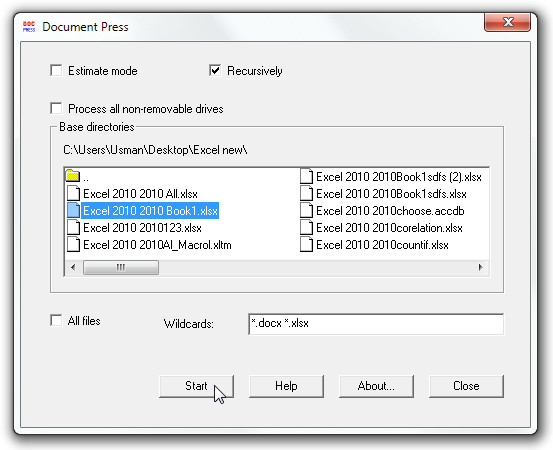 Depending on the number of documents, it will take relative amount of time. In our experience, it successfully compressed approx 100 files in 4-5 seconds. The progress window shows the compression ratio, number of compressed bytes, and bytes reduced.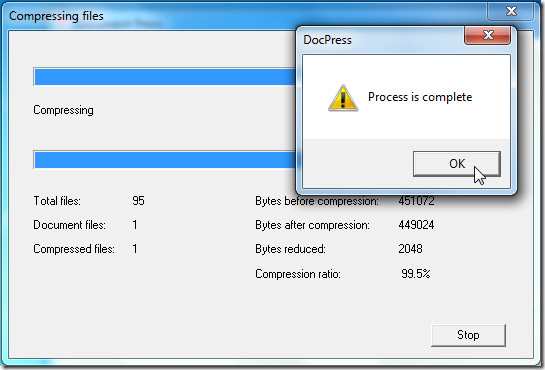 It also comes with a command line tool, to learn more on how it works, read the DocPress User Manual residing in the same folder as Document Press. It supports all version of Windows (32-bit only), we tested it on Windows 7 x86 system.
Make sure to run this program as administrator with Windows 98/NT compatibility mode.
Download Document Press (Softpedia link because there is no product page)
Editor's Note: We do not review old software, let alone a software which is more than a decade old. We are always looking for newer tools and if you think there is a better alternative, let us know in the comments.