Doit.im Gets Firefox Add-on, Sync Tasks With Google & Android
Remember Doit.im, the awesome cross-platform software for task management that we covered a few weeks back. Earlier this month it got a huge update. The new feature list is so huge that I am going to list them all at the bottom of this post.
Among the new features, the most important IMO are using https(secure connection) to connect to server, sync tasks with Android OS phones(since the Motorola Droid has finally launched you might want to try out this feature), add friends as contacts for better delegation of operation, export tasks to CSV file, and sync with Google Calendar.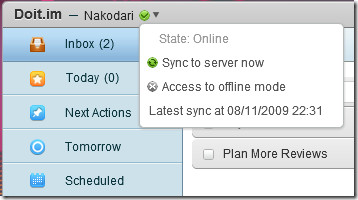 Some users were reluctant to try this service because of the lack of security, doubt on weather it would remain free forever, didn't have the functionality to sync, and couldn't share tasks with friends. All these problems are now fixed in the latest release 1.1, also the guys behind Doit.im now proudly state that the service will remain free forever.
The interface looks fresh with the new facelift, it is much more responsive and the features are now neatly laid down at the bottom of the app.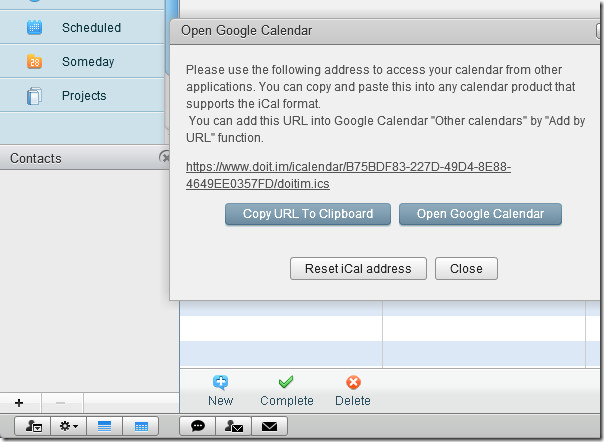 Copying the tasks to Google Calendar is a piece-of-cake, just hit the Sync Google Calendar button at the bottom, copy the iCal format URL to Google Calendar and you are done.
It has a Firefox add-on as well which allows users to quickly add the task while reading interesting articles over the web. Right-click any text, select New Doit.im task, enter your login credentials, and the new task will be added instantly.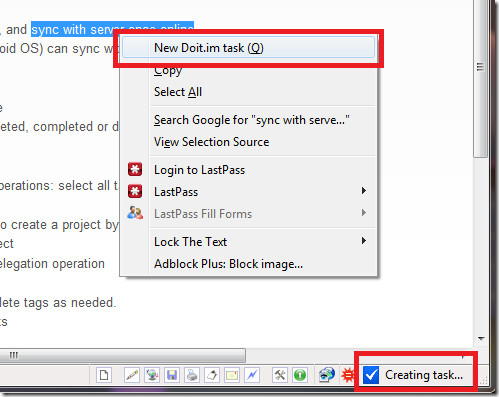 The folks behind this app are dead-serious to compete with various other well known task managers. Hardly does a new service come out and launch an incredible list of features, we are going to keep an close eye on this one and so should you.
The complete list of features are as follows:
Support working on Doit.im offline, and sync with server once online
Doit.im on GPhone ( Google Android OS) can sync with PC
Use https to connect server
Integrate with Google Calendar
Conveniently review to-dos undone
Multi-pick to-dos to have them deleted, completed or dragged and dropped
Empty trash
Archive completed tasks
More hot keys, better keyboard operations: select all tasks in a list, switch to inbox and focus on quick-add.
Drag and drop a task in Projects to create a project by task title
Complete or Drag and drop a project
Add friends as contacts, Better delegation operation
Export to-dos as CSV
Tag management, add/rename/delete tags as needed
Attach tags to multi-selected tasks
Add url or file link into Task note
Invite your friend to use Doit.im
Send feedback to Doit.im directly
For those who don't know, Doit.im is a cross-platform task manager developed on Adobe Air, read our original review to learn more about it. Enjoy!