Download AVG 9 Antivirus Free Edition
Earlier this month AVG released version 9 of their popular antivirus. Today they have released a successor to their free antivirus series, AVG 9 Antivirus Free Edition. It replaces their AVG Free Antivirus version 8.5 and is much more speedier than all previous versions.
So what does it include? It has a build-in LinkScanner and Phishing Protection. Antivirus, AntiSpyware and some basic anti-rootkit protection. The whole User Interface is similar and hasn't be altered much. The scan speed like it's paid version(Pro version) has been increased up to 50% percent when compared with AVG 8.
The only problem I find is the AVG Safe Search add-on that is installed in Firefox with no option to uninstall it. Since I use WOT and other security toolbars having AVG Safe Search is entirely not needed. But otherwise having said that, AVG 9 Free is an excellent antivirus software considering that you are getting it for free. 😉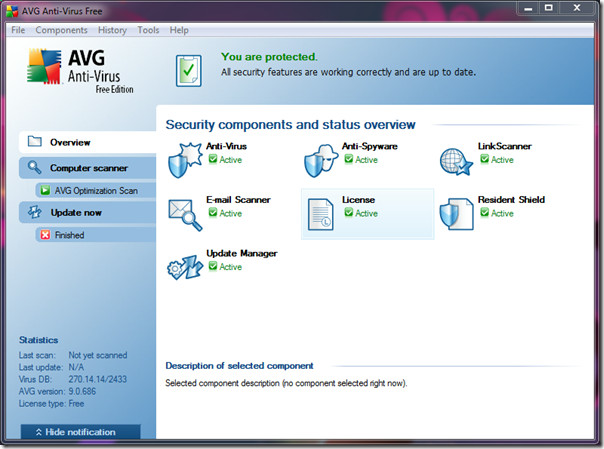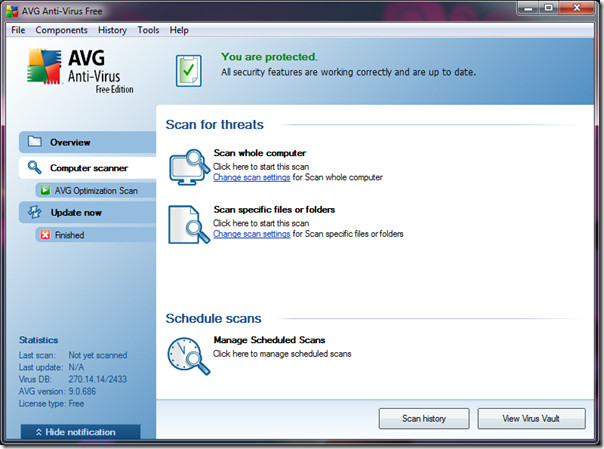 I am betting on Avast 5 Free Antivirus which is supposed to come out by end of this month, most probably after Windows 7 launch. Only then can I pit AVG 9 Free with Avast 5 Free and Microsoft Security Essentials to see which one performs better.
Download AVG Antivirus Free Edition 9
It works on Windows XP, Windows Vista, and Window 7. Enjoy!