Windows 7 Command Prompt Supports Drag & Drop
Here is a short tip for those who don't know. The Windows 7 Command Prompt now supports drag & drop of files. Which means that to enter the destination of any file you can just drag & drop it into the command prompt window.
Update: I have seen this functionality in Windows Vista as well, but thought it could help those who are migrating from XP. But now a commenter points out that this functionality is available in Windows XP SP3 too.
Doing this will not remove any previous command you might have typed. This small feature is not so useful for most users, but for those who work frequently in Windows command prompt, this is a lifesaver.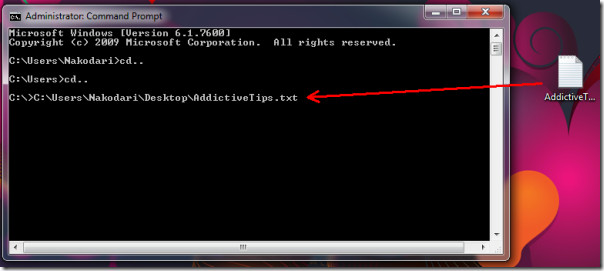 Sadly this drag & drop functionality is only for files and does not apply with some text commands which you might need to copy/paste in the command prompt quickly. Weather the files are executable, text files, documents, or whatever, they can now all be dragged and dropped into the command prompt.
Update 2: What I was talking above was about drag & drop functionality, if you need to copy/paste any code then simply right-click the command prompt and hit Paste to paste anything in clipboard. Thanks for clarifying Vordreller!
Enjoy!