Download The Windows 10 Hero Wallpaper In Any Color
The latest Windows 10 build features a new wallpaper that users are loving. Normally, the default wallpapers on Windows (with the exception of the Windows XP wallpaper) aren't the kind that people normally go crazy over. That said, if you've seen the new wallpaper dubbed 'Hero' and would love to have it on your current system, there's a little app that not only lets you download the wallpaper, it lets you choose any color you like and gives you a 1080px image to download.
Go to Rainbow Hero (linked at the end of the post) and use the slider to select a different color for the wallpaper. You will notice that the small bar at the top right shows you the color you've selected as a hue with a number. Use the slider to explore the different colors that are available, and use the hue number to keep track of which ones you liked best.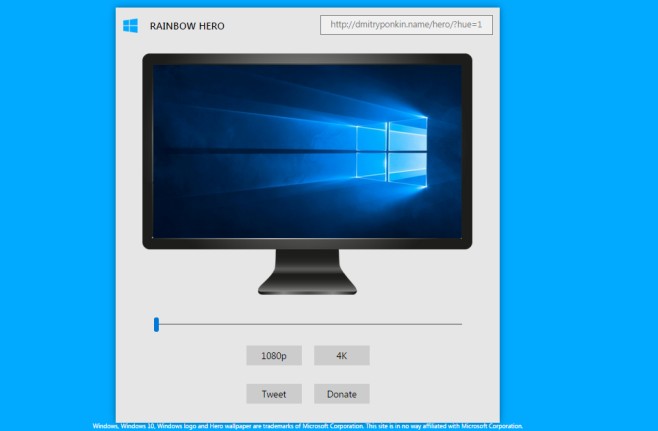 When you're ready to download the wallpaper, click the 1080p or the 4K button and wait for the Save As window to open in your browser. For those of your wondering, this is one of the final wallpapers that Windows 10 will ship with. If you're running an older build you may not see it.