DownTango: A Simple To Use, Eye-Candy Download Manager
Download managers always got the upper hand when it comes to downloading internet files. Admit it, a dedicated download software is better than the one that comes packed with your web browser. Almost all the popular downloader managers have got resume functionality, browser integration and optimized use of internet bandwidth (some even boost the download speed). I personally use IDM (Internet Download Manager) for all my downloading needs. Although it's paid, it's worth every penny and provides plethora of features and settings. Recently, after reinstalling Windows on one of my friend's PC, I started looking for a download utility, which he wanted to be less resource hungry and ergonomically friendly. Surfing through the web, I came across DownTango and thought to give it a shot. It's not only very minimalistic and clutter-free, but also fulfilled my fellow's wish of being an easy-to-use downloader. DownTango supports almost all the major web browsers, including Firefox, Google Chrome and Internet Explorer, and automatically grabs their download links. Is it something that might replace your current download manager? Read on to find out.
The application sports a clean interface, which, at most parts, looks shallow. You can only close and minimize its window, as it doesn't let you resize the interface itself. It automatically integrates itself with your favorite web browser. Whenever a download link is triggered, DownTango displays the Your download was DownTangoed message in the browser window. Files in the download queue are represented by three different colors, for instance, Green means the download process is completed. Red reminiscent files that are currently put on hold, while Yellow means the download is in progress. The application also allows you to look for your desired software using it's search box at the top, which, in turn, finds results on Google.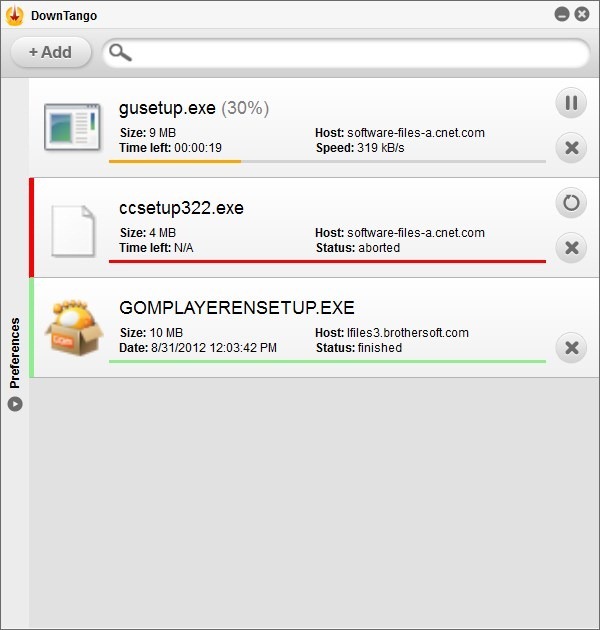 Clicking the Add button at the top left corner lets you manually add a downloadable item. Simply input the package name and the target URL, and click the OK button.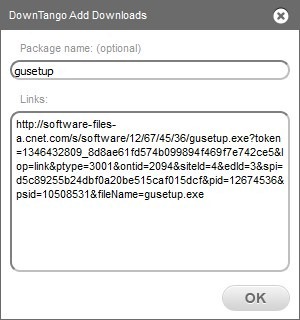 Clicking Preferences to the left slides over the settings pane into view. This pane lets you specify the download directory, input download parameters for max speed, max threads per file and max parallel download – as well as toggle other settings, such as Clipboard monitoring, Handle captcha tasks (this option didn't work for me), Web interface accessible globally, browser integration etc.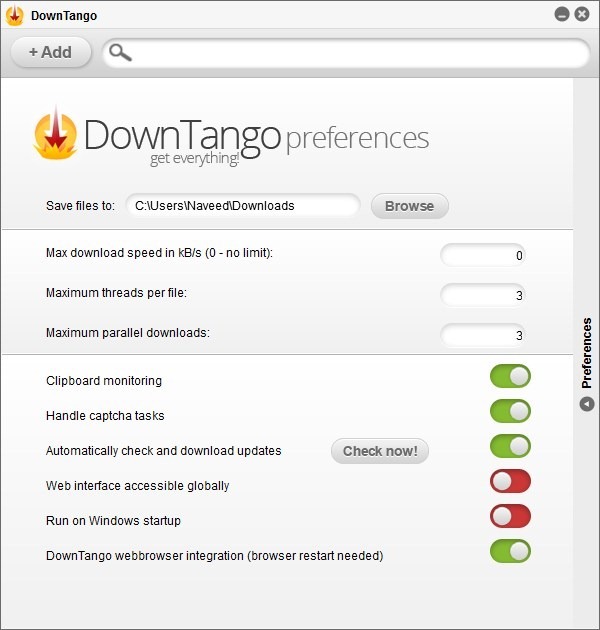 DownTango is not a very feature-rich application, but a handsome replacement of the default web browser download manager. It works on Windows XP, Windows Vista, Windows 7 and Windows 8.