Add & Edit Items From 'New' Context Menu With New Menu Editor
Perhaps, one of the most frequently used elements in Windows is context menu. Context menu provides a quickest way to access different commands, programs, application properties, and other features. As new applications or features get added to the Windows, context menu automatically adds the supported commands and file types to the list, however, you can also manually add your desired files types, should you so need to. The conventional method to add or delete a file type from the New context menu available in right-click menu involves editing Windows registry, and we all know how dangerous that can be for novice users. If you want to avoid messing up the Windows registry (which is highly advisable, especially if you don't know what you're doing), you can use New Menu Editor. It is a context menu editor that allows you to add new file types to the New context menu through a simple GUI. If some of the original items are useless to you, the program also lets you delete existing file types to reduce cluttering. You can add an empty file or a predefined template to New context menu, based on your requirement.
As stated earlier, the UI is fairly simple. The interface has Add to New Menu, Remove From New Menu and Search buttons at the top, the list of current New context menu items appear in the right pane and a list of items that can be added is available in the left pane. To add an item, first off, select it from the list in the left and then click Add to New Menu. Contrary to it, items can be deleted by selecting them from the right pane and clicking Remove From New button afterwards.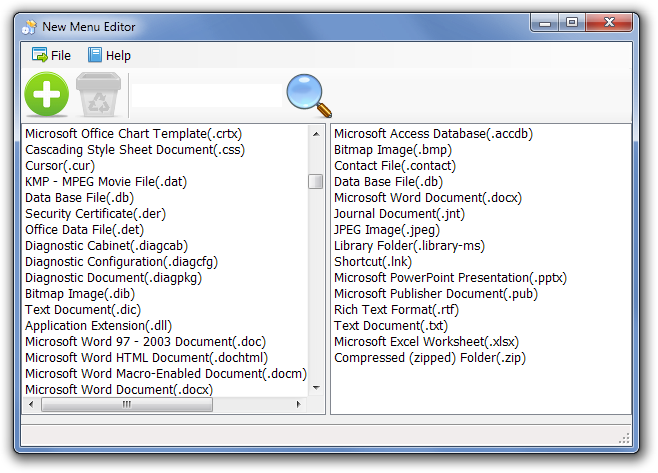 From Add To New Menu File Type Selector window (that i stated earlier), select if you want to add the shortcut as an empty file, or as a pre-defined template, and click OK. Before it gets updated, you need to right-click your desktop and select Refresh to view the newly added item in New context menu.

New Menu Editor is nifty little tool that saves you time and effort involved in tinkering with Registry Editor. Its quite useful for both novice and power users. Moreover, it is portable, which makes you use it on the go. The application works on Windows XP, Windows Vista and Windows 7, provided Microsoft .NET Framework 3.5 or higher is installed on your system.