Easily Recover Permanently Deleted Files With Kickass Undelete
We have all come across situations where we felt the need to restore a file that was deleted even from the Recycle Bin. Well it sure seems to be a headache, as losing important file, especially by mistake, is nothing short of a severe accident. But one thing you should know is that data recovery is possible even when the files have been deleted from the hard disk, as only the reference to their location in directory structure is removed, and the space they occupy becomes available to write more data. In short, the files are not actually deleted but are overwritten by other files. So, its quite plausible to retrieve the original file before any data is overwritten on that space. There are various file recovery tools that need no introduction, they aid you in recovering the lost files to some extent. Such file recovery solution we found is Kickass Undelete. It is a portable recovery tool for Windows which can recover all the deleted files on your hard drive or removable flash drive. It's quite easy to use which both advance and novice users would give a warm welcome. Lets find out how it works.
The application displays all the available drives at the left pane, including their file system (NTFS, Fat 32 etc). To start, select the drive which contains the deleted files from the left pane, and click the large Scan button on the right side to start scanning for deleted files. Kickass Undelete will scan and list all the deleted files on the selected drive. Scan process might take for a while to finish as it depends on your disk size.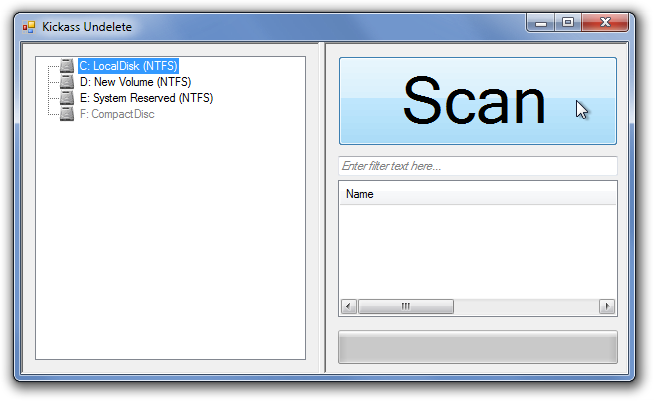 Once the scanning process is complete, you can select the required files from the list. The file list can be sorted by Name, Type, Size and Last Modified (date). Select all or your desired files and click Restore Files button available on the bottom right corner of the interface to restore the files.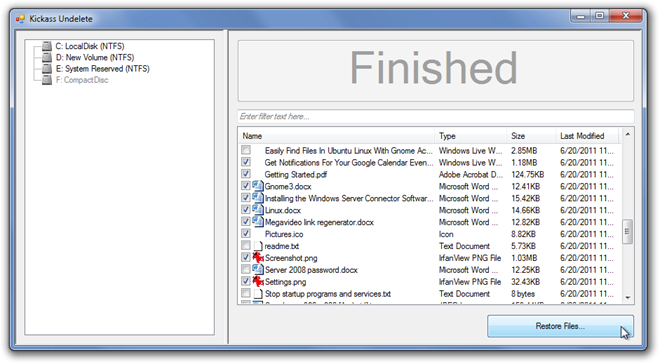 During testing, we felt that there should be an option to define type, size and modification date before scanning for the deleted files. We hope that the developer will implement these options in the next release. Albeit not quite advanced, Kickass Undelete does the job it is supposed to do. It is an open source application and works on Windows XP, Windows Vista and Windows 7. We tested the application on Windows 7 Ultimate 64-bit.