Emails Disappearing from Outlook (FIXED): 8 Possible Solutions
The Outlook app is an email client. It works with any and all email services, including  Outlook's own email service. As an email client, it fetches emails from the server that your messages are stored on. The server syncs both ways; emails deleted in Outlook will also be deleted from the server they came from e.g., the Gmail server. This is why, if you open Outlook to an empty inbox, with literally zero emails in them, it's a cause for concern.
Outlook emails have disappeared [FIX]
1. Remove/Add account
Start off with something basic like removing the email account, and adding it back.
Open Outlook.
Go to File and select Account Settings.
Click on 'Account Settings' in the menu again.
A new window will open. Select your account on the Email tab, and click Remove.
Close and re-open Outlook.
Go to File and click the Add Account button.
Set up your account again, and allow it to sync emails.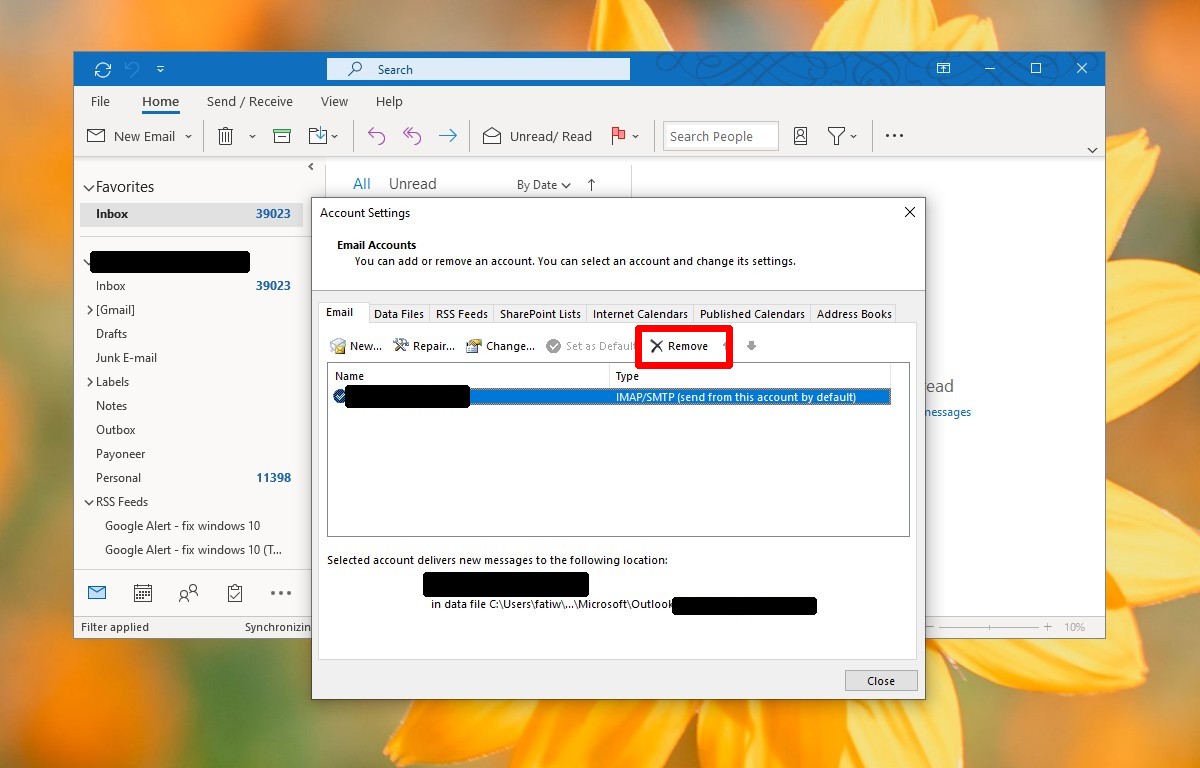 2. New Outlook profile
It's possible the default Outlook profile is corrupt. Creating a new one can potentially sync your messages back to Outlook.
Quit Outlook if it's open.
Open Control Panel and sort the items by Large icons from the dropdown at the top right.
Look for Mail.
Click 'Show Profiles…' under Profiles.
Enter a name for the profile on the 'New Profile' window that opens, and click OK.
Set up your email account for the new profile.
Back on the Mail window, open the dropdown under 'Always use this profile' and click OK.
Open Outlook and allow the messages to sync.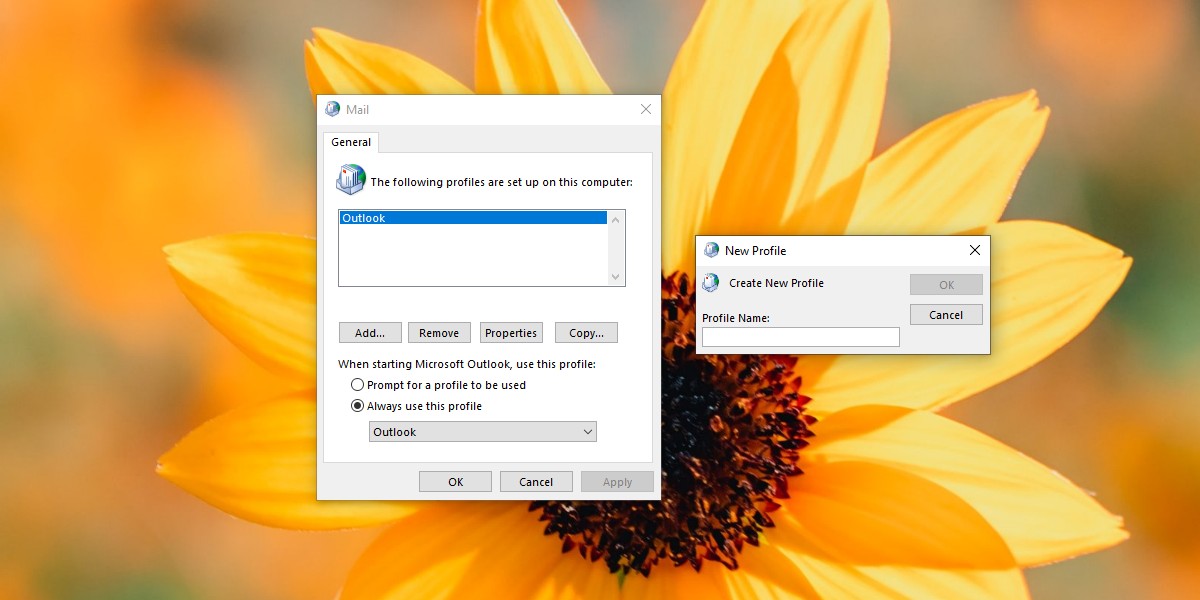 3. Change current view settings
You can customize the inbox so that you see the messages in a certain way. This may be hindering you from seeing your messages. You can reset the Current View settings.
Open Outlook and select the inbox that is empty.
Go to the View tab and open the Current View dropdown.
Select View Settings.
In the window that opens, click 'Reset Current View' and see if your emails show up.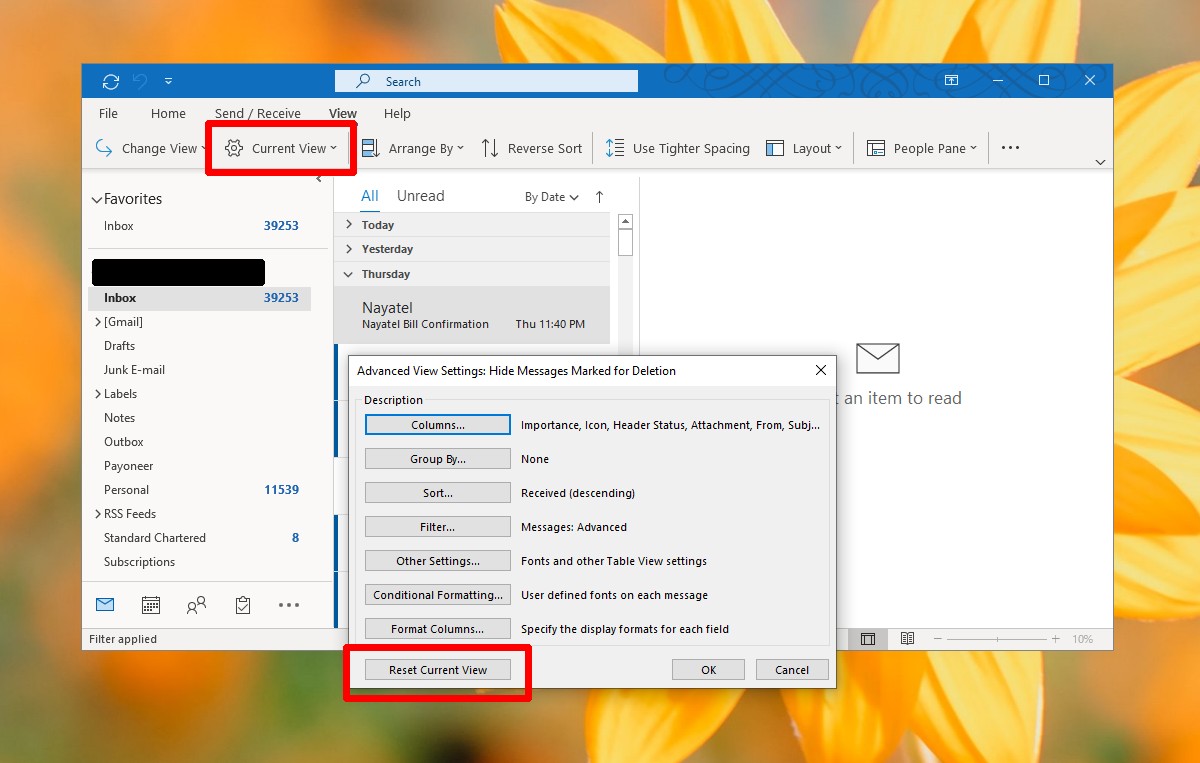 4. Show all folders
If you're using an IMAP account, you might not be seeing emails from all the folders/labels. To check, follow the steps below.
Open Outlook and right-click your inbox.
From the context menu, select IMAP Folders.
In the window that opens, make sure 'When displaying hierarchy in Outlook, show only subscribed folders' is unchecked.
Click OK.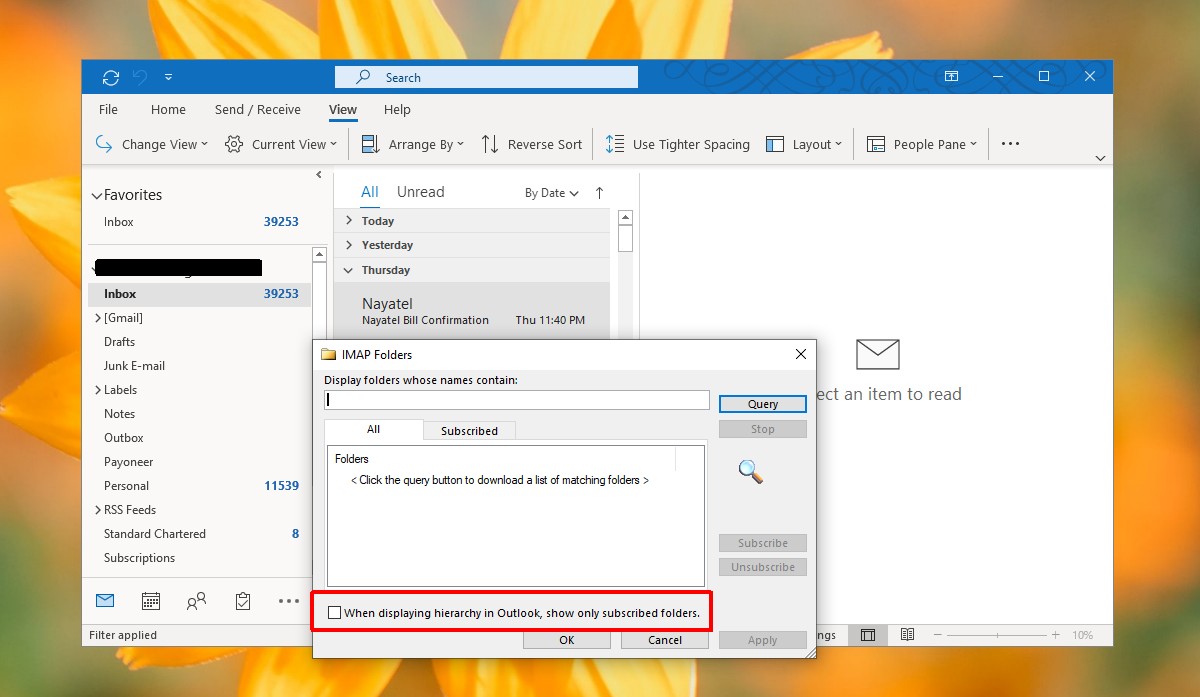 5. Start Outlook in safe mode
Believe it or not, Outlook has a safe mode. It's there because you can install plugins/add-ons for the app and when they cause trouble, you need a way to troubleshoot them. Run it in Safe mode and see if the messages show up.
Tap the Win+R keyboard shortcut to open the run box.
Enter the following and tap Enter.
outlook.exe /safe
Select your default Outlook profile.
When Outlook opens, it will open in Safe Mode. Check if the emails appear.
6. Check email service
If you're using Outlook with an email service that isn't Outlook itself, check its online/web interface to see if your emails are there. It's possible the service has problems of its own. If it is, you will have to wait for them to resolve and then resync your messages in Outlook.
Check the service's status page for updates.
7. Fix corrupt PST files
If Outlook's data files are corrupt, it will prevent you from seeing emails, old and new. Microsoft includes a built-in tool to fix corrupted PST files.
Open File Explorer.
Go to the following location.
For 32-bit Windows: C:\Program Files (x86)\Microsoft Office\root\Office16

For 64-bit Windows: C:\Program Files\Microsoft Office\root\Office16
Look for a file called SCANPST.EXE and run it.
Click the Browse button and navigate to the following location.
C:\Users\YourUserName\AppData\Local\Microsoft\Outlook
Select the OST file here. It will be named after your email account.
Click Start. The app will scan the file for errors and fix them.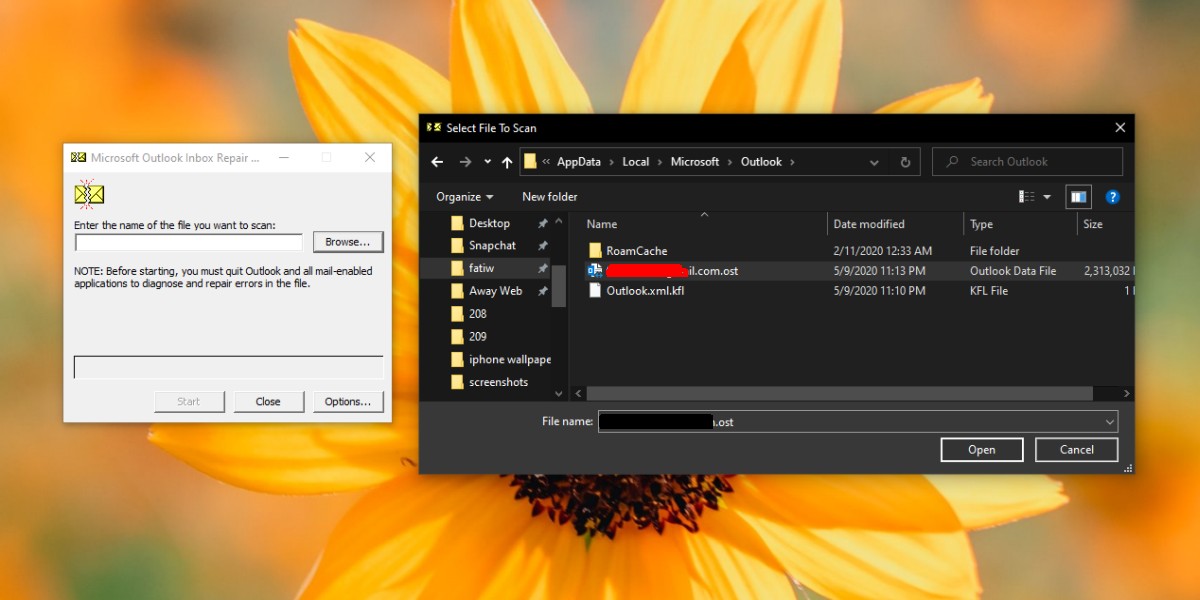 8. Delete and reinstall Outlook
If everything looks good, and you're able to view your email messages in your browser, there might be something wrong with Outlook under the hood. The quickest, and easiest way to resolve this is to remove Outlook from your system, and install it again.
Open the Start menu and look for Outlook in the Apps' list.
Right-click Outlook and select Uninstall from the context menu.
Once uninstalled, go to the Microsoft Store and download Outlook again.
Set up your account and allow the emails to sync.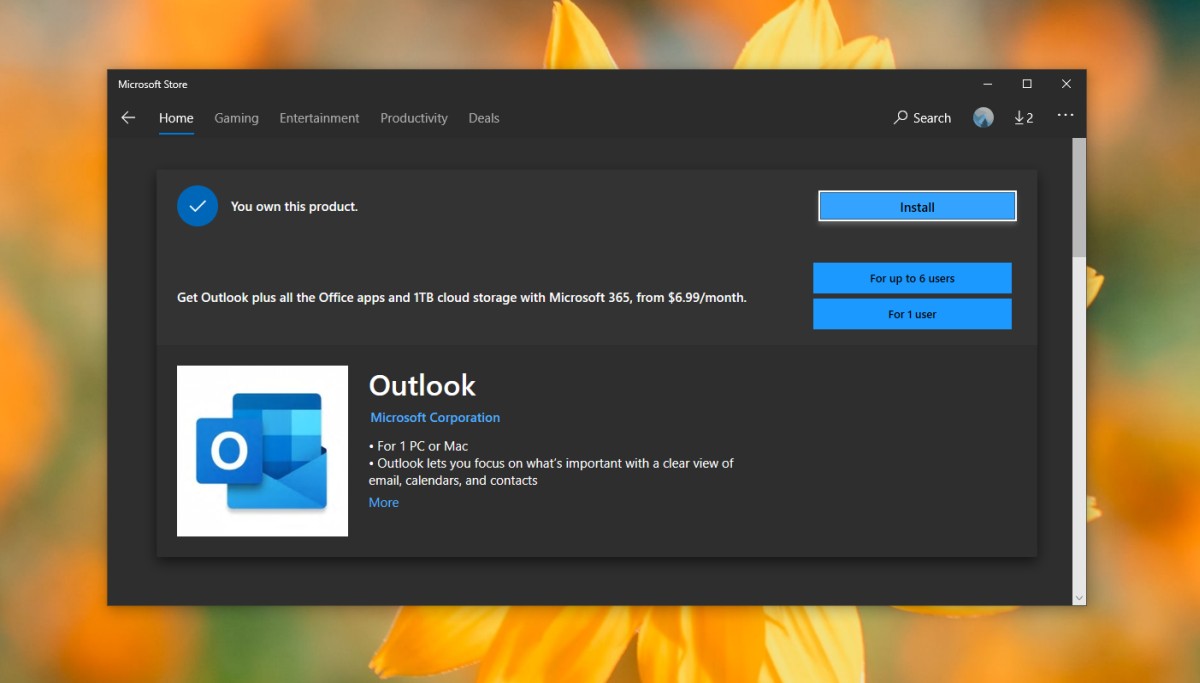 Conclusion
Outlook is a robust app. It doesn't break easily though. It's been around long enough to be able to work well with the most obscure email services. If you think it's having trouble with a particular email service, you can try a different email client and see if it works. If the emails sync to a different email client, Outlook should be able to show them. Take a good look at the settings for the email service and make sure the account is set up properly.