Enable / Disable Window 7 ClearType & Text Anti-Aliasing With ClearType Switch
ClearType Switch is an application which is written to fine tune Windows native ClearType. For those who don't know about ClearType, it is an implementation technique by Microsoft to increase the resolution of LCDs letting user read text off the screen with more clarity. ClearType Switch not only automatically enhances the text readability with one click, but also allows user to disable ClearType anytime they like. Using the tool, you don't have to go through lengthy Windows ClearType wizard, it lets you enable ClearType without any hassle. Adding more, it also brings option to enable/disable smooth edges for screen fonts (text anti-aliasing) to make system font look as required.
Editor's Note: Microsoft has done a bad job by putting "ClearType" and 'Smooth Font Edges' options in two different locations.  The Smooth Font Edges option can be accessed in Windows 7 by going to Control Panel -> All Control Panel Items -> Performance Information and Tools -> Adjust Visual Effects. This app brings both options under one window.
The application is portable, you can keep the executable file handy to quickly tune ClearType settings on different LCD displays. On the main screen, there are some ClearType samples listed to explain the font differences between Microsoft Windows versions. Apart from enabling and disabling smooth screen font edges and ClearType, you can also bring up Windows native ClearType Tuner to set the best-suited font for attached display monitor.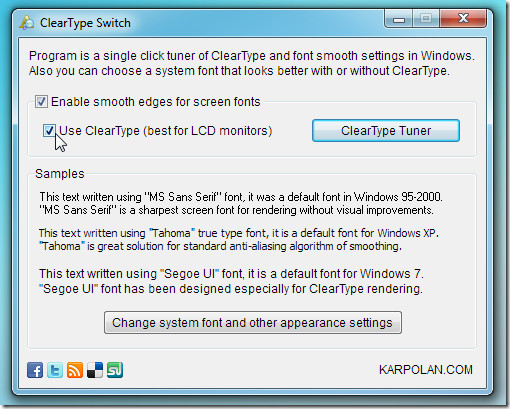 You can also jump directly to Windows Color and Appearance dialog to change system font by clicking respective button present underneath the Samples. The application works on Windows XP, Windows Vista and Windows 7. We tested it on Window 7 x64 system.