How to Fix the Epic Games Launcher Not Working
Epic Games is one of the biggest gaming platforms in the world, right after Steam. It regularly hosts special events and offers some of the best and most expensive titles for free, which makes it a worthy rival for Steam.
Although it's officially available for Windows and Mac only, you can also use Epic Store on Linux. When it comes to accessing the Epic Store and playing games, you need Epic Games Launcher.

Epic Games Launcher Not Working
Unfortunately, many users report that Epic Games Launcher is not working on Windows or Mac, which causes a lot of frustration. For instance, the app shows a black screen and won't launch games no matter what you try. In other cases, Epic Games Launcher isn't even downloading or installing.
Depending on your problem, there are numerous solutions you can try, without having to contact an expert. You may need to arm yourself with patience, however, since it could be a long ride.
How to fix the Epic Launcher
Before getting started with the following solutions on this list, it's strongly recommended to create a system restore point. If you make any mistakes and need to undo changes, you will be able to roll back Windows 10 to a previous, stable checkpoint.
A better idea would be to create a full computer backup if you don't do this regularly. You won't lose any game saves or other important files this way.
1. Use the Epic Games troubleshooter
If you can launch Epic Games but can't access the store or play any games, you can use the internal troubleshooter to run backend connectivity tests as well as to verify the minimum and recommended system requirements.
Launch Epic Games
Wait until the app finishes all tests
Any problems are indicated by a red symbol. If all checkups are green, there's nothing to worry about
2. Check the Epic Games server status
If there are too many players currently using the platform, then it's no wonder that Epic Games Launcher is not loading properly or stumbled upon connection errors. It usually happens in the weekend or during special events when there's a huge giveaway planned.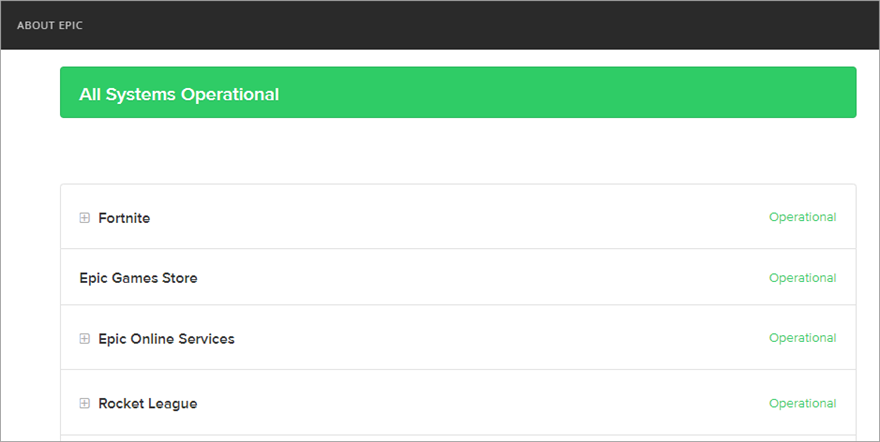 You can quickly check the Epic Games server status to find out if any servers are down. In that case, there's nothing to do except wait and try to log in later.
3. Check system requirements
Manually checking your system requirements is the next best thing to using the internal troubleshooter. You should do this if you can't launch the Epic Games app at all.
Inspect the system requirements for Epic Games Launcher and compare them with your own specifications.
How to find out your Windows 10 computer specifications:
Compare the Epic Games specs with the system information displayed on your PC
Make sure that your system requirements are equal or higher than the Epic Games minimum requirements (recommended specifications are ideal)
If your specs are lower, then you have to upgrade your hardware
4. Restart the Epic Games Launcher process
It might sound redundant for certain users, but restarting the process is the easiest way to fix Epic Games Launcher if it's not working properly.
In the Processes tab, find EpicGamesLauncher
Try to launch Epic Games now
5. Run Epic Games as admin
Insufficient user permissions are one of the reasons why Epic Games won't launch. If you have multiple PC accounts, make sure to sign in with the administrator account on Windows 10. Otherwise, you have to know the admin credentials for login.
Press the Start button and type Epic Games Launcher
When prompted by UAC (User Account Control) to allow the access of UnrealEngineLauncherProxy, click Yes
6. Install the new internal Epic Online Services component
Epic Online Services is a new component that will soon become a prerequisite for all launcher features. It's currently optional, though. Although Epic Games says that not installing it won't affect the launcher, it still doesn't hurt to install it (assuming that you can use the launcher).
Open Epic Games Launcher
7. Disable download throttling
If the Epic Games Launcher is running but won't download games, make sure to disable the download throttling option to lift all speed limitations.
Open Epic Games Launcher
8. Clear the launcher webcache
Epic Games Launcher functionality issues can be often resolved by deleting the temporary files created by the gaming platform on your computer. It helped many users overcome gaming issues.
How to delete the Epic Games Launcher webcache on Windows:
Press Win + E to open File Explorer
Type %localappdata% in the address bar and press Enter to visit this location
Open the EpicGamesLauncher folder and the Saved subfolder
Restart your PC and try to launch Epic Games
How to delete the Epic Games Launcher webcache on Mac:
Quit Epic Games Launcher and open the Finder
Click GO and Go to Folder…
Type ~/Library/Caches/com.epicgames.EpicGamesLauncher and press Enter
Delete the webcache folder
Try to launch Epic Games
9. Reinstall Epic Games in the default folder
It's possible that the Epic Games Launcher has corrupt files that can only be resolved by reinstalling the application. It particularly applies if you initially installed the app in a different location than default. Don't worry since you won't lose access to your saved games.
How to reinstall Epic Games on Windows 10:
Find and select Epic Games Launcher in the list
Download Epic Games from the official website
Install the gaming platform
Try to launch Epic Games
How to reinstall Epic Games on Mac:
Make sure to exit Epic Games Launcher
Look in the Activity Monitor to check there are no processes associated with the app
Go to the Applications folder and drag Epic Games Launcher to the Trash
Check the following locations to make sure there are no Epic Games files left:

~/Library/Application Support

~/Library/Caches

~/Library/Preferences

~/Library/Logs

~/Library/Cookies

Download Epic Games from the official website
Set it up on your Mac
Try to run Epic Games
10. Run Epic Games in normal window mode
If Epic Games starts minimized to the desktop, you might have trouble trying to restore the window and reach your games. But you can fix this with a simple trick on Windows computers.
Click Apply and exit
Try to launch Epic Games now
11. Disable compatibility settings
Windows has a built-in option to run older applications in compatibility mode for older Windows versions. However, it often causes application errors. If you have enabled it for Epic Games Launcher, then you need to turn it off.
Switch to the Compatibility tab
Click Apply and exit
Try to run Epic Games Launcher
12. Reset display settings to default
Customized computer display settings can interfere with any installed programs that use a graphical interface. If you or another member of your household has recently changed display options, it could be the reason why Epic Games Launcher is not working anymore.
On the bright side, you can swiftly solve this problem by restoring display settings to their factory values. Here's how to do it:
Go to System > Display
Set the Display resolution to the Recommended value
Click Advanced scaling settings
Click Apply and exit
Try to open Epic Games
13. Update your video driver
An incompatible or old video driver is usually the cause of display settings. If the previous solution didn't work or didn't apply to your case, then you should check your video driver and make sure it's updated to the latest version.
Press Ctrl + R, type devmgmt.msc, and press Enter
In Device Manager, open Display adapters
Restart your computer and try to launch Epic Games
Unfortunately, Windows Update doesn't always detect newer driver versions. If the above instructions didn't work for you, then you should find out the name and current version of your GPU driver, in order to visit your manufacturer's website and download a newer version.
Most PC users don't want to do this because they risk getting an incompatible driver that could turn make the entire display go black. In that case, you should turn to a driver update software solution.
It will identify the newer and compatible video driver automatically, then download and set it up on your PC. Plus, you can regularly use such a tool to keep all your device drivers in check.
14. Disable your free VPN service
Many privacy-concerned users enable VPN services as soon as they boot their computers and go online. In some cases, these apps can help fight ISP throttling and even improve the connection speed in multiplayer games.
However, you need a top VPN for gaming in this case. Because Steam, Epic Games Launcher and other similar platforms don't work well with free VPN services. They are notoriously unreliable and can cause display errors and functionality issues.
To fix this problem, you just have to turn off your free VPN. Or, if your VPN supports split tunneling, make sure to enable it and add Epic Games Launcher to the exception list.
15. Force OpenGL
A lot of users fixed their Epic Games functionality problems by forcing OpenGL on their computers. Here's how to make it happen by using only your file navigator:
Switch to the Shortcut tab
Click inside the Target box and move at the end of the text
If Epic Games was installed in the default location, the new Target should look like this:

"C:\Program Files (x86)\Epic Games\Launcher\Portal\Binaries\Win32\EpicGamesLauncher.exe" -OpenGL

Click Apply and exit
Try to open Epic Games
16. Disable autorun and launch Epic Games from the Start menu
By default, Epic Games gets integrated into the Windows startup sequence after your install it. The app runs in the system tray and notifies you of game deals.
However, many users who reported that Epic Games Launcher kept crashing on startup managed to fix this problem by disabling the autostart option and by opening the app from the Start menu instead of the desktop shortcut.
Switch to the Startup section
Find and select EpicGamesLauncher
17. Add an exception to your firewall
Epic Games Launcher needs to connect to the Internet when you fire it up. By default, your computer's firewall should allow its access to the web. But if someonne changed the firewall settings, then you need to undo those mistakes.
How to allow Epic Games through the Windows Defender firewall:
Sign in to Windows 10 with admin rights
Look for UnrealEngineLauncherProxy in this list. It it doesn't exist, click Allow another app > Browse to find and add Epic Games Launcher
Click OK and exit
Try to launch Epic Games
If you have a third-party firewall installed that takes over the Windows Defender Firewall, make sure to adjust the instructions above.
18. Run a malware scan
Some cyber-criminal attacks are powerful enough to disarm your computer's defenses and corrupt critical files used by applications like Epic Games. You might not even be aware of a malware infection, but you can easily check this with a malware scan.
If you don't have a third-party Internet security solution installed, it means that Windows Defender is in charge of your computer's security.
How to run a malware scan with Windows Defender:
Wait until the scan is complete. Windows Defender should remove any infected files it finds
19. Use System Restore
Any major event that recently occurred at the software level could have triggered functionality issues in Epic Games Launcher. It can be difficult to pinpoint the exact problem, especially if you haven't used your computer for a long time.
However, you should be able to erase any new changes by reverting Windows 10 to a previous checkpoint. You just have to pick a restore point that was created before you started having trouble with Epic Games.
Don't worry since you won't lose your game saves. However, any applications and games installed on the C: drive after the restore point creation will disappear. Caution is advised.
How to roll back Windows 10:
Reboot your PC and try to open Epic Games
20. Check your Internet connection
Lastly, you should check your Internet connection. If it's not powerful enough or disconnects often, it could be the reason why you keep having issues, especially when it comes to Epic Games Launcher connection error codes.
Here are a few ways to verify your Internet connection, fix bottlenecks, and speed it up:
Unplug and replug your router to reboot it
Switch from wireless to Ethernet (wired) mode
Access your router's admin panel to disable download throttling and turn off QoS prioritization
Inspect the number of devices connected to your network and kick the unnecessary or unknown ones
Use the Internet connection troubleshooter provided by Windows 10
Uninstall any suspicious applications from your PC, especially free antivirus tools or VPNs
Turn off IPv6 network connectivity if unused
Run an Internet speed test to compare with other Epic Games players
Terminate any other processes with an Internet connection, including web browsers, torrenting clients, and other gaming platforms like Steam
Epic Launcher: CONCLUSION
To summarize, if Epic Games Launcher is not working on your computer, get started by using the internal troubleshooter, checking the server status and system requirements, as well as by restarting the launcher and running it as admin.
You should also install the new internal Epic Online Services component, disable download throttling, clear the launcher webcache folder, reinstall the app in the default folder, and run it in normal window mode.
Moreover, it's a good idea to deactivate any Epic Games Launcher compatibility settings, reset display settings to default, update your video driver, disable your VPN service (if any), force OpenGL, as well as to disable autorun and launch Epic Games from the Start menu instead.
Security and Internet connection issues shouldn't be ignored, either. You should add an exception for Epic Games Launcher to your firewall if it's not already on the whitelist, run a malware scan, restore Windows 10 to a previous checkpoint, and check the quality of your Internet connection.
It's a pretty long list of solutions, but we hope you find just the right combination to fix Epic Games Launcher. Let us know about your experience with this gaming platform in the comment section below.