Equalify Adds Audio Equalizer To Spotify
Spotify, despite being one of the most popular online music streaming service, doesn't provide advanced options to enhance music listening experience. One feature which I feel is missing and must be integrated into Spotify desktop client is the audio equalizer. Spotify has a nice interface but when it comes to player related options, it only caters to basic features, like playback controls, track navigation controls, etc. Equalify is an audio equalizer for Spotify developed by a third-party developer. Instead of tweaking your sound card's native audio settings, you can launch Equalify from within the Spotify UI to amplify and enhance the sound quality. It is a preset-based equalizer supporting as many presets as you can save.
Equalify places itself next to Spotify search bar. By default, it's disabled. When you click EQ, a small 10-bands equalizer with AMP will show up from underneath the search bar. Click ON/OFF button to toggle equalizer on/off.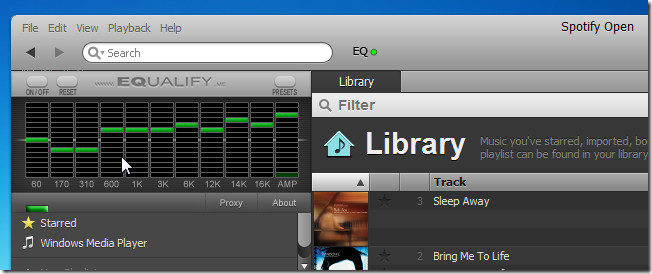 Equalify doesn't provide other options to calibrate Spotify audio streaming quality. However, the proxy options lets you enter server details to automatically update the product. When you click the Presets button, it will show two options; Save and Delete. After adjusting the EQ settings, click Save and give the preset an appropriate name. Once saved, it will start showing up in the preset menu while the Delete option lets you remove previous presets.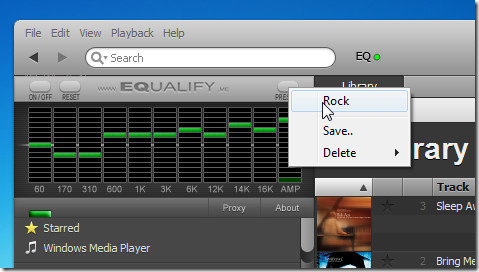 Equalify not only prevents users from using other equalizers which open separately but also gives a more dynamic boost to your Spotify audio streams. It runs on Windows XP, Windows Vista, and Windows 7.