Error 0x80004005 (SOLVED) – How to Fix Error Code 0x80004005
Windows 10 error messages are quite unhelpful; they rarely tell users what went wrong. On the rare occasion that they do tell you which file is causing problems, they're often wrong. These error messages also habitually recycle error codes so you will see the same error code appear when different operations fail across different apps and in various Windows 10 features.
Error 0x80004005
Error 0x80004005 is an error code that Windows 10 reuses often. You may see it when you try to download updates, when you try to install an update, when you're setting up Outlook or trying to send an email, when you try to move files and folders, when you try to rename files and folders, problems with Windows notifications, and more.
It's annoying that the error can appear anywhere but it points to a central problem which means a single solution may resolve this error regardless of where and why it's appearing. To that end, try each of the solutions listed below and the error should go away.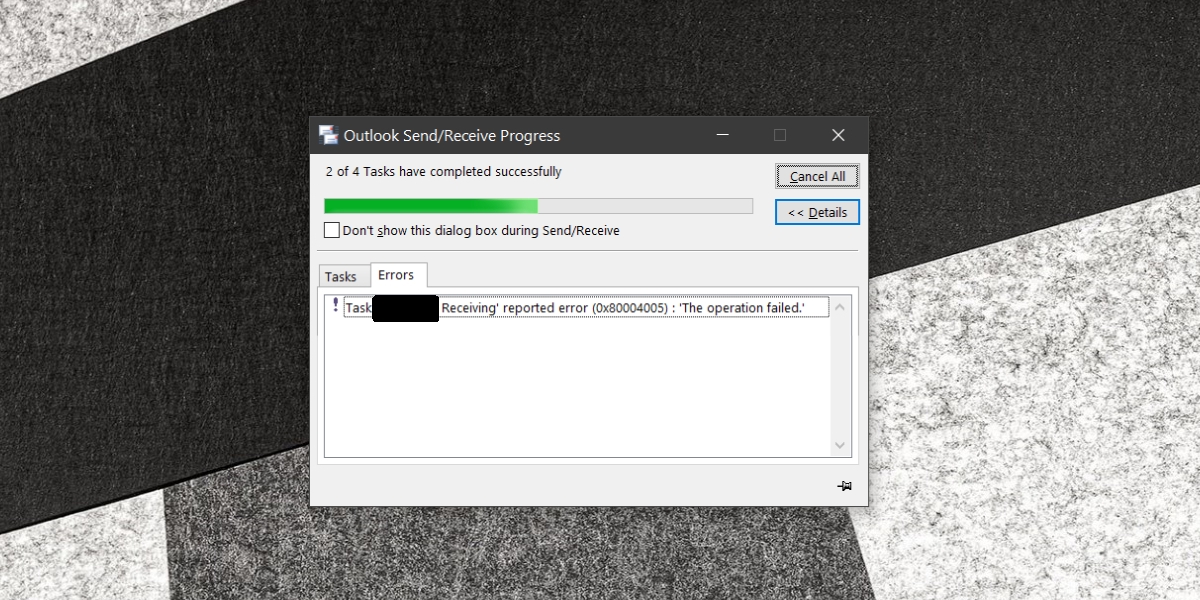 Fix Error 0x80004005 – Windows Updates
Error 0x80004005 can appear when you're downloading or installing an update. Try these fixes.
1. Run Windows Update troubleshooter
Windows updates run into problems frequently enough for the OS to include a troubleshooter for them right out of the box.
Open the Settings app.
Go to the Update and Security group of settings.
Select the Troubleshoot tab.
Scroll down and click 'Additional troubleshooters'.
Click Windows Update and apply any fix the troubleshooter recommends.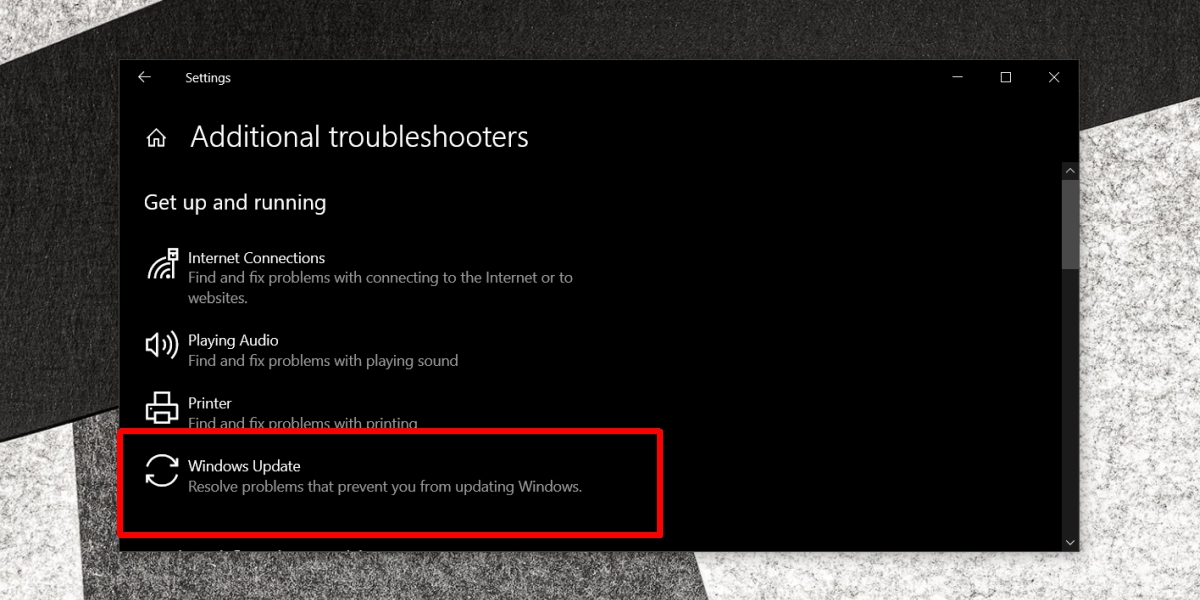 2. Delete and download updates again
Windows 10 updates can run into problems when they're downloading and you will only realize something is wrong when you try to install the update. If you're getting the Error 0x80004005 when installing an update, delete it and download it again.
Open File Explorer.
Navigate to the following location.
C:\Windows\SoftwareDistribution\Download
Delete everything in this folder.
Open the Settings app.
Go to the Update and Security group of settings.
On the Windows Update tab, click 'Check for Updates'.
Any available updates will be downloaded, and installed.
3. Check disk space
Windows 10 updates need disk space to download and install. Normally, it is the larger feature updates that require at least 20GB of free space on the Windows drive but if an update is failing with the 0x80004005 error, giving it more space can often fix the problem. Free up space on your Windows drive and try installing the update again.
Fix Error 0x80004005 – Outlook
If you're getting the 0x80004005 error when trying to send/receive emails in the Outlook desktop app, try the following fixes.
1. Start Outlook in Safe mode
Try to run Outlook in safe mode and send a message. It's possible that some files in your Outlook profile are corrupt and are preventing you from sending emails. In safe mode, you should be able to send the message even if those files are corrupt.
Tap the Win+R keyboard shortcut to open the run box.
Enter the following, and tap enter.
outlook.exe /safe
Select the Outlook profile you want to use.
Compose a message, and send it. It will take considerably longer for the message to send when Outlook is running in safe mode.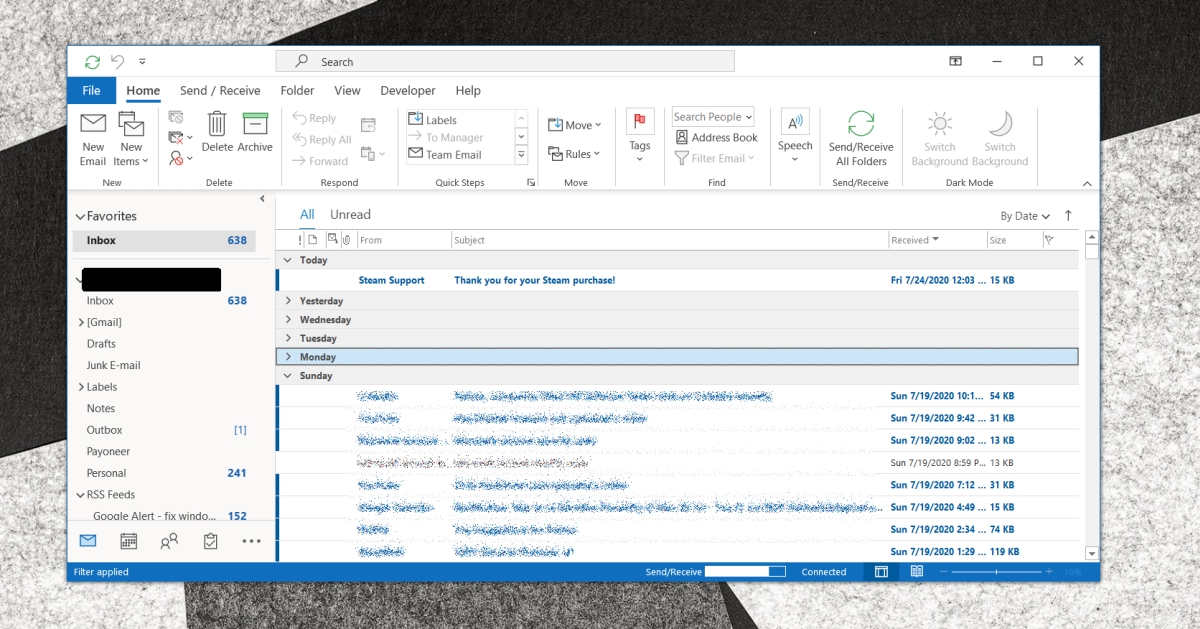 2. Repair OST/PST files
If you're able to send emails when Outlook is running in Safe mode, your OST orPST files are likely damaged. Fix them so that you can send emails in Outlook outside of Safe mode.
Run the tool and apply any fixes it recommends.
The tool will ask that you select your PST file or OST file. Click the Browse button and select it. If you do not know where the PST file is located, you can use search in File Explorer and search for *.pst or *.ost Alternatively, you can try the following location.
C:\Users\fYourUserName\AppData\Local\Microsoft\Outlook
Run the repair, open Outlook in normal mode, and try to send an email.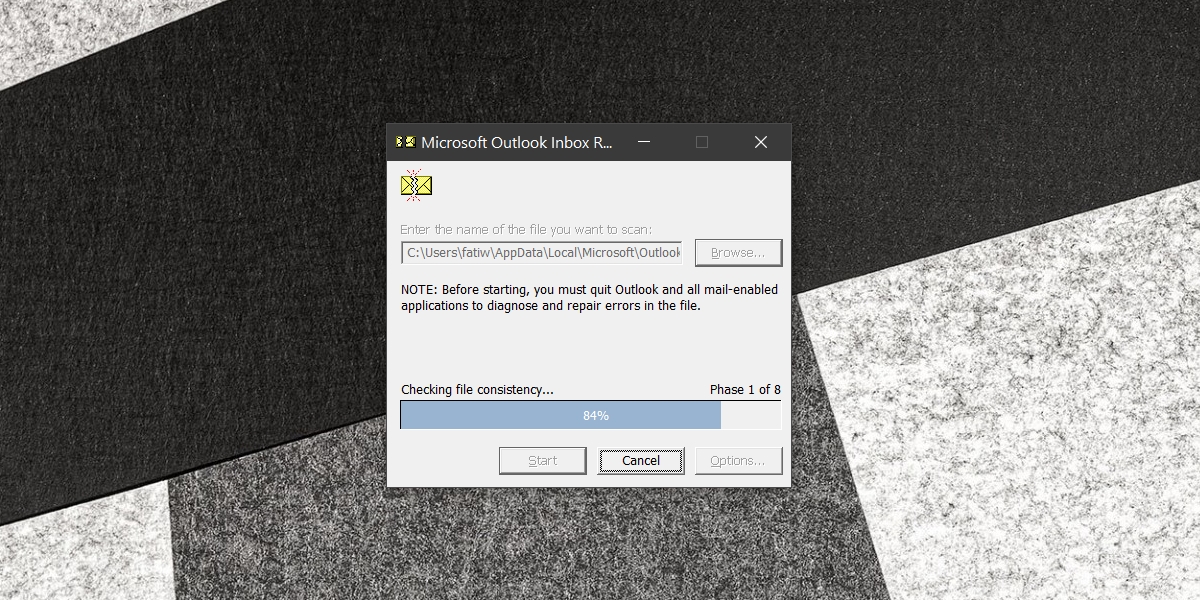 Fix Error 0x80004005 –  General fixes
Error 0x80004005 is common and will appear when you try to rename files, move folders, extract archives, etc. In these more generic cases, try the following solutions.
1. Edit Windows registry
Tap the Win+R keyboard shortcut to open the run box.
In the run box, enter 'regedit', and tap Enter.
Go to the following key.
HKLM\SOFTWARE\Microsoft\Windows\CurrentVersion\Policies\System
If you're running 64-bit Windows 10, right-click the System key and select New>QWORD (64-bit) Value from the context menu. If you're running 32-bit Windows 10, right-click the System key and select New>DWORD (32-bit) Value from the context menu.
Name the value LocalAccountTokenFilterPolicy.
Set its value to 1.
Restart your Windows 10 system and try moving files/folders.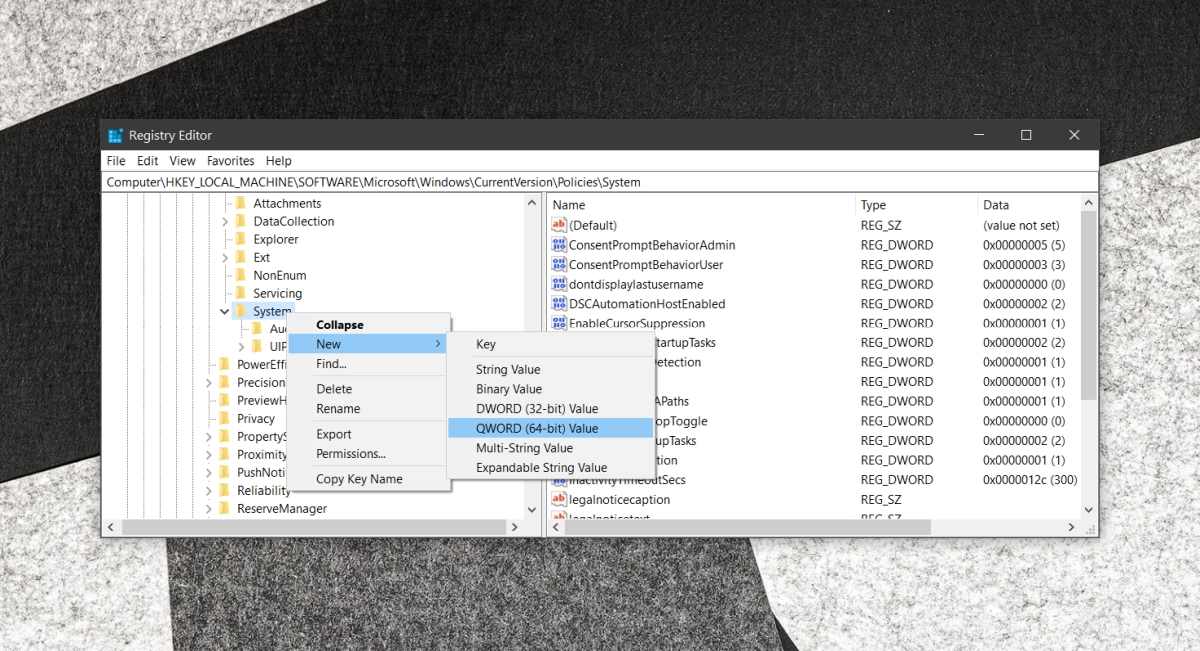 2. Re-register DLL files
There are two DLL files that may be causing the 0x80004005 error. Re-registering these DLL files can resolve the error. The files are called jscript.dll and vbscript.dll.
Open Command Prompt with admin rights.
Run the following command to re-register the jscript.dll file.
regsvr32 jscript.dll
Next, run the following command to re-register the vbscript.dll file.
regsvr32 vbscript.dll
Restart the system.
3. Disable Windows Defender
Disabling Windows Defender is never a good idea. If disabling it fixes the 0x80004005 error, we strongly recommend repairing/resetting Windows 10 so that Windows Defender can work without causing problems. Alternatively, you should find another anti-virus to run in its place. Do not run your system without an anti-virus.
Open Windows Defender.
Go to the Virus and Threat Protection tab.
Scroll down to Virus and threat protection settings.
Click Manage Settings.
Turn off all the switches on this screen.
Return to the main Windows Defender screen.
Go to the Firewall and Network protection tab.
Select each item on this screen, and turn it off.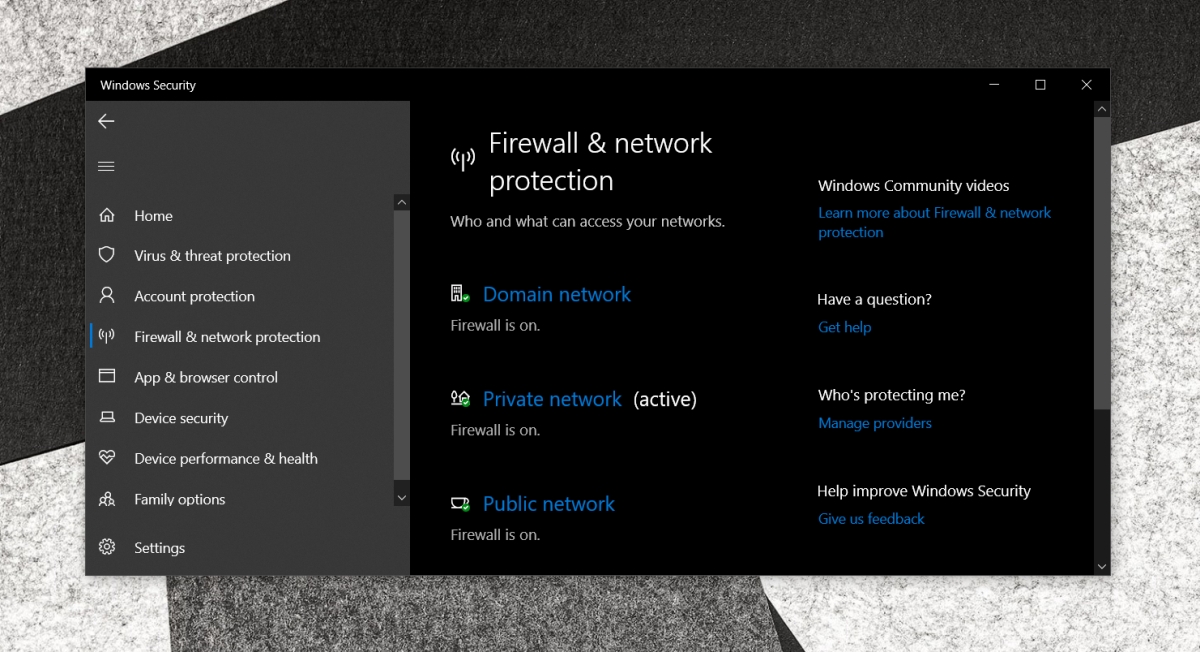 4. New user account
If all else fails, you can create a new user account. If the error does not appear when you use the new account, set it as the admin account, and switch over to it. Delete your old user account.
Open the Settings app.
Go to the Accounts group of settings.
Go to the Family and other users tab.
Click 'Add someone else to this PC'.
Set up a new local account.
Log in to the new account, try moving files, extracting them, renaming them, etc. and check if the error appears.
Conclusion
Error 0x80004005 and its variations will appear throughout the Windows 10 UI in different error messages. If you see this error in a non-Microsoft app, you should consider reinstalling the app that's generating the error or trying some of the general fixes. This error appears for Windows 10 and its related features/functions. If you see it in other apps, it's possible that a library file i.e. a DLL file is causing the problem and you may see the error pop-up elsewhere as well. While these fixes work, if the error reappears after a while, consider a Windows 10 reset or a clean install.