Introduction
The popularity of Excel around the world needs no explanation. It includes almost all the features to satisfy the needs of professionals. Microsoft Excel also bundles strong features for statistical and engineering calculations. All such features are called Data Analysis techniques and Excel contains the Data Analysis (aka. Analysis Toolpak ) tab.
How To Enable Data Analysis ( Analysis Toolpak)
Data Analysis(Analysis Toolpak) is an add-in for Microsoft Excel which is disabled by default. To enable it click the Office button, then go to Options.

Click on the Add-Ins option and you will see Analysis ToolPak option in the list. Hit the Go button at the bottom.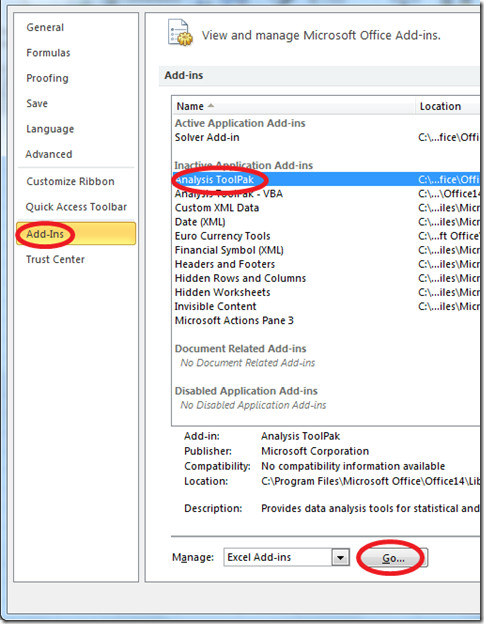 Now select the Analysis Toolpak option and click OK to complete the configuration.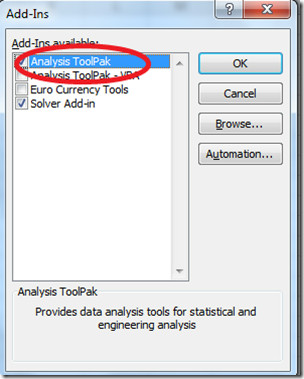 How To Access Data Analysis
Once you have enabled it, go to the Data tab and locate the Data Analysis option under the Analysis category.

A Bird's Eye View Of Data Analysis
In order to use the Data Analysis feature of Excel, you must be familiar with Engineering and Statistical terminology. Hit the Data Analysis option and it will launch the screenshot as shown below. Now choose the appropriate option and Excel will process your data according to the option that you selected.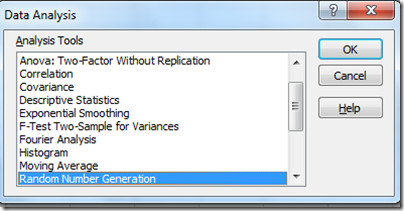 Followings is the list of Engineering and statistical functions which you can perform with the Data Analysis option.
Anova: Single Factor
Anova: Two-Factor with Replication
Anova: Two-Factor Without Replication
Correlation
Covariance
Descriptive Statistics
Exponential Smoothing
F-Test Two Sample for Variance
Fourier Analysis
Histogram
Moving Average
Random Number Generation
Rank and Percents
Regression
Sampling
t-Test: Paired Two Sample for Means
t-Test: Two-Sample Assuming Equal Variances
t-Test: Two-Sample Assuming Unequal Variances
Z-Test: Two-Samples for Mean