Extend Windows Media Center On Dual Monitor Display
Windows Media Center is a nice piece of high-functionality software from Microsoft. While it is aesthetically pleasing and convenient, one issue that users with dual or multiple displays face is the restriction of mouse to only the WMC window, especially when maximized. Maxifier is a free tool that answers this problem, freeing mouse movement even when Windows Media Center is itself running full screen mode.
Note: Maxifier is only useful if you have two displays or more. On a single display most of the features are not even noticeable.
Once installed, the utility will sit in your system tray and show two different menus depending on whether Media Center is running or not.
If WMC is not running, you will get this menu.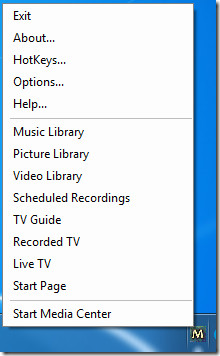 Here, clicking Start Media Center will start the Media Center application, or you can click one of the page names shown to go directly to that page.
If WMC is already running, then you get the full menu.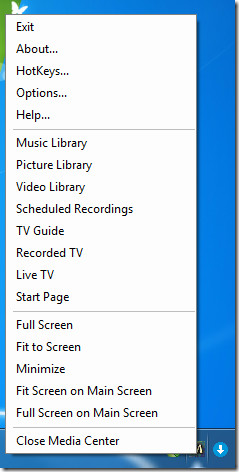 Here, you get five additional options. Full Screen will maximize Media Center to the secondary display, but unlike standard maximize, the mouse will not be captured by WMC so you can easily move it between the two displays and continue to work on your primary display. Fit to Screen will also maximize to the secondary display but retain windows borders. Minimize is self-explanatory, while Fit Screen on Main Screen and Full Screen on Main Screen will utilize the primary monitor for these functions rather than the secondary one.
Clicking Options will bring the preferences dialog, where you can tweak the application settings.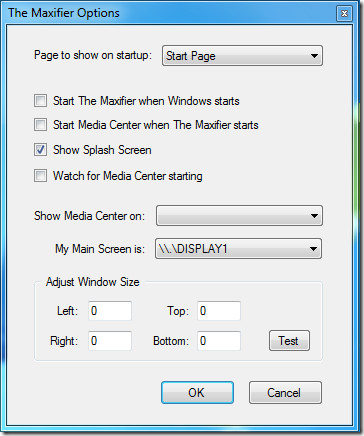 You can also select HotKeys from the menu to configure hotkeys for various actions.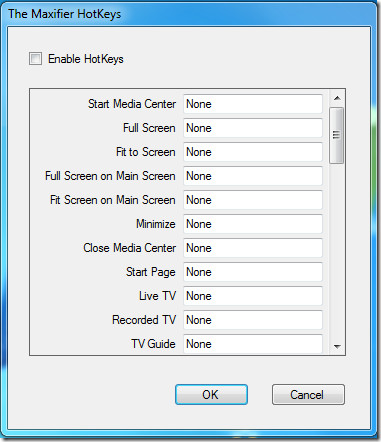 Maxifier is an essential accompanying tool for Windows Media Center if you are running your PC on a dual display setup. It is free and lightweight, and although the developer's website claims it to be stable on Windows Vista yet, we found it to be working perfectly fine with Windows 7 as well.