ISO Workshop Is All-In-One Tool To Extract, Backup, Convert, And Burn ISO Files
ISO is the most widely used disc image format for creating copies of optical discs, including, CDs, DVDs, and Blu-rays. The main advantage of ISO over other types of image formats is that it is not stored in a file container, and secondly, anyone can create exact same copy of optical disc in ISO format keeping all the data distributed in sectors in original form. ISO Workshop is an all-in-one utility to Extract files from ISO disc images, Backup data on optical disc into ISO and CUE image format, Convert ISO into various image formats, and finally Burn ISO image to CD, DVD, and Blu-Ray disc. If you're using more than 2 applications to perform any of these operations with ISO files, ISO Workshop is an app worth trying.
The main interface is designed to be minimal. All four tasks – Extract, Backup, Convert, and Burn, are lined up on the main screen. A click on the task type will open a new window, showing options to perform respective operations.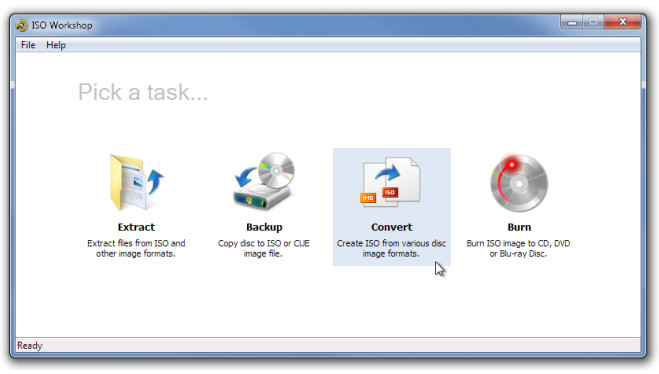 In Extract task window, load an ISO image file by clicking Load button. Once loaded, it will list down the underlying files and folders, waiting for user to click Extract button to start extracting the data in one go. Nevertheless, if you wish to extract specific files and folders, right-click the folder/file and select Extract.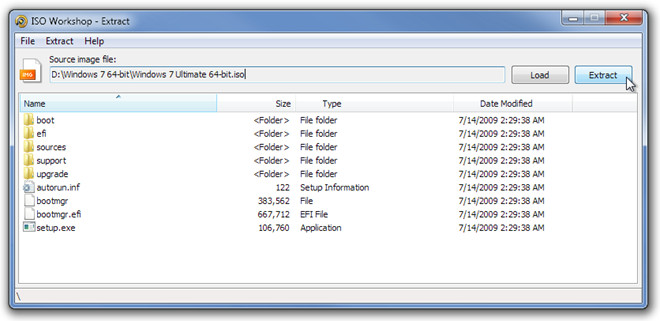 To bring the main screen back from any task window, on File menu, click Home. Creating backup of disc image is easy. After you've inserted disc into optical disc drive, specify the destination image file, select image format ISO or BIN, and click Backup to begin the process.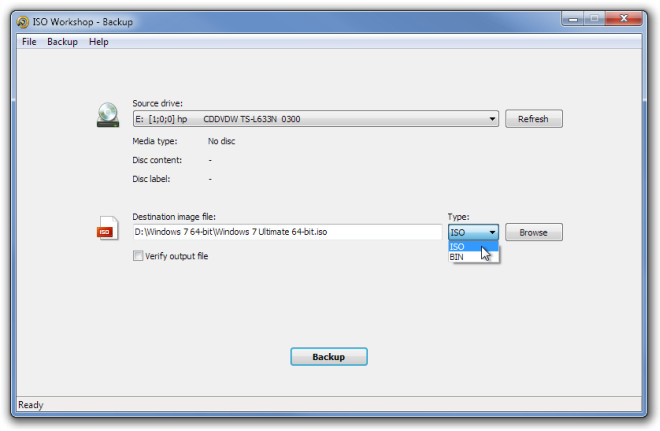 It allows converting image files into BIN and ISO image format. Along with conversion, it can verify output file to check resultant disc image for any sort of discrepancies.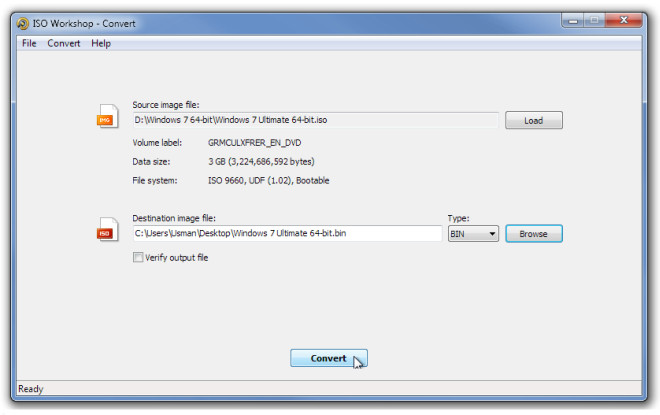 Burning ISO disc images to optical discs is easy too. Once the ISO image file is loaded, it will show the file system and total data size. Before starting burn process, make sure that inserted optical disc is erased, if you're unsure, click Erase to completely erase the disc followed by Burn to burn specified ISO file to optical disc.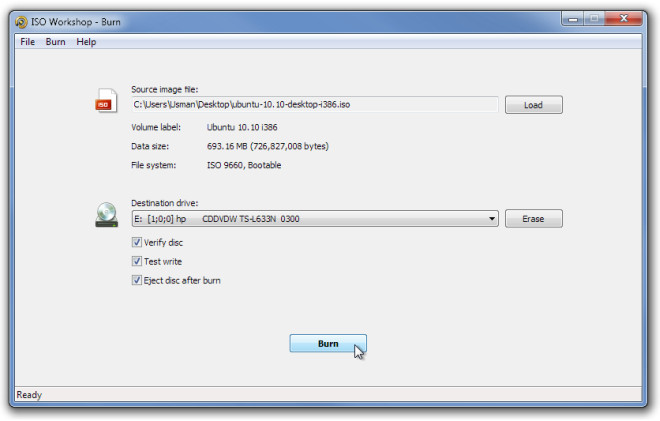 It works all versions of Windows, including Windows 7.