Extract Software Product Keys From Windows Registry With LicenseCrawler
If you've searched for any license recovery utility in the past then you might know about Nirsoft's famous ProduKey – which provides a simple solution to extract license keys from Windows registry. Today, we have stumbled across another software license extractor called LicenseCrawler which has been written to extract all the serial numbers and licenses saved in yours Windows registry.
The GUI based application also supports direct extraction of licenses/serials remotely, which means that you can extract license keys from any node connected with network. Even though you can remotely make use of ProdKey by manually specifying the source location, LicenseCrawler automatically lists down all the connected systems to let user decide where to extract product keys from. Furthermore, it offers license extraction for almost all installed software while letting you choose registry hive to be searched.
The application is highly portable, you an carry it in USB flash drives to easily extract licenses from any PC. To begin, launch the application and click Start Search. If you need to look for serials keys in remote computers, before staring the process, select one from Computer list. All the logical registry groups are present beneath it, you can select any hive to start off with. It will start listing down serial numbers in couple of seconds, however, the time it takes is subjected to yours Windows registry size and number of installed applications.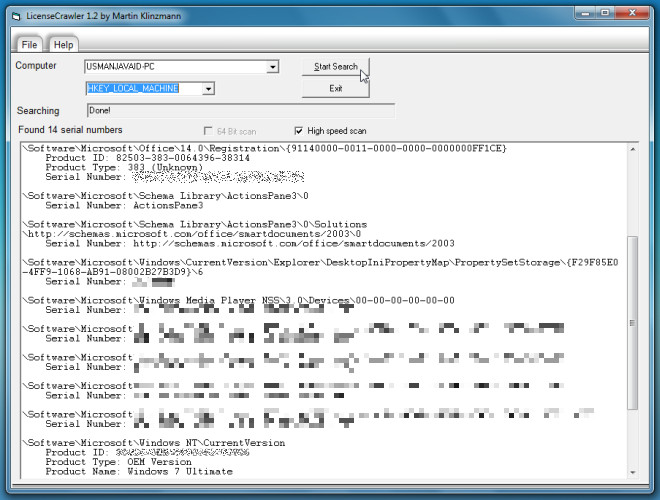 Under File menu, you can save the extracted information into text format. As per testing results, on our Windows 7 x86 system, we found it be working fine. It supports all versions of Windows.