ExtremeCopy: Probably The Fastest File/Folder Move & Copy Utility
When backing up data or transferring gigabytes of useful information, we often find ourselves waiting impatiently for task completion notification. Copying files and folders from multiple sources to various destinations in an organized batch operation is also a challenge for users. ExtremeCopy addresses all these issues and provides features like verification and enhanced file copy speed. It has been observed to outclass the Windows 7 explorer copy speeds by 20% ~ 120%, depending on the amount of data handled. Furthermore, it has also been seen to perform faster in comparison with previously reviewed utilities like SuperCopier and fairly popular TeraCopy.
This freeware is a simple yet powerful utility that welcomes you with an interface partitioned for source and destination file/folder information. To add a file or folder, click Source File/Folder button and select the required option. You can add multiple files and folders that fill the source layout area in a listed form for better visualization.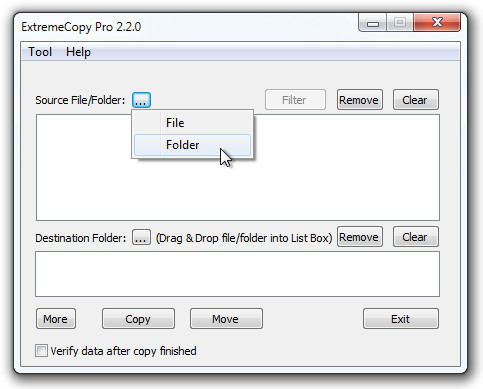 You can check the verification feature at the bottom left corner of the window or click More for brief options. ExtremeCopy lets you copy or move data from a source to destination folder. Any wrong entry can easily be removed or filtered through the buttons on the top right corner. If at any point, the source or destination space becomes cluttered, the Clear button instantly cleans up the mess.
The application also allows you to Import/Export to and from a file, which can be accomplished through the More button on the bottom left corner of the window. You can choose to set advanced actions to resolve file collisions and other errors. A command can also be fed to run when the operation completes successfully. To view the full options window, click Tool > Configuration. Here, you can modify the user interface style, select language, specify the data buffer size, set post-operation sound notification etc.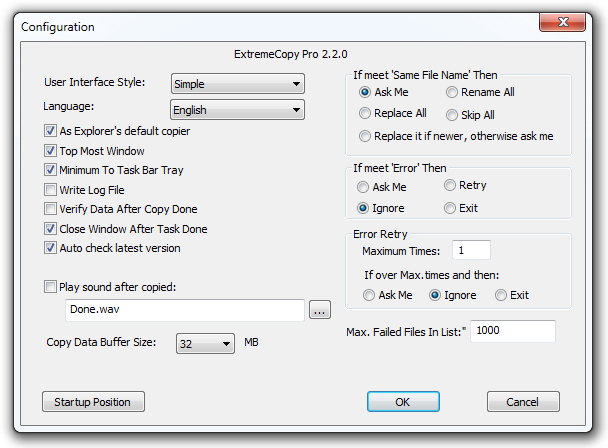 Before you start the copying process, you can change the source paths and destination folder.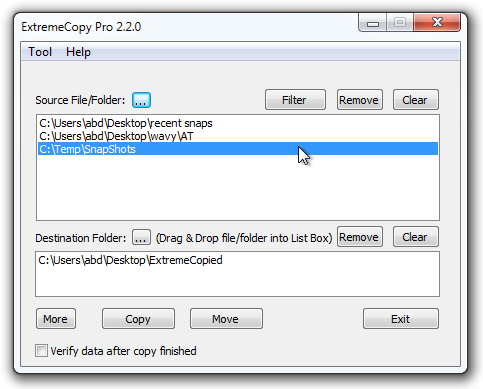 The progress window shows the journey to completion with speed, status, time remaining and pause/skip facilities for better handling of large scale copying of critical data.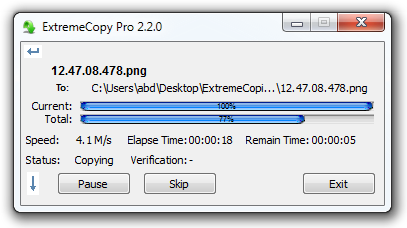 The application also integrates copy and paste options into Windows right-click context menu, allowing you to easily send the source files and folders to application in order to quickly perform the data copy operation. All you need is to right click the folder/file to select copy with ExtremeCopy, and paste the selected file/folder to destination using ExtremePaste option. We tested the application on Windows 7, 64-bit edition. It is compatible with Windows XP, Windows Vista, Windows 7 and Windows 8.