FenrirFS: File Manager With Profiles, Evernote Sync & Data Labels For Quick Access
Downloading and transferring files from the internet and physical storage mediums respectively, and saving them at different locations makes it quite hard to manage disk space. Most third-party file managers provide a helping hand in fighting such issues by letting users organize files and folders from a single place. FenrirFS is a brilliant file manager that organizes your data by implementing the concept of Profiles and Labels for data identification. The Labels feature lets you tag the files from different locations, so that you can quickly access them by just clicking the required label. The application also allows you to upload images to social networking sites like Facebook and Twitter, synchronize important notes with Evernote, preview files like video, image, audio and text in an integrated quick-preview window and more.
The interface looks really clean and simple, and contains a toolbar at the top. The application, by default, houses some pre-configured Profiles – including My Documents, My Videos, My Pictures, My Downloads etc, but you are also allowed to a create custom profile and configure it according to your preferences. The application has three view modes; Default, Wide Screen and Compact, and you can select them from Select View button at the top right corner. The toolbar has Archive, Delete, Move, Labels and Other Operations controls, coupled with a Profile dropdown menu and Display Menu (a Fenrir button to the very left). Clicking this Fenrir button displays various file handling options.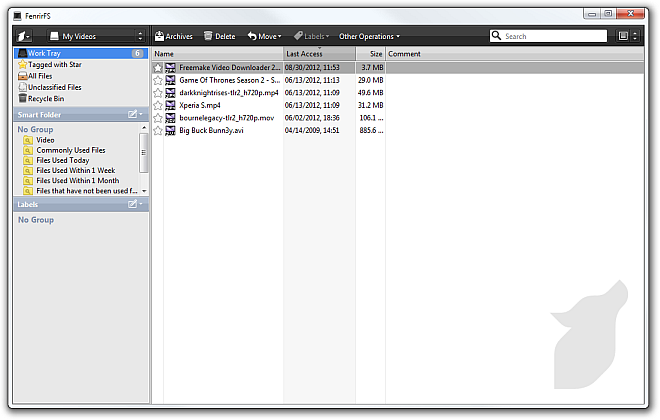 To add a profile, click Create New Profile from Display Menu and input the profile name. You can create Manual Profile and Auto Synchronization Mode Profile, where the latter automatically syncs new items in existing profile. The new profile appears in the Profile Selection Menu on the toolbar, which fits it with default and other custom profiles.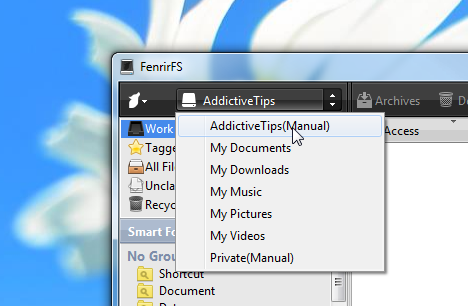 The profiles can be configured separately. For instance, you can specify different view modes for different profiles. The Labels pane to the left displays separate colors for each item. This feature actually categorizes the items in your profile, including directories as well as files. Another noteworthy feature is the Preview panel, which appears when Wide Screen View mode is selected. The preview pane contains navigation buttons for Zoom, Slideshow, FullScreen etc.
As stated earlier, you may upload an item to your Facebook, Evernote or Twitter account. Simply right click the item you want to upload and select the destination from the context menu.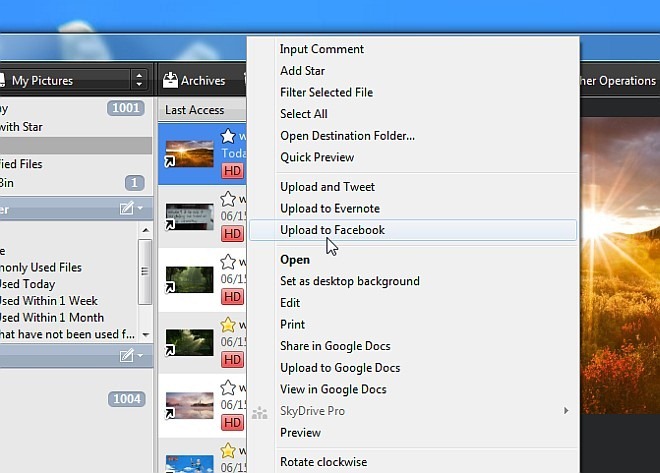 Pressing the Spacebar after a file selection launches the Quick Preview window. This is basically the same preview pane that appears in Wide Screen mode. However, you can resize it accordingly and place it wherever you want on your screen.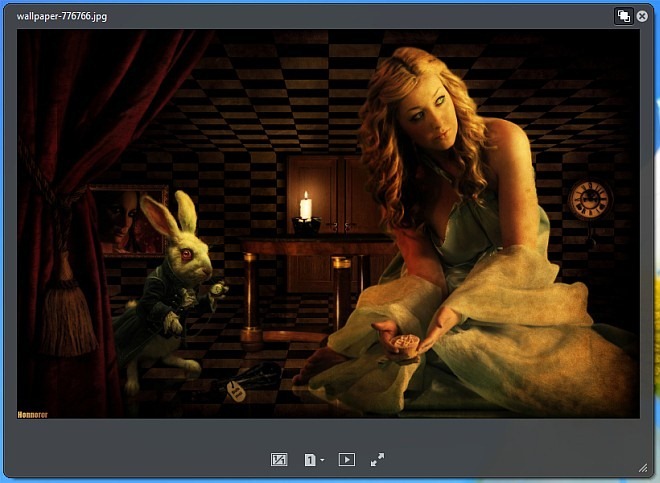 The application's Environment Settings lets you configure options related to the Hotkeys, Label, View mode, Confirmation notifications etc. You may also sign in to your Twitter or Evernote account from within this windows to instantly upload files to your account.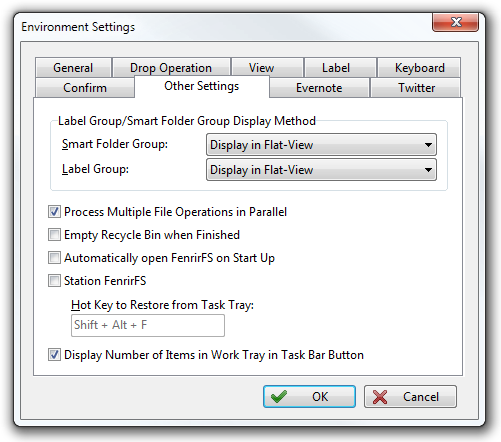 Overall, FenrirFS is a comprehensive file management solution that is designed to help both casual and advanced users alike. It supports Windows XP, Windows Vista, Windows 7 and Windows 8. Testing was carried out on Windows 7 64-bit.