File Repair Can Fix Corrupt Files Of Any Format
It often happens that a file can become corrupt when a system shuts down or due to unexpected power failure, virus infection, application errors and the like. It can be quite a nuisance to attempt recovery of important data from such files and many a times results in failure.
File Repair is robust application for recovering corrupt files of several formats. This includes anything from an MS Word, Excel, Power Point, Access, video, audio, image  file to a compressed Zip or RAR achieve. The supported file extensions include: DOC, DOCX, DOCM, RTF,PDF,XLS, XLA, XLSX, Zip, RAR, AVI, FLV, Mp4, MOV, WMV, ASF, MPG, JPEG, GIF, TIFF, BMP, PNG, PPT, PPS, PPTX, Mp3, WAV, MDB, MDE, ACCDB and ACCDE.
Just select a corrupt file (of the supported format) and click Start repair to begin file recovery. During the recovery process, a file log will appear, displaying relevant information regarding the recovery process.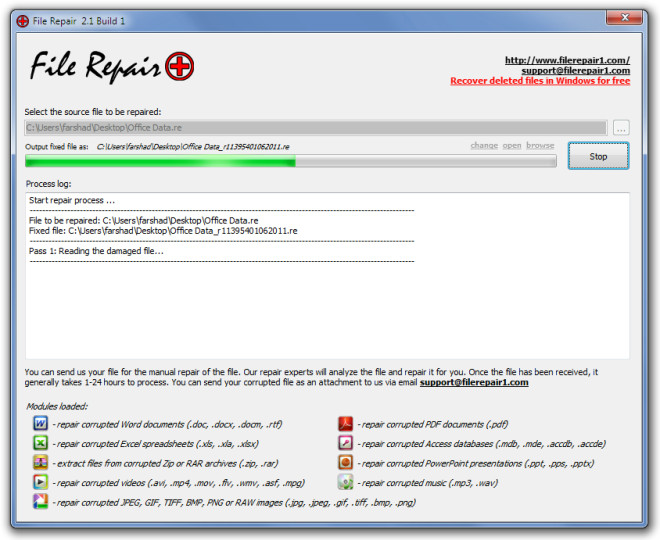 Normally, the above mentioned procedure should recover your corrupt file, however, in case the recovery process is unsuccessful a prompt displays a messages that you can attach and email the file to the developer's team of file repair experts and they will recover the file for you and send it back within 24 hours. The expected time of return for the returned file may even be less, i.e. up to an hour but  a 24 hour window has been mentioned as the maximum time.

Please keep in mind that it is only able to repair the file if the following errors are occuring:
File is not in a recognizable format
Unable to read file
File cannot be accessed
Application cannot open the type of file represented by filename
Out of memory errors, or low system resources errors
File Repair works on Windows XP, Windows Vista and Windows 7.