How To Fix Black Desktop Background In Windows
The desktop wallpaper is a standard feature in any desktop. It's easy to change in Windows and you can set a static image, a slideshow, or a solid color as your background. It's rare for this feature to ever break but it's not impossible. Sometimes when you try to change the wallpaper in Windows you get a black desktop background. This can happen regardless if you're trying to set a wallpaper or a slideshow as your background. Normally, this doesn't just happen if you had a perfectly normal Windows installation. A change in your display settings usually through a third-party app is often the cause. Here's how you can fix black desktop background in Windows.
If you installed a third-party app to modify your desktop or UI and the problem started right after, uninstall the app. At the very least, disable it so that it is no longer controlling your display settings. Uninstalling the app won't fix the problem. It will simply prevent it from happening again once you do fix it.
Change Your Wallpaper
If an app was the cause of the problem, disable it and try to change your wallpaper again. Instead of setting a static wallpaper, set a slideshow instead. If it works, change it to a static image after. It's also a good idea to try a few different images in case the one you're trying to set is corrupt.
In Windows 10, you can change your wallpaper in the Settings app under Personalization>Background.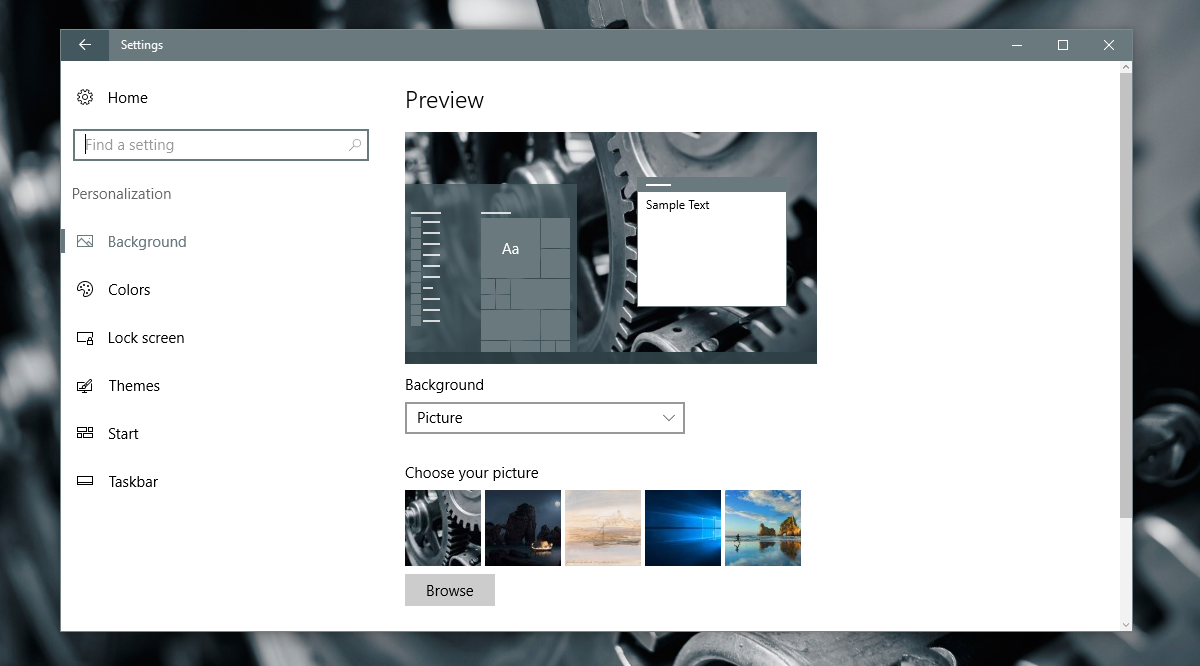 Corrupt TranscodedWallpaper.jpg File
The black desktop background can also be caused by a corrupt TranscodedWallpaper. If this file is corrupt, Windows will not be able to display your wallpaper.
Open File Explore and paste the following in the address bar. Tap the Enter key.
%USERPROFILE%\AppData\Roaming\Microsoft\Windows\Themes\
In this folder you will see a file called TranscodedWallpaper. Rename it to TranscodedWallpaper.old. You might also see a file called Settings.ini. Open it in Notepad and delete the contents of this file. Save the changes you made and close it.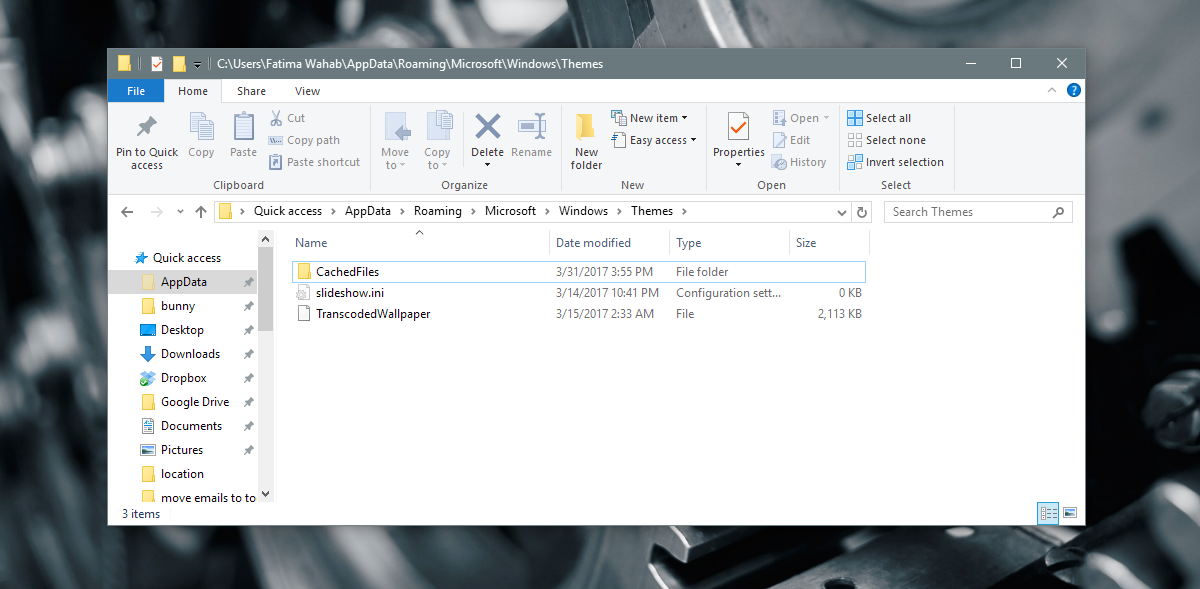 Open the Settings app and go to Personalization>Background and set a new desktop background. It should work this time around.
Set Desktop Background From The Context Menu
In File Explorer, navigate to the folder with the image you want to set as the desktop background. Right-click the image and select 'Set as desktop background' from the context menu.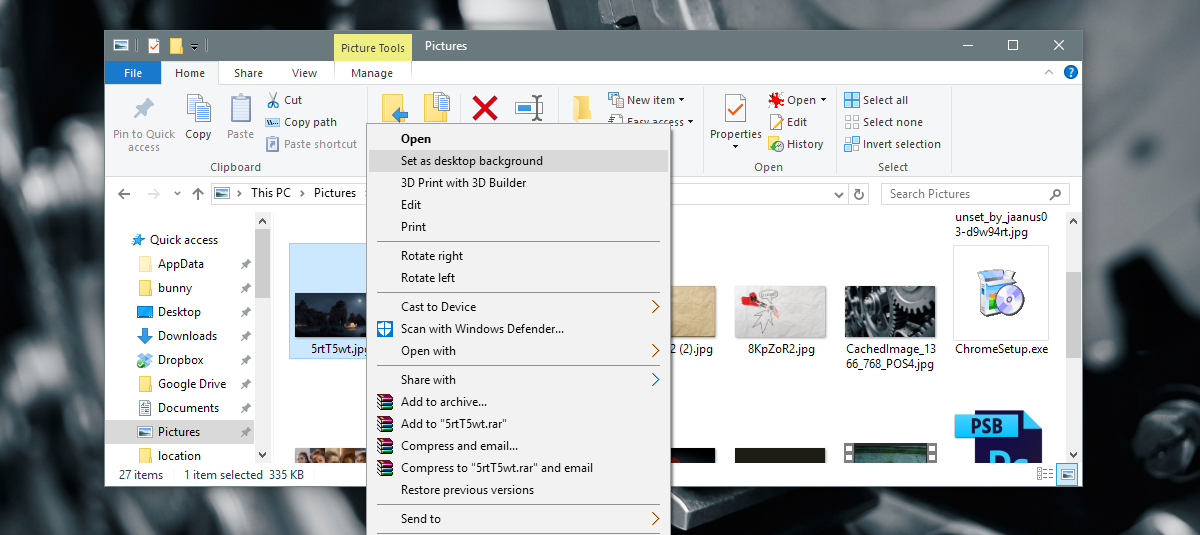 Check Ease Of Access Settings
Open the Control Panel app and go to Ease of Access. Click on Ease of Access Center and click 'Make the computer easier to see'.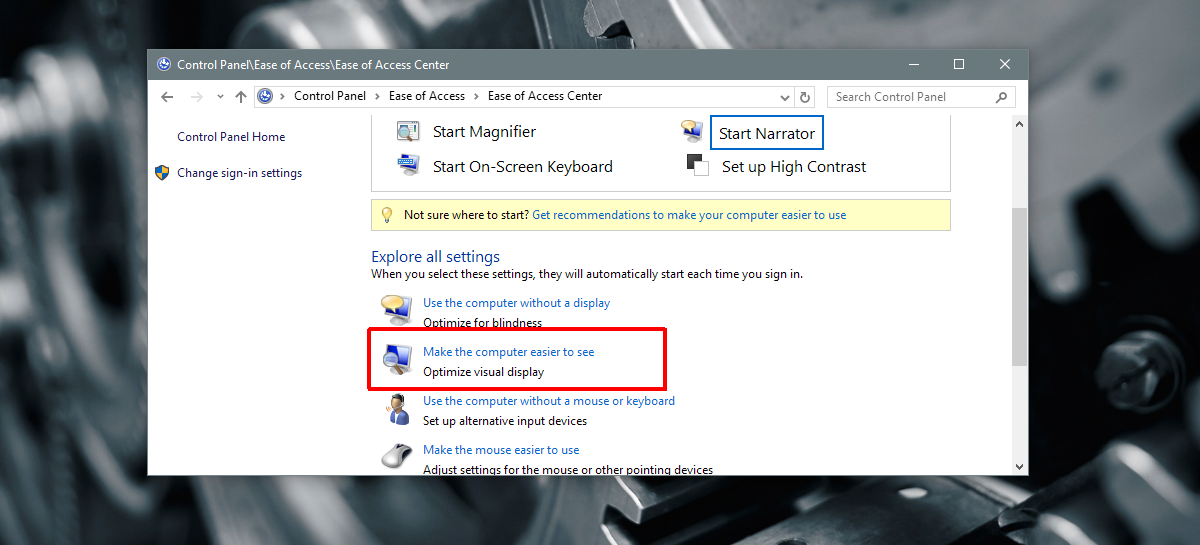 Scroll down to the very bottom of the window, and make sure 'Remove background images (where available) is unchecked. If not, uncheck it and apply the change. Set a wallpaper for your desktop and it should work this time.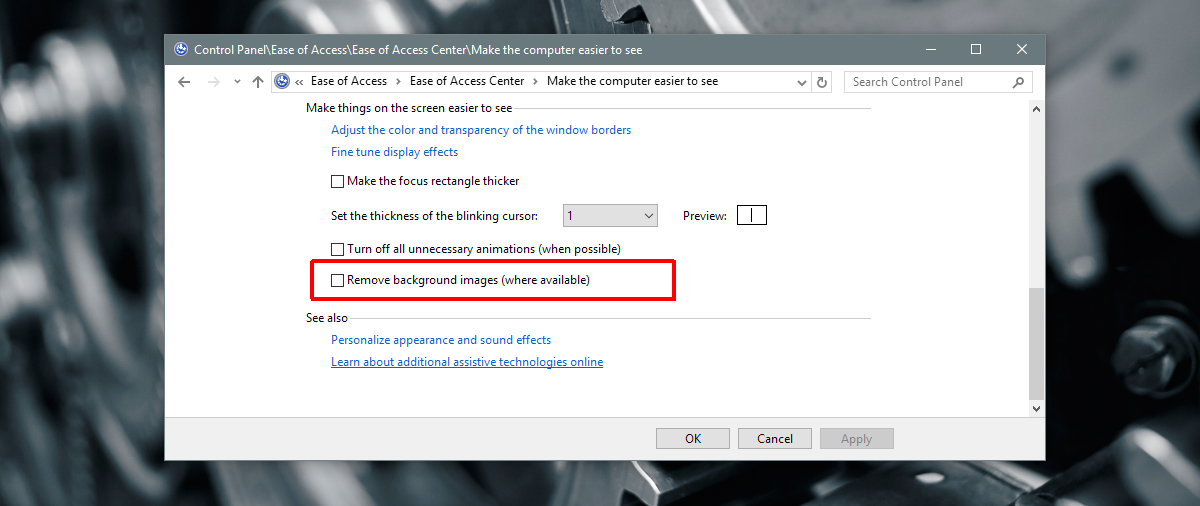 Check Power Plan Settings
Open the Control Panel app. Go to System and Security>Power Options. Click 'Change plan settings' next to the currently active power plan. Click 'Change advanced power settings'.
Expand Desktop background settings and make sure the slideshow is set to 'available'. If not, set it to available and try setting a wallpaper again.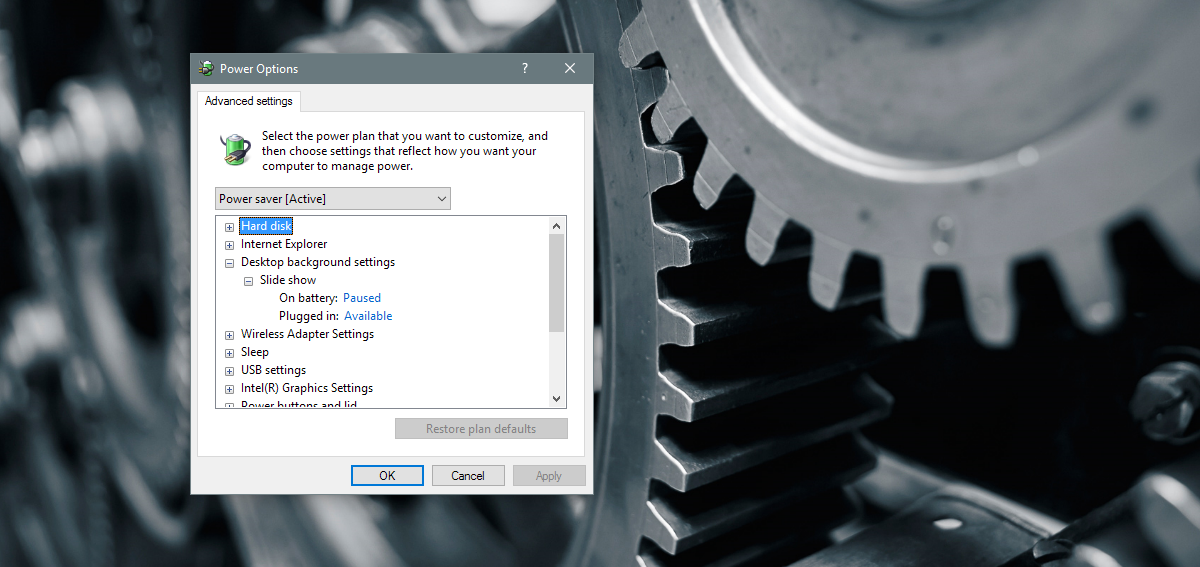 If your problem still persists and you're on company laptop, check if it's been disabled through the group policy. It's best to talk to a system admin in this case and not attempt anything yourself. You likely will not have the required admin rights to make any change.