How To Fix BSOD When You Turn Bluetooth Off On Windows 10
BSODs were practically a feature on Windows 10 when it was first released. They've since became somewhat rare but that doesn't mean you won't see a BSOD. There appears to be a bug that, when you turn Bluetooth off, your system crashes. This bug is a result of a driver problem so here's the fix.
SPOILER ALERT: Scroll down and watch the video tutorial at the end of this article.
Since this is a driver problem, you're going to have to roll back the driver or update it. We can't say for certain which you need to do since on the system we tried this solution out on, the bug appeared out of the blue. There were no system updates so nothing changed and the Bluetooth driver didn't update. What worked was updating the driver but for some users, a roll back might be what's in order.
BSOD On Bluetooth Off
You need to either update or roll back the driver. Turn on Bluetooth. Open Device Manager, and expand the Bluetooth group of devices.
Look for your Bluetooth chipset. It ought to be called something like Intel Wireless Bluetooth. Right-click it, and select Properties from the context menu. On the Properties window, go to the Driver tab.
If the Roll Back Driver option is enabled, click it and roll back to an older version of the Bluetooth driver. Once it has been rolled back, restart your system and turn Bluetooth off. If you still get the BSOD, you might need to update the driver.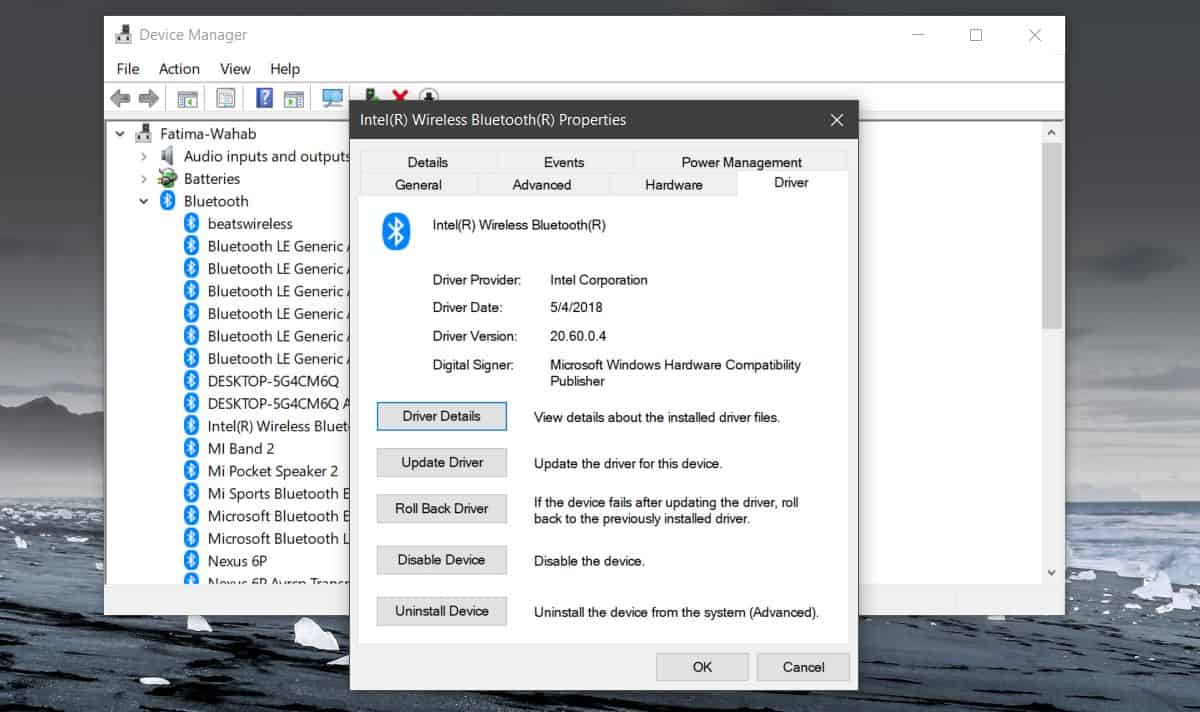 The process is almost the same. Open Device Manager, expand Bluetooth devices, right-click your Bluetooth chipset, and select Properties from the context menu. On the Properties window, go to the Driver tab, and select Update Driver. Select the 'Search automatically for updated driver software' option and it will look for available updates. If it finds them, allow it to install the updated driver and restart your system.
That ought to fix the BSOD. If it doesn't, check if you've recently installed a Windows 10 update. If you have, it's a good idea to roll it back and delay updates until the next major one rolls out.
In the event that there is no driver to roll back to, and there is no updated version available either, you might have to manually search for an older driver version. A good place to look is the manufacturer's website for your laptop. Once you find it, you will need to first uninstall the current driver and then install the one you downloaded.