Fix For uTorrent In Windows 7
uTorrent is by far the most popular desktop client to download torrents. Even though it works flawlessly for me in Windows 7, some people are having trouble using it in Windows 7. There are reports in various forums that uTorrent exceeds memory limit and shoots up to 100% in other cases some downloads will stop at 99.9%. In few cases uTorrent shows false reports and works oddly.
uTorrent is not the first app that is encountering such problems, Mozilla Thunderbird was also having trouble running in Windows 7 for some users. I have listed few fixes below that might help your uTorrent to act normally. 😉
1. Right-click uTorrent and go to Compatibility tab. Here, select Windows Vista under compatibility mode and make sure that it is checked to run under Administrator privileges. See screenshot below.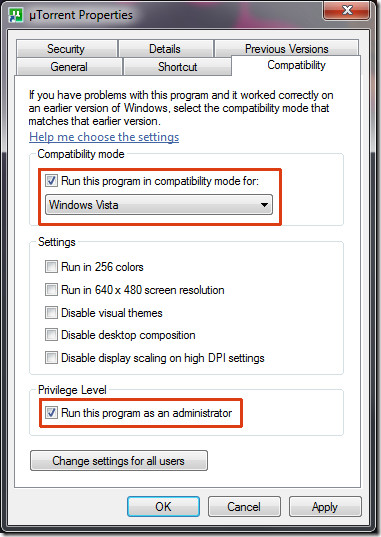 2. Make sure you have added uTorrent in Firewall Exception. This step is just a reminder for those who might have forgotten it.
3. Go to Preferences > Advanced > Disk Cache and make sure both Disable Windows Caching Of Disk Writes and Disable Windows Caching Of Disk Reads are checked. This can help reduce the I/O Reads and I/O Writes, thus resolve the HDD speed and overload problem.