Split And Merge PDF Documents In Windows 7
Immediately after installing Sumatra PDF Viewer in Windows 7, the need for a good tool to split and merge PDF document arised. I have to say that almost every software that I came across was buggy and didn't work according to my expectations. Finally I gave Gios PDF Splitter and Merger a try and I have to say it works better than most apps out there on Windows 7. This tool is not much known in the blogosphere and came under our radar just today. What I really like in this tool is simplicity to work with new projects and also the ability to merge JPEG photos with PDF documents. You can even merge multiple JPEG photos to make a complete PDF document, each image will be added as one page.
Split PDF Document
To split a PDF document, click File > Add > PDF File. Once a PDF file has been added, select it and you will see the element settings on the right window. Since the document is split by pages, you can choose which page you want to include. You can either include all pages or include a specific page range.
Once done, select the output destination, give it a file name, and hit the Split into single page files button.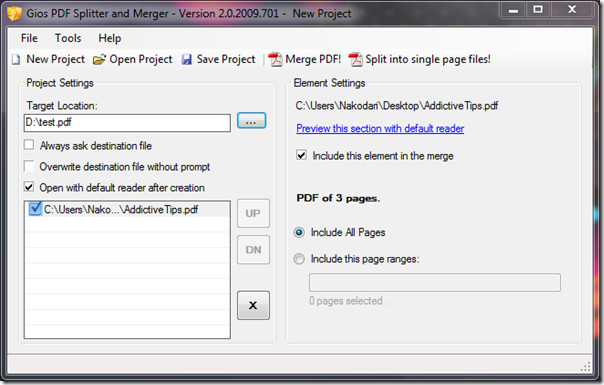 Under the element settings you will also find the number of pages of the selected PDF document.
Merging PDF Documents
To merge a document you need to practically follow the same procedures as above. You can add as many PDF documents and JPEG images as you want, order them the way you like, chose the output destination and hit Merge PDF button.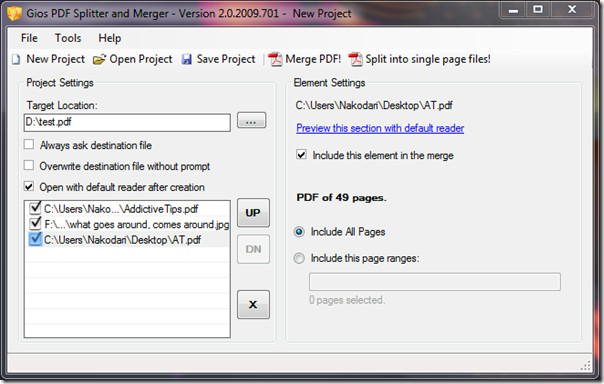 It is a portable utility(only 145KB in size) that beats out major commercial apps that aren't even portable. If you want a tool for quick merging or splitting PDF files, give it a shot.
Download Gios PDF Splitter and Merger (on right side)
It works on Windows XP, Windows Vista, and Windows 7. Enjoy!