How to fix Microsoft Office 365 setup freezes on Windows 10
Microsoft 365 apps are all installed via a single app. The installed is downloaded to your system, and it in turn downloads all necessary files, and installs them. The installed has to download quite a few files so it will take time but, you will still see progress on the download/installation window.
Microsoft 365 setup
On an average network connection, Microsoft 365 should download and install in one hour, or less. The progress bar will fill up slowly (depending on the network speed and your system's speed). If you observe the bar is not moving, it means your installation has frozen. Unfortunately, once the installation has started, quitting the setup app does nothing. It continues to run in the background but remains frozen. A system restart doesn't make any difference either.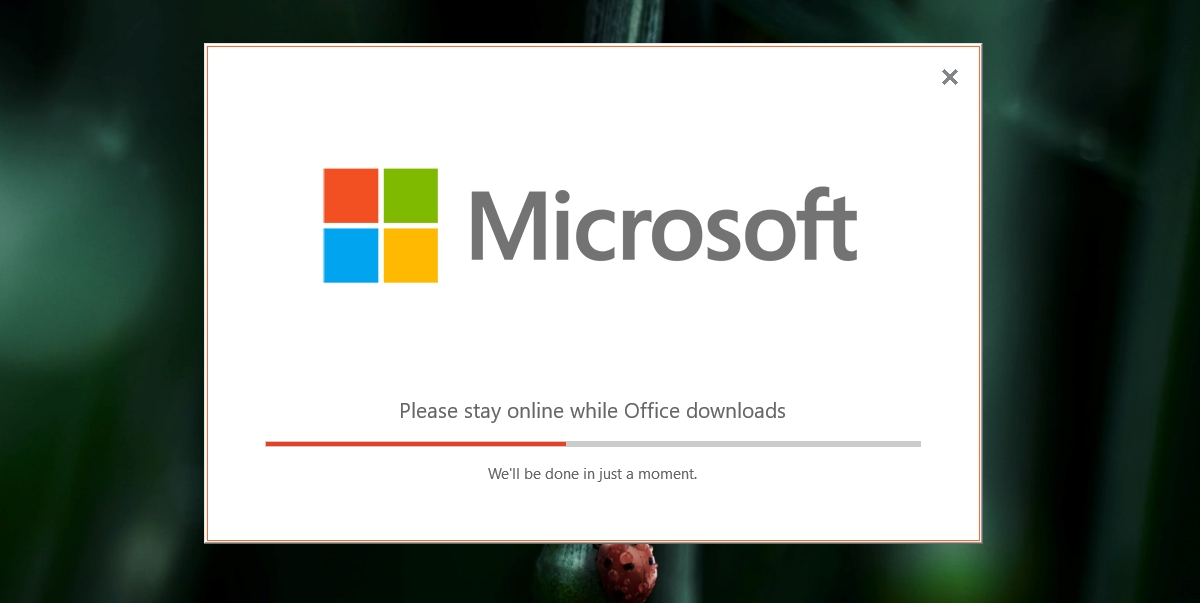 Fix Microsoft Office 365 setup freezes
If the Microsoft 365 set up is frozen i.e., you've waited at least 10-15 minutes and the progress bar hasn't moved, you can restart it by following these steps.
1. Uninstall Office from Control panel
Right-click the Taskbar.
Select 'Task Manager' from the context menu.
Go to the Processes tab.
Look for a process called 'Click to run', and other Office 365 processes.
Select them one-by-one, and click the End task button.
Open Control Panel.
Go to Programs>Uninstall a program.
Look for either Office Click to run, or Microsoft 365 in the list of apps.
Select it, and click the Uninstall button at the top.
In the pop-up that appears, click Uninstall.
Restart your system.
Run the setup file again.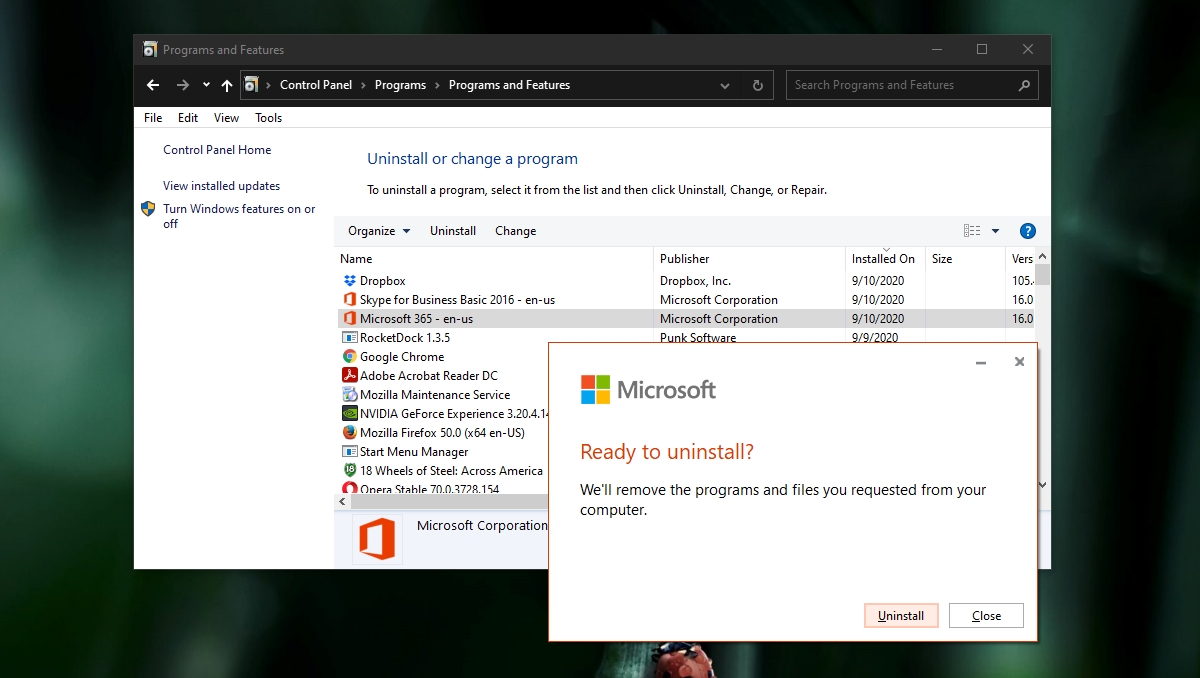 2. Uninstall Office from Settings
You can also restart the set up by uninstalling the app from Settings.
Right-click the Taskbar, and select Task Manager.
Go to the Processes tab.
Select all Office processes, and click the End Task button.
Open the Settings app (Win+I keyboard shortcut).
Go to the Apps group of settings.
Select the Apps & features tab.
Look for Click to run or Microsoft 365.
Select it, and click Uninstall.
Restart the system.
Run the set up again.
Conclusion
Once Microsoft 365 begins to install, there is very little control that users have over the installation process. Users cannot, for example, choose to download files and install them later. Likewise, they cannot selectively install Microsoft's apps. They have to install all apps that are part of Microsoft 365 even if they do not plan on using them all. Likewise, the apps cannot be uninstalled individually like they could in older versions of Office. The apps may have improved over the years but the installation process has become worse.