Fix Unwanted Blurring In Photos With A Click Using SmartDeblur
SmartDeblur is a free Windows application by Vladimir Yuzhikov that lets you enhance blurred or out-of-focus images, and sports a host of additional features. The application is able to recover data from photos with three different types of blurring, namely Motion blur, Gaussian blur and lens blur (in photos that are simply out of focus). It also boasts a powerful 'auto-detect blur' option, which allows it to identify the type of blur effect on its own and take care of it without requiring much input from the user. In addition, you can choose to remove blur either from the whole image, or a specific region.
To start off, launch the application and click 'Open' on the toolbar to load an image. The toolbar at the top houses a multitude of other options that let you configure the output according to your preferences. Though, the default settings mostly prove to be sufficient to remove blur, so you'll seldom find the need to tinker with the available parameters.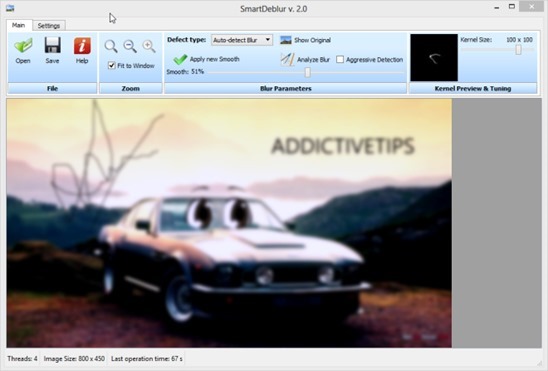 The Ribbon-inspired UI consists of two tabs named Main and Settings. The Main tab is where you can select the image smoothening level as well as the defect type (the blur types we mentioned earlier). In addition, you can mark 'Aggressive Detection' that, as the name implies, processes the image more rigorously. Furthermore, to the very right, you can specify the Kernel Size (intensity of sharpening/deblurring) between 10 x 10 and 120 x 120.

The Settings tab contains two more processing options, namely 'Image size limit' and 'Iterations count'. While the former is quite self-explanatory, the latter seems to be for the image processing-savvy, so casual users might want to leave it untouched. After setting up your required configuration, simply click 'Analyze Image' under the Main tab to begin deblurring the selected picture.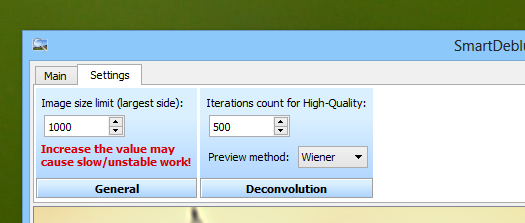 The time it takes to process an image and remove the blur effect depends on a lot of factors, including but not limited to image size, resolution, amount of blurriness and your PC's specifications. During testing, I fed several blurred images to the app and the deblurred output was nothing short of astonishing.

Another interesting bit of SmartDeblur is that it allows you to remove the blur from a selected region. Doing so allows you to apply a selective focus effect to a photo. To deblur a specific region, simply click and drag over the required part of the image.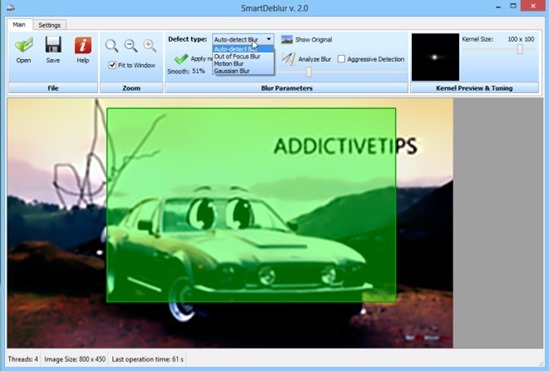 All-in-all, an extremely powerful application that does a great job getting rid of unwanted blur in photos. It supports all Windows operating systems from Windows XP onwards.